If you want to try your hand at wake boarding you are going to need a solid board. So, without further ado, let's take a look at some of the Best Beginner Wakesurf Boards Of 2022.
Wake surfing is an exciting sport with a fresh twist on normal surfing. Wake boarders try to get behind a speeding motorboat and attempt to ride its wake. This is definitely one for the adrenaline junkies.
Related:
Best Beginner Wakesurf Boards 2022
#1. Phase Five Model X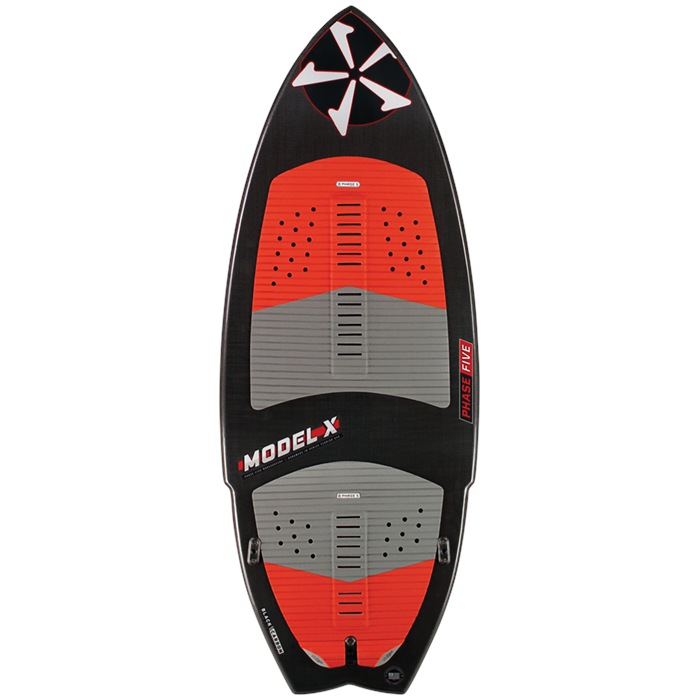 The phase five model X wake surf board is designed specifically for beginners getting their first taste of wake boarding. It has a strong and sturdy core made of carbon fiber which is reinforced with fiber glass.
The carbon core is extremely durable and lightweight yet it also manages to provide the rider with stability. And first-timers certainly need all the stability they can get.
The shape of the board particularly that of the nose allows the rider to skim along easily in the wake of the boat.
The large mid-section of the board provides ample space for the rider to stand with feet planted apart firmly. A wide mid-section also enhances the stability of the board. A traction pad is also given to provide extra grip for your feet.
This board also has 3 tail fins that are each 2-inch long. They allow for better control when skimming over the water.
Features:
Carbon Fiber Core
Skim Style Nose
Full Mid-Section
3 tail fins
Traction Pad V2
---
#2. Doomswell El Jefe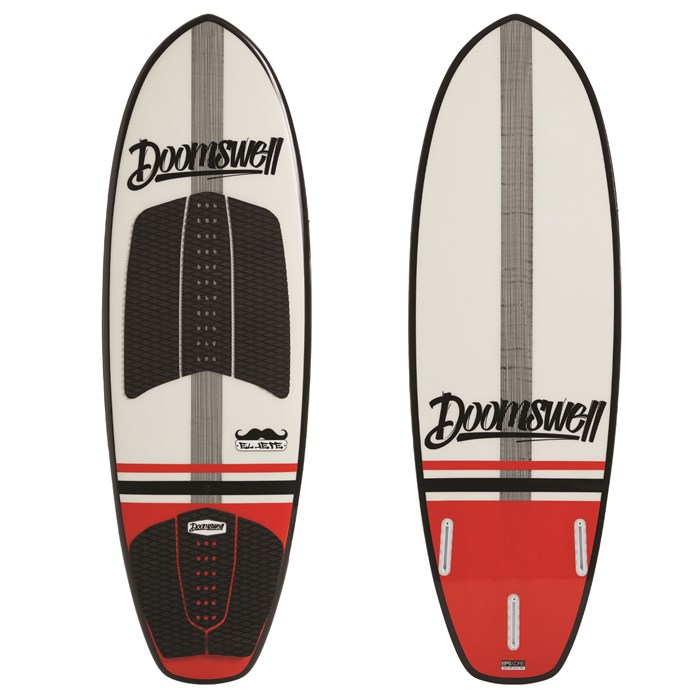 The Doomswell board is one of the best options for beginners. It has an EPS foam core that provides strength and stiffness to the board. The foam core is encased in a resin skin to keep it from becoming damaged on the water.
The board has a full longboard shape with a high volume that helps beginners stay upright and helps them find their balance. This board also has a high-quality traction pad that is attached to the board using marine grade adhesive so it is not going to get unstuck no matter how much the waves batter it.
The Doomswell has some hardcore fin technology. It has thermacore front fins that are designed for free-style wake boarding. It also has a great rear fin that makes it easy to change direction without losing momentum.
Features:
EPS Foam Core
Full Shape
Thermocore F3 Front Fins
TMF1 Rear Fin
Marine Grade Traction pad
---
#3. Ronix Koal Classic Longboard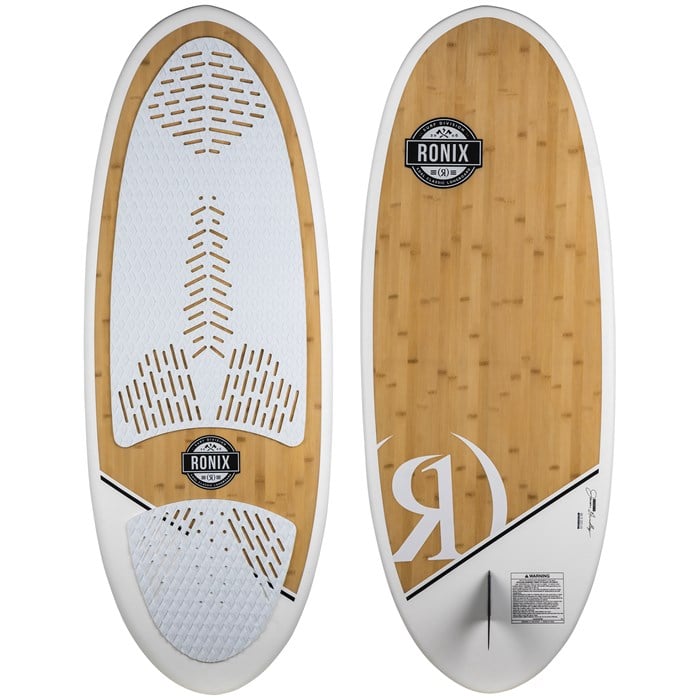 Choose Ronix if you want a durable and highly functional wake board. It has a foam core that it made in a fully automated process to minimize defects.
The board was made keeping in mind a classic surfboard and borrowing certain key features to make this longboard. For example, the shape of the board is more rounded compared to other wake boards and it has full rail edges that make you feel like you are actually surfing.
The board also has a stable rocker which is 3.9 inches at the nose and 0.2 inches at the tail. The rocker is designed to maximize stability and this feature makes this board ideal for beginners.
The unique thing about this board is that it only has one fin which is 4.5 inches' long. Using the spring lock mechanism this fin can be adjusted according to the rider's preferences.
Features:
Foam core
Surf style shape
4.5″ Fin
Stable rocker
Full Rail edge
---
#4. Liquid Force Primo LTD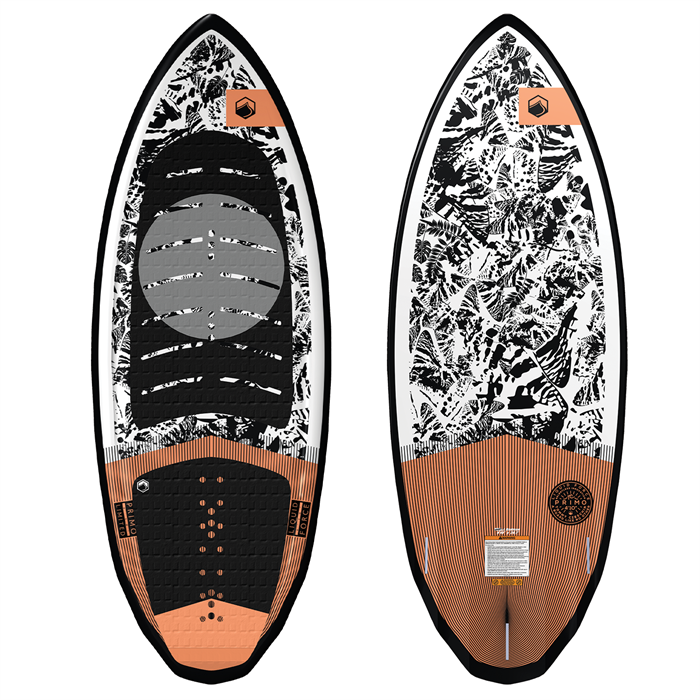 Next, let's take a look at the LTD wake surf board by Liquid Force. This is one of the most well-designed boards on this list. It has a compression molded foam core and the overall construction of the board makes it ultra-light. This makes it easier to reach higher speeds on the water for an exceptionally thrilling experience.
The tail has a unique squash tail shape that helps with control and maneuverability. The fin set-up on this board is adjustable so you can attach either one or two fins based on your preferences. We recommend that beginners attach all the fins because they provide additional control.
The base of the board has back channels which also help make the board more stable on the water which is why this is a great board for newbies. It also comes with foot straps to give rider more grip but these are removable so that you can take them off once you get the hang of things.
Features:
Compression Molded foam core
Squash Tail shape
Adjustable fin setup
Removable foot straps
Base with Quad Channels
---
#5. Ronix Super Sonic Space Odyssey Fish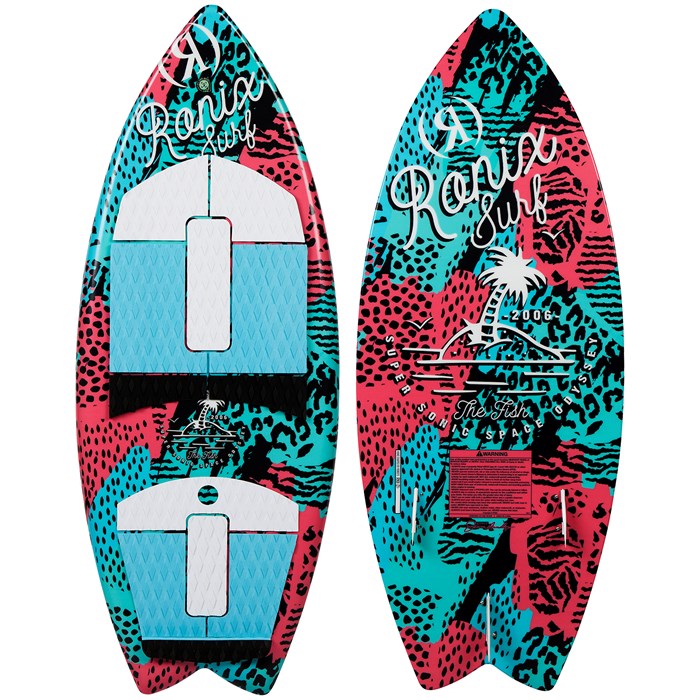 The Super Sonic Board by Ronix is a great option for young learners so you can get this board if your kids are into wake boarding. The board has a foam core and a standard board shape that is designed to help you surf.
While the 3'9″ Tip Rocker adds to the stability of the board and makes it easier for beginners to handle it.
The 3 fins on this board are made from fiberglass while the rear pad has an extra tall tail kick. Both of these features are incorporated into the board so that the rider has more control and can easily change direction on the water.
Features:
Foam core
Standard surf shape
3'9″ Tip Rocker
Fiberglass fins
Rear Pad with Extra Tall Tail Kick
---
Conclusion
Now, you know which wakesurf boards are the best for beginners. The key thing when purchasing these boards is to make sure they have a strong core and a rocker for stability as well as fins and a traction pad for grip. Happy wake boarding!
To is Surf and Kite Instructor, Web Designer. He share about His life in this blog. More about Him in About page.