The surfing world has seen many experimented surfboards and there are many revolutionary changes that have altered the surfing experience forever. Epoxy surfboards are one of those reforms. However, after their introduction, they have only been improved over time and now we have a very refined form. The best epoxy surfboards give you plenty of maneuverability with control.
Here is everything you must know about them.
Best Epoxy Surfboards for 2023
Epoxy Surfboards Reviews
Solid Surf Co Pescador Surfboard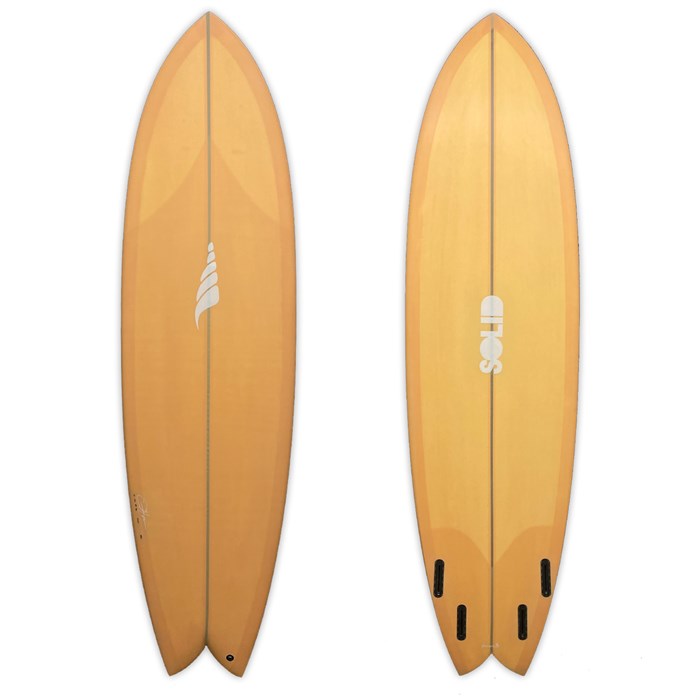 High-quality construction with the versatility you desire, this durable board can take your surfing to a whole new level.
Made from top-quality material, it has basalt, organic hemp, organic cotton, recycle polyp, plant-based resin, and steam-blown EPS in its body. To add more power to it, it is reinforced with volcanic basalt fibers. Its plant-based epoxy resin core and eco-friendly hemp lamination give power and versatility to the Bioflex construction.
It has a long fish shape that gives you full control. Also, it features a gradual entry rocker with an extra rocker and a long tail. With this shape, you can keep your pace on smaller waves, and also heavy days are not the problem. It has a fish/swallow tail style.
The fin layout is quad futures. To improve your drive, the rear quad fins are present a bit at the back of the board. This way you can make the most out of your surfing session.
This long fish board has the buoyancy that makes it ideal for everyday use. Its design keeps your weight back and doesn't allow nosedives. Overall, this board is well equipped with everything to suit your maneuvering surfing needs.
JJF by Pyzel AstroFish Surfboard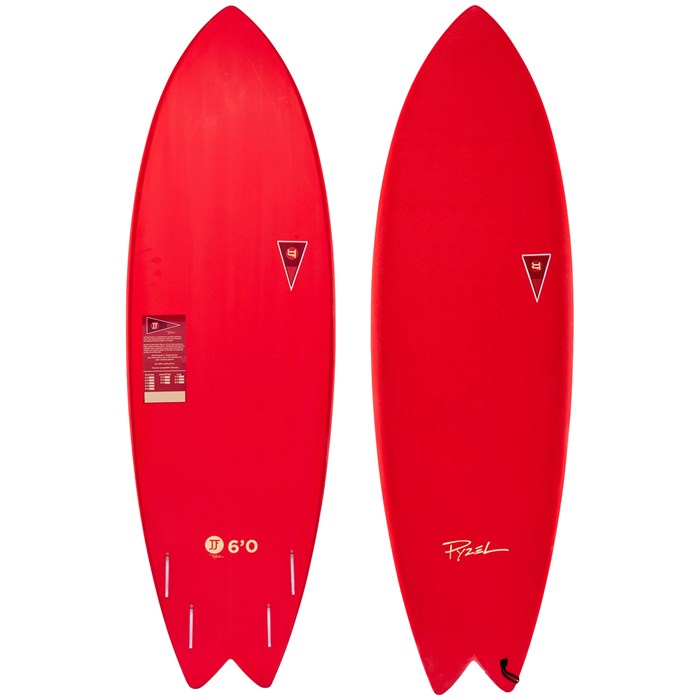 It has a classic fish shape with additional advanced features to augment your surfing experience.
Having Eco EPS construction and internal wood stringer, this board has perfect stiffness with rigidity and also adds performance. Further, it features Funformance Technology; thanks to this the board has high-quality construction which makes the boat very light weighted but highly durable. The epoxy construction makes it very trustworthy. Also, it contains genuine Futures boxes and a cozy yet durable EVA top layer.
No matter what kind of wave you are going to face, this board is ideal for all. Also, skillvel le does not matter. Whether you are a new surfer or you are riding for fun for ages, this board will not disappoint you. It has a quad fin setup and genuine Futures boxes. The fin setup gives you ultimate control and makes surfing more fun.
So you can remain comfortable while you surf, it features a soft Eva top layer. Also, you will see hand-sanded rails. With the flat bottom, you get amazing speed.
The entry is fast enough to be competent with all skill surfers. On the whole, it is an affordable fish board that meets all your surfing needs. From design to performance, this board has its class.
Epoxy Surfboards Pros and Cons
Epoxy surfboards are a mixture of EPS, epoxy resin, and fiberglass cloth. EPS stands for expanded polystyrene. The combination gives it lighter weight with better durability. They may or may not have a wood stringer depending on their brand as they have a dense stringer material that adds strength but keeps it low in weight.
Pros of Epoxy Surfboards:
There are many qualities of epoxy surfboards that make them everyone's favorite.
Their construction makes them the lightest surfboard available today which means from day one to the last, they are easy to control
Their stiff resin gives them the strength that you can rely on; they are the strongest today and don't get damaged that easily
The buoyancy is outstanding; these boards are truly buoyant and float like no other
With their stiffer yet faster flex they are very lively and become very playful and fun overall
Stay on top of the water which makes it easy to paddle
Ideal for our environment as they are made with environment friendly material and can be cleaned easily – that means they provide fun without harming the environment
The speed is super because of its floating abilities
Just perfect for all kinds of surfers – no matter what their skill level is
Cons of Epoxy Surfboards:
Nothing is perfect in this world, and so are your favorite epoxy surfboards. Here are some of the flaws that you need to bear when you go for an epoxy board.
A little damage can allow much water to enter the board, as there are open-cell beads and their crack can get the water in; sealing the damaged area immediately can solve this problem
Like other things, sun and UV rays can damage the board greatly – they can make the board expand; it only happens when your board sit idle in the sun so cover it with a reflective bag when not in use
When the condition is not ideal, they are hard to pedal because they don't cut through the chop but bounce a bit but in less ideal conditions all kinds of boards have some trouble
As they are offering a great deal of features, you will find them expensive than others
Comparison Epoxy Vs Poly Surfboards
Epoxy and Poly both boards have their own qualities. Here are the things to expect from these boards:
Popular Articles:
To is Surf and Kite Instructor, Surfboard Shaper. He share about His life in this blog. More about Him in About page.