Durable, stable, quality-production, perfect design, and comfortable, many fish surfboards dominate the sea with these qualities this year. However, how to know which one is the best is a bit tricky. I have compiled the list of best fish surfboards for 2023 with Lib Tech leading my list with its great features.
Top rated Fish Surfboards for 2023
Best Fish Surfboards 2023 Reviews
#1. Lib Tech x Lost KA Swordfish – Best Intermediate Fish Surfboard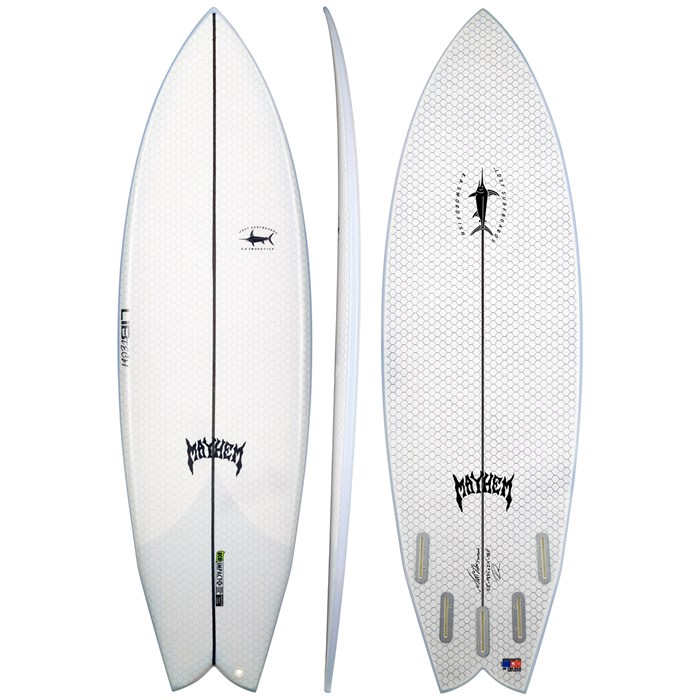 With the long pointed nose, wide tail, and amazing rocker profile, this fish makes quite an impression on others.
Having magnesium basalt carbon construction, you can expect a lot from this Lib Tech swordfish. In this perfect mesh; epoxy increases the durability and liveliness of the board. Additionally, you also get flex and dampness, thanks to the polyester. Along with that, carbon composite stringers work well with this flex that increases the life of the board overall. Magnesium fibers improve impact resistance. It is right to say that you get the world's best construction of a surfboard with this combination.
Furthermore, it has BioMatrix resin. It is a low VOC glycerin-based chemistry resin that gives a fine and smooth surf. Also, it gives a longer life to the board. Further, it features hexzylon fiber foam skin that absorbs layer vibration and gives smooth skin that is resistant to ding and impact.
You will also get the FOC II fin box system. It is a lighter but very stronger fin box that is two-tab compatible with a half-inch fin adjustability. You can set the board according to your needs.
Moreover, this board features Sprock blocks; they are dent and crush resistant with greater strength. There is also nitrogenecell foam. It is a very light, strong, waterproof, and nature-friendly blowing agent. Overall, every feature makes this board amazing thanks to the designing of Matt Biolos.
#2. Lib Tech Funnelator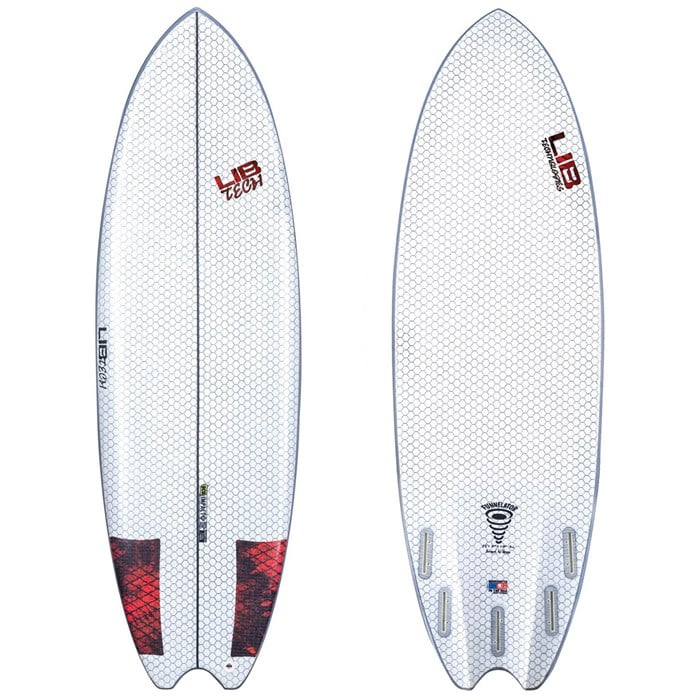 Amazing construction, awesome shape, and super design, this board can surely take your surfing to a whole new level.
When it comes to the construction you get the Lib Tech famous magnesium basalt carbon construction. It is a blend of composite, resin, EPS, and carbon fiber. Epoxy provides durability and better life to the board. While magnesium fiber enhances impact resistance, and the polyester gives it dampness and flex. The carbon composite stringer works well with this polyester and holds the board tightly forever.
With the compression flow accelerator technology, you get a double V bottom contour. Thanks to this, you enjoy the extremely high speed with jet propulsion effect. Increased and thinned-out rocker curves at the rail provide improved power turns and speed. Furthermore, it also has a full plan shape with straight rail lines. It lets you enjoy extra speed and glides even when the waves are smaller.
You will also get a lighter and stronger FOC II fin box system that's two-tab compatible with half-inch fin adjustability. You can tune the board as you like to gain complete benefits from its shape. You get five fin box layout. With its swallow tail, you can plan speed ahead. You can also easily turn with better control as there is less volume in the tail. The bottom shape is a double concave vee.
Overall, this groveler-style board provides you with all the best features of the fish surfboard.
#3. Catch Surf Blank Series 5'6 Fish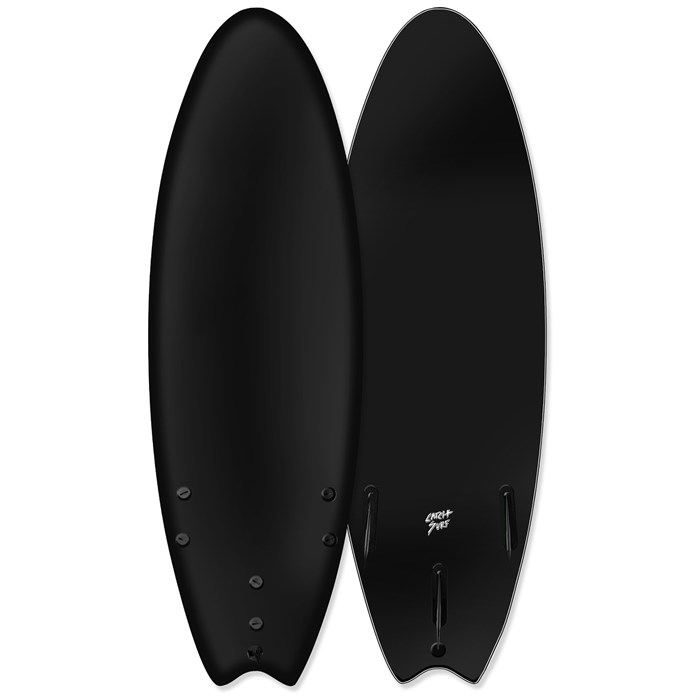 With the classic looks and shape, this fish surfboard makes you do wonders on the waves.
Made with a dual composite core and having a twin maple wood stringer, this old school surfboard has a very durable construction. It has an 8lb PE deck and HDPE slick skin which is highly impact resistant.
Furthermore, you enjoy classic fish shape for down-the-line riding. In the fin box layout, you get a thruster fin set. Fin compatibility is catch surf hi-perf. The tail is exactly what you expect in the fish surfboard i.e. swallow tail. With this tail, you enjoy better turns with lighter weight on the tail side. It gives you extra control as well.
With the flat bottom, you can catch even slower and smaller waves easily. With the soft rails, more water flows through the edges. It adds stability and gives better control and balance. Additionally, it features a pop-through leash plug at the tail.
An additional benefit is a price. You get all these amazing features at a very affordable price. Overall, this fish surfboard is light, durable, and highly reliable when it comes to catching every wave.
#4. Catch Surf Odysea x Lost RNF 6'5″ Surfboard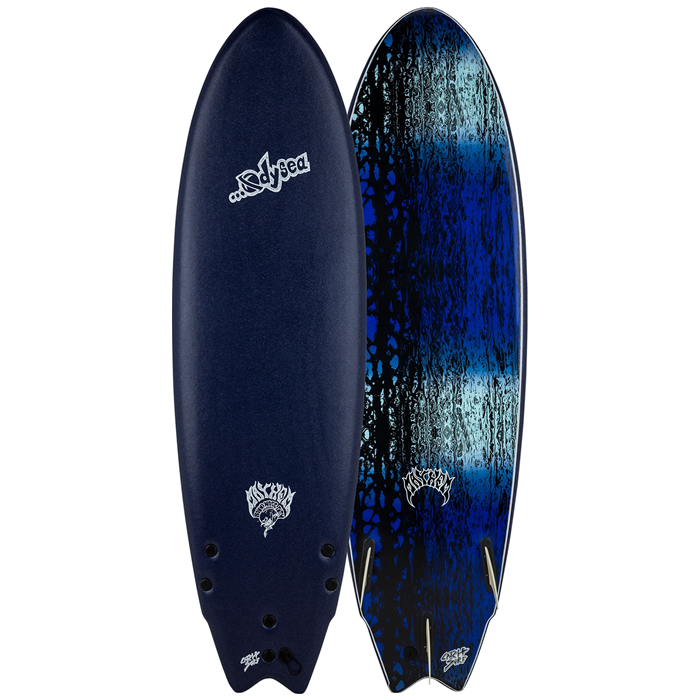 Having a dual composite core with impact resistance skin, this fish surfboard is one of the best in the market.
In this surfboard, you get a dual composite core with triple maple-wood stringers. This construction gives it durability and the performance that you desire. Additionally, there is a durable HDPE slick that keeps away the effect of any impact. The high-quality material makes it amazing including polyethylene, composite, and wood.
You get central concave bottom; thus, you enjoy increased drive and lift. There is also vee out the tail so you can have better control while surfing. The tail style has a swallow type to give better hold, control, and stability to your board. With its down-the-line riding, you get the classic fish shape.
Additionally, to get fuller control of your surfboard, you can have a high-performance removable fin system with a leash plug. The thruster Tri fin set further improves maneuverability and performance.
Designed by Catch Surf in the USA, this soft-rail board makes surfing more fun.
#5. JJF by Pyzel AstroFish – Best Fish Surfboard for Beginners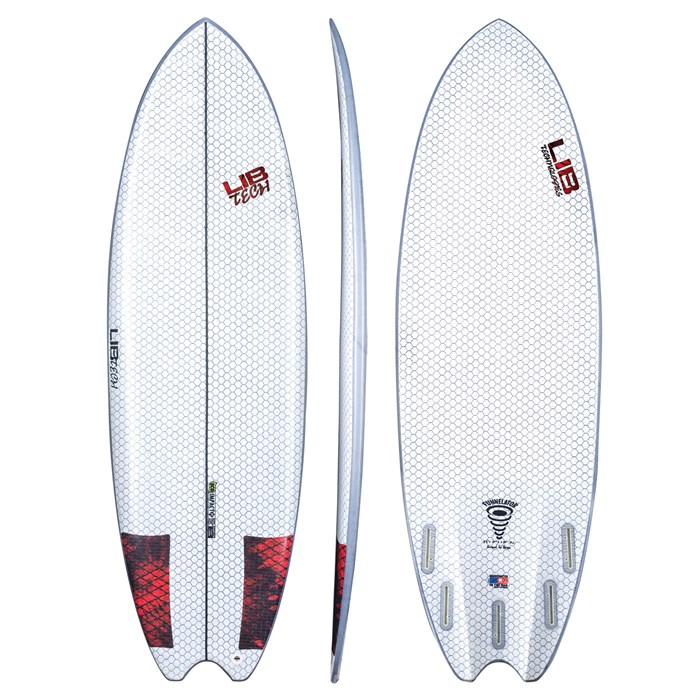 Whether you are a beginner or a pro, with this fish surf, you never miss any wave.
With the Eco EPS construction and internal wood Stringer, this board keeps going no matter what the condition is. Furthermore, it also features Funformance technology which means it has the best quality material with the built performance. In this board, you get epoxy/ fiberglass construction with a complete length recycled EPS foam core along with the durable and long-lasting EVA top layer.
The Astrofish has a quad fin setup with genuine futures fin boxes. Also, you get single fin compatibility. With its swallow tail, you can plan your speed and have the best turns. It is easier to turn when there is lesser foam in the tail region. Other than these, you get hand sanded rails.
So, if we see overall, this board is very light weighted, durable, and reliable when you enter the waters to catch every wave. Designed by Jon Pyzel and John John Florence, the Astrofish gives you the best surfing experience.
For the veterans and beginners alike, this surfboard can take your surfing to a whole new level.
Having the molded EPS foam core, along with fiberglass wrapped two parallel wood stringers, the durability is outstanding. It is something that you can rely on to be with you for long.
The board additional features the high-performance quad-fin. They have an FCS compatible design that makes it fun for the surfer to surf and gives benefits on the turn. This feature makes it ideal for the small to medium fin and helps to achieve optimal speed.
The speed is further enhanced with the bottom skin made from high-density super-slick polyethylene. This makes the surfboard glides in the water freely; it lowers the resistance and let you surf hassle-free.
The deck layer is highly durable and even after being used many times; there are no dents and dings on the board. It has the ultra-durable IXPE foam that makes it different from the rigid old surfboard. With its small but buoyant, this surfboard is perfect for the experts having 200 pounds and the beginners having weight up to 175 pounds.
Along with providing the ultimate surfing experience, this surfboard has its own class in the design and patterns.
Equally great for the adults and kids, this surfboard has the upgraded durable construction. The foam deck has wooden support that enhances its performance along with making it stable. Also, there are three responsive bottom fins that increase the speed when it is the time to enjoy the waves.
To make this board highly practical, the fishtail offers extra hold along with the removable fins that make the transportation easy. This surfboard features a patent pattern that exclusively makes you stand out in the crowd.
If you are learning to surf then this surfboard is surely for you because it helps in attaining the optimal control of the board. Also, it is more safe and secure when it comes to surfing than others.
This board is easy to assemble and transport without any trouble. Overall, this surfboard is strong and sturdy and helps you enjoy your time at the sea by giving complete power to control your surf.
Rock-It Albert Surfboard is the best seller of the Rock-It as it is ideally fun and good for the kids and young adults alike. Those who are looking for the surfboard to step into the world of surfing, for them, Albert is the finest option available.
If the surfer has the weight of up to 175 lbs, this board definitely provides a go-go situation.
This surfboard is the ideal for balance because of its big size of 5 feet and 8 inches to catch and enjoy the coming waves and also small enough to paddle and carry it when required. It has the perfect width of 20.5 inches and a thickness of 2.5 inches.
The core of this board is made utilizing the recycled EPS foam. The board is design in such a way that it gives the optimum volume to make it super-floaty.
It is a mixture of simple design and amazing style. To augment the durability of the board, it has 6 oz fiberglass cloth under its soft top which makes it comfortable as well.
Strong buoyancy and light-weighted, with this surfboard under your feet, you will want to surf all day long.
Made from high-quality material, the XPE deck of this board will last season after season. The protection over the top layer makes it impact resistant and tear-resistant. The board has the wood support from within that further improves its durability and makes it last longer.
The HDPE bottom is as astonishing as the top; it is designed in a way that enhances speed and offers flexibility. The stiffness at the bottom makes the board glide in water without any trouble.
This surfboard features three removable fins. Thanks to its fishtailed design, the board is highly flexible and can withstand many diverse wave conditions with full confidence. Because of its own lightweight but strong buoyancy, this board has the power to take a strong load.
It features a specially designed leash position that provides better stability and safety while surfing. All in all, this board is epic in providing support. It can enhance your strength and speed in no time.
#10. JK Surfboards The Big Boy Fish 7ft
It is specifically made for the big boys who wish to catch the big waves with the big board. With the sanded finish and 5-fin features, this board is one of the best from JK Surfboards.
This Big Boy Fish is the on-demand board of the company having larger sizes – 8 feet for bigger boys, 7 feet 3 inches for the riders having 200 lbs, and 6 feet 8 inches for the 185 lbs.
It is designed in a way that it paddles swiftly and allows late drops at ideal times. This fish board maximizes the fun as it makes the smooth turns and goes faster when needed.
With the 5 fin setup, this board could be enjoyed as the thruster or a quad. It is made using a fine high-grade material to make this board long-lasting and tough enough to take the rough waves of the sea.
#11. Wave Bandit Ben Gravy
Endorsed by Ben Gravy himself, it is a high-performance fish surfboard that is ideal for the newbie surfers and experts alike. Having a composite core with twin wood stringers makes it a really tough board.
It has a high-density slick bottom. Leash plug and fins are included with the surfboard. Wave Bandit is literally for all kinds of waves conditions – whether a surfer wants to enjoy small river waves or big sea waves, the board is ready to take it all.
This board literally fulfills the motto of the company 'Surf's Up Everywhere!'. This board takes the second spot in my list because I trust Ben Gravy and his adventures of traveling, music, and surfing. It is no doubt that it is the best fun surfboard available in three different sizes.
Kona Surf Co The 5-5 Soft Foam Short Softboard Surfboard
This Kona Surf Co's board is the last but not the least in my list. Ideal for all skill levels, this fish board has the ability to tackle the waves for the whole day.
Having the size of the five feet five inches, this surfboard offers enough volume that doesn't miss the wave and allows easy paddling.
Because of its amazing construction, it is not a typical surfboard. With swallowtail and the wide point tucked, this board lets the surfer enjoy maximum performance.
Its fins are removable; either make it a thruster or twin fin setup, it is the rider's choice. It also allows the surfer to ride without fins. Its IXPE deck has double EPO and XPE layers with two stringers inside. Its bottom is HDPE slick.
Overall, this fish surfboard is the combination of great features and great design. Available in different styles, the surfer could select the one that goes with his taste.
7S Super Fish 4 IM Surfboard
Stable, durable, and speedy, this surfboard fulfills all your exciting surfing demands.
Made from Innegra Matrix or commonly IM, this new Super Fish surfboard incorporates the old Superfish 3 shape with many new amazing and improved features. This board remains stable even when you are turning it.
Because of the special construction, this surfboard stands out from others. The torsional flex is controlled with woven fiberglass. The board remains fully in your control and always produces similar smooth surfing results.
Its overall design is created very carefully. Its nose has extra width along with parallel rails. This blend helps in improving the stability of the board and allows producing extra speed. The tapered tail aids in mobility while with a flyer, the turning is made easy.
This surfboard also features a balanced rocker that produces enough lift in the nose when needed. The volume in the chest gives the paddle power that every surfer wants in his surfboard. No matter what the water condition is, this surfboard gives the best surfing.
THURSO SURF Lancer 5'10" Fish Soft Top Surfboard
Strong, stable, durable, light, buoyant, and well cushioned, it is a perfect fish soft top surfboard for the kids having the weight of up to 200 lbs.
THURSO SURF Lancer has the length of 5 feet 10 inches with 20 inches width and 2.75 inches thickness.
The board is specifically made by keeping in mind the stability of the rider while surfing. It provides optimum enjoyment for hours of surfing fun. The board is designed to be buoyant and very light – the high-density EPS core is the secret which is long lasting and tough.
Every inch of the board has been carefully constructed. HDPE slick bottom not only augments the toughness of the board but also increases the board speed.
The board is made comfortable for the rider by using durable IXPE deck. Other than these, this board has two fins to make it more stable, two rigid wood stringers to enhance control, along with an adjustable fin box to allow quick transition in performance and easy transportation.
Overall, this board is ideal for the surfers who want more hold and comfort when they tackle the waves.
Types of Fish Surfboards
These are just a few examples of the many types of fish surfboards available. The design of a fish surfboard can vary depending on the specific needs and preferences of the surfer.
Check them now!
Classic Fish: This is the original design that the fish surfboard is based on. It typically has a wide, round nose and a swallowtail with twin fins.
Modern Fish: This is a contemporary version of the classic fish, often with a narrower nose, more rocker, and a more refined tail shape.
Quad Fish: This is a fish with four fins, usually with two larger fins in the back and two smaller fins in the front. This design provides a lot of speed and maneuverability.
Keel Fish: This is a fish with a pair of large keel fins, inspired by the design of old-school twin-fin surfboards. This design provides a lot of speed and drive, but can be less maneuverable than other fish designs.
Mini Simmons: This is a wider, shorter version of the fish, often with a rounded or diamond-shaped tail. It has a unique, retro look and provides a lot of speed and stability.
Winged Fish: This is a fish with wings or notches cut out of the tail, which help to break up the water flow and provide extra maneuverability.
Things to Consider Before Buying a Fish Surfboard
Fish surfboards are amazing and their features make them very renowned. Here are a few things that you must consider before buying a fish surfboard.
Style
Retro fish surfboards
They are the original 70s fish boards. They have twin keel fins, a small size, and a very different shape. To meet the need of the new modern world, they are a bit modified. They now have the addition of the Rocker curve. The curve is not very pronounced but present.
Modern fish surfboards:
These modern boards became famous in the late 90s. They have fins with wider noses and a narrower tail. They are ideal for all kinds of conditions. There is more area to the tail that gives it the power to take on weaker waves as well as stronger ones. Overall, they are very maneuverable with great speed.
Material
You will find that fish surfboards are made from different materials. Boards that are made using EPS blanks have epoxy resin lamination. On the other hand, polyurethane blanks use polyester resin lamination.
If you want to go classic and wish to try retro fish surfboard, then the right material is polyurethane blank. It gives the heavier feel underfoot and unpredictable. Its weight enhances all the unique properties of the retro fish surfboards.
On the other hand, if your choice is the modern fish surfboard, then EPS is a better choice as it adds lower weight with increasing speed. Furthermore, it also makes the board more maneuverable.
Size
When you are just a beginner, you should select the fish board that is the same as your height or only 10 inches taller.
For the intermediate and experts, the height should be about 3-5 inches is smaller than theirs.
Bonus tip:
If you want to know the brand and the style, then we have selected a few best in the market. Just pick one and have the best surfing experience.
Related questions
Is a fish surfboard good for beginners?
Fish surfboards have a unique shape and design. They are shorter and wider and provide extra volume to float on waves. Their shape makes paddling easy. Thanks to their wider design, it is also easy to take the right position while enjoying your favorite maneuvers.
All of these characteristics make them ideal for beginners. Not only that many intermediate and expert surfers also take the advantage of their designs and be playful while surfing on their fish surfboards.
One thing to clear here is that if you are just beginning as you have never surfed before, then going for the fish surfboard is not recommended by many. It is said that going for a longboard or any foamie would be a better option. But if you think that you can take care of things, then you can directly try on a fish surfboard before going for a foamie as it gives you all the features to learn in an efficient manner.
However, when you are switching to hardboard, even at the beginning stages, then fish surfboard is a better option than any other. Their ability to take on medium and small waves is very helpful in learning new maneuvers.
The best part is due to their wider shape, they remain stable while giving you diverse options of learning new tricks.
Furthermore, it is right to say that fish surfboards are perfect for beginners of all ages. Whether you are a kid or an adult, you can easily handle them. As they are very lighter in weight, the kids can take advantage of easy handling.
Also, because of their shape, they float really well, thus, the adults can enjoy this benefit when learning.
Also, they are very easy to use. As they are thick, you can easily paddle on them. Alongside, when you are new, it is important that you just don't wait for larger waves. While practicing on the fish surfboards, you can take on any waves because of their shape. You can practice on any wave size you like. So generally, the fish surfboards help you learn in different conditions.
Are fish surfboards good for small waves?
Normally, the fish surfboards are considered to be best for the small waves, all thanks to their special shape and design. They are wide, small, and thick – these three things make them perfect to catch the waves on a mushy day.
Because of their shape, they offer good paddle power along with the planning ability to set your speed according to the next wave. Their shape creates enough buoyancy to get into weaker waves. Their designs help them to get enough speed in crossing fat and flat sections.
Many people think that fish surfboards are only amazing when it comes to smaller waves but that's not true. They are the most versatile surfboards that can help you tackle any condition with style. So whether you get small waves or large, your fish surfboard will keep you going, no matter what.
Popular Articles:
To is Surf and Kite Instructor, Surfboard Shaper. He share about His life in this blog. More about Him in About page.