With the right wakesurf board selection, surfing can become more fun. You can get the perfect surfing experience. The best hybrid wakesurf boards give you the best of both worlds.
They have the qualities of different types of boards combined so you can have the ideal possible outcome.
Related:
Best Hybrid Wakesurf Boards for 2023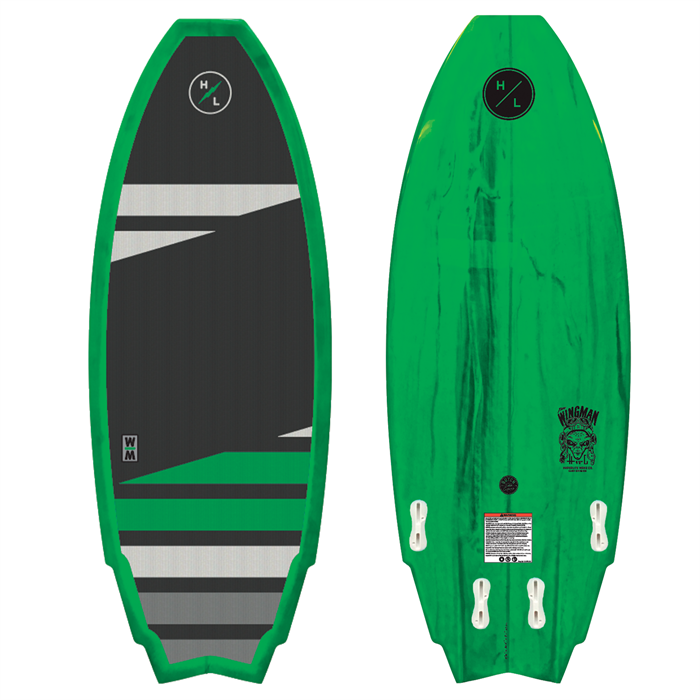 Designed to meet the expert needs of the advanced players, this wakesurf board never disappoints.
As for the rocker profile, it comes with a lifted nose and a flatter tail. Thanks to this construction, you will have lots of speed with enhanced volume under the back foot so you get a pro lift. Your takeoffs are awestruck for all and mesmerize you too.
The core comes with a carbon stringer. As the carbon laminate strips are placed strategically in the construction, the durability and strength become incomparable along with keeping the board very light in weight.
The company further changed the game by using handmade epoxy constriction. Epoxy resin covers the polystyrene core so you can have one best board available in the market today.
To give you more control and speed, it has a quad fin design. It directs the water to the end of the board and out the tail which improves its acceleration. For your further convenience, it is very easy to install and remove the fin with its FCS II system. With this, you can remove the fins without using any tool.
Overall, this wakesurf board gives you lift, speed, and maneuverability that you can't resist.
Connelly used advanced technologies to let you live the life of a wakesurf boarder at full.
This wakesurf board has epoxy construction that has been the part of these boards for ages because of their lighter weight but sturdy construction. With this construction, this board becomes highly responsive and buoyant to improve your wakesurfing experience.
Furthermore, the EPS Foam Core comes with a 5mm Stringer to have the highest strength with durability to rely on. The unidirectional carbon flex control further makes things better.
The shape is surf style; thanks to this you get different rail shapes, multiple fin setups, and multitude board outlines so no matter what your riding style is, it suits you all. So if you see overall, there are many ways to slay the waves with this wakesurf board.
With the quad channel-shaped base, you can rely on it blindly. Rails are present with wings to give you a lighter and looser feel. Also, its twin fin step is present with FCS II system to easily attach or detach the fins depending on your personal needs.
So when you want to have the best ride with multiple riding options, it is the finest wakesurf board to go for.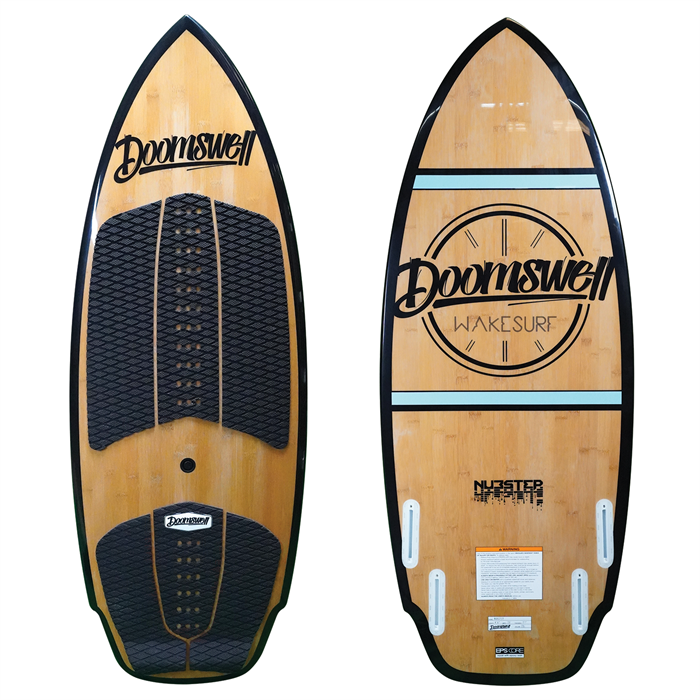 With the new design and most aggressive performance skills, this wakesurf board lets you witness miracles.
Made to take intermediate performance to advance immediately, this wakesurf board design keeps you going like a pro. It is made with an extremely light weighted EPS Foam core that maintains the correct structure and provides stiffness and durability to the board.
To augment your abilities and give you tight turns, it has a pulled back wing alongside a rounded diamond tail. With increased nose rocker and a bit rounded rails, the drive of this board is like no other.
Furthermore, to increase maneuverability and stability, it comes with Futures quad fin system. It is considered to be one of the strongest yet lightest fin systems globally. The rear fins allow complete direction control and improved drive without lowering the speed. Front fins give you loose radical surfing.
On the whole, if you see deeply, all of its features take your surfing experience to a whole new level.
To give you the best experience when you just start surfing, this wakesurf board is well-equipped to level up your skills immediately.
Having the old but very ideal method of manufacturing, this board has epoxy construction. It makes the board more buoyant and responsive with the lightest possible weight. To add strength, the EPS Foam Core comes with a 5mm Stringer.
If you are a fan of cruise shape, this board is for you. When you are ready to go into the waters and take advantage, its thicker profile provides you the benefit. Thanks to its tail, you remain stable all the time; the square tail offers a greater surface area for that. To further enhance its beginners' features, this tail takes extra time to transition edges.
Alongside, it has the most common yet amazing surf fin setup with three fins – two FCS side fins and one center fin. Thanks to the large center fin, you gain superior tracking and side fins offer more speed. Overall, this fun setup makes it a perfect surfing package.
With all the amazing features, Connelly has made Baja to be one of the best.
Providing the best of both worlds, this wakesurf board offers elite features at the most affordable price.
Having layered glass construction, this board performs the same season after season. The layered glass doesn't separate like traditional woven glass fibers. The durability and strength are the best to get. Moreover, with the Monocoque construction, the top and bottom glass are combined to become one. It makes the board highly durable in every situation and protects the board from delamination.
Furthermore, the swallowtail gives you extra hold on turns and allows for ample planning speed. The speed is in your control completely.
This wakesurf board gives you a loose and fast feel with the dual concave base that divides water into two streams through the fins leaving the tail. To compliment that, it has a rolled edge profile. The rounded tail shape improves the beginner's training sessions greatly.
Overall, it is among a few boards that are ideal for beginners as well as advanced riders due to their extra amazing features. So, if you want to stick to one board for long, it is the wakesurf board to go for.
To is Surf and Kite Instructor, Surfboard Shaper. He share about His life in this blog. More about Him in About page.