Do you want to know which life jackets are best for wakeboarding? If yes, then you are in the right place because we will provide you with in-depth information on the most suitable life jackets for a thrilling yet safe wakeboarding experience.
Wakeboarding is generally considered a very intense form of water sports. The wake boarder rides a board that is being towed by a motorboat going at full speed.
If you are an adrenaline junkie looking for the next heart-thumping experience then wakeboarding is the perfect summertime activity for you. However, as a beginner at wakeboarding you must understand that safety comes first which is why you need to invest in the best wakeboard life jacket.
Related:
Best Life Jackets For Wakeboarding
1. Follow Fresco Wake Vest 2021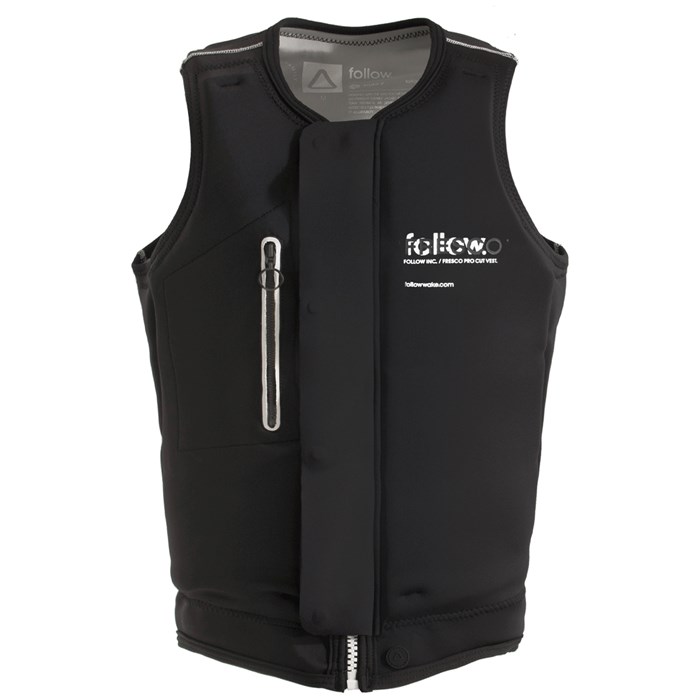 Follow is a brand that is quite well-known for producing good quality life jackets. Their Fresco Wake Vest is especially designed for water sports like wakeboarding.
It is made with a double layer of neoprene so that it maintains its size and fit even after being submerged in water. The inside of the vest is filled with featherweight foam that is resistant to water absorption which helps the jacket maintain its buoyancy.
These two features prevent the life vest from becoming heavy after a good dunking in water so that you can safely stay afloat if you get knocked off your board during a wakeboarding ride. The vest also has an internal lining which helps it fit on your chest snugly. It also comes with rubber tabs to make zipping up a breeze.
Another plus point is the large pocket on the front which has its own zipper. You can safely keep your phone or your wallet in this pocket and zip it in to keep it safe and secure. With the Fresco Wake Vest you can enjoy a thrilling wakeboarding ride without having to worry about your belongings.
Features:
Double layer of neoprene
Featherweight foam
Internal lining
Rubber tabs
Large pocket with zipper
---
2. Mystic Star Impact Wake Vest 2021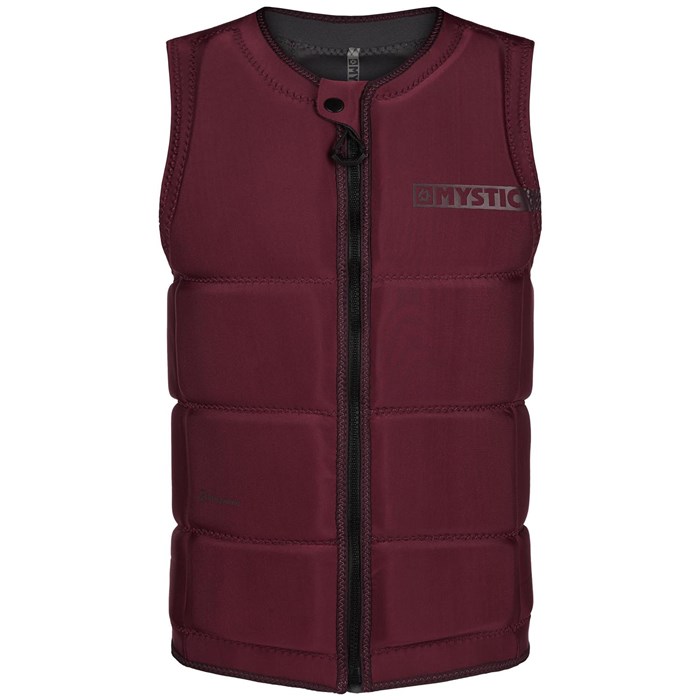 The Mystic Star Impact Wake Vest is another option that you could consider when purchasing a life jacket for wakeboarding. It is made of M-Flex neoprene which is extremely durable and water-proof making it ideal for an intense water sport like wakeboarding.
Beneath the neoprene is a layer of clash foam that not only provides comfort but also keeps you safe from a sudden impact or fall.
The clash foam is spread out evenly on all sides of the vest and it is divided into segments using a stitch through design. This means that even if less foam is used the jacket will still float easily. The good thing about using less foam in the overall design is that it helps prevent the jacket from soaking up too much water.
So, even if the jacket is doused in water multiple times it will still retain its original shape and size without becoming heavy with water. In fact, this life jacket remains lightweight and floats no matter how many times you fall into the water.
The front of the jacket is lined with a YKK front zip with a button at the top that functions as a zipper lock. This button stops the front zip from sliding open during an intense ride so that your life jacket remains firmly in place.
Lastly, this product is available in 3 different colors so you can choose a shade that appeals to your sense of style.
Features:
M-Flex Neoprene
Clash Foam
YKK Front Zip
Zipper lock button
Available in 3different colors
---
3. Jetpilot Draftline Comp Wake Vest 2021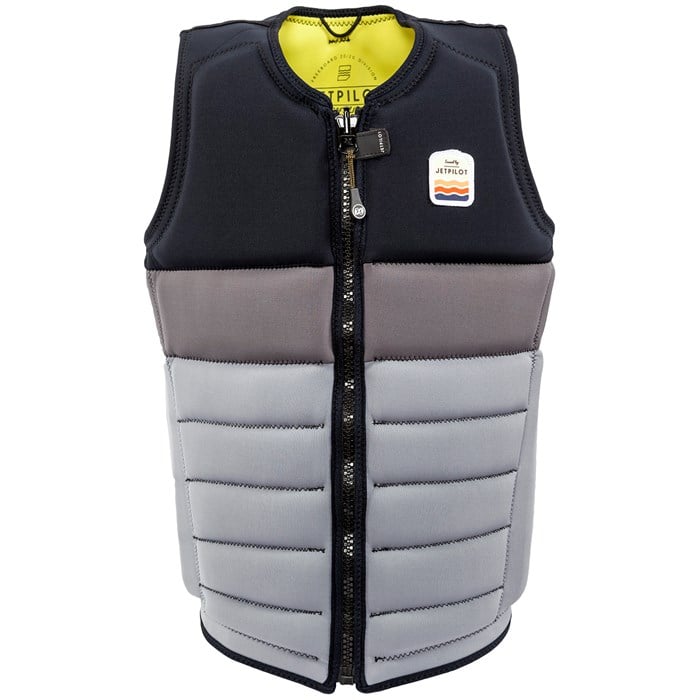 The Jetpilot Draftline Comp Vest is another solid option for a wakeboarding life jacket. It has a sleek and fitted design and is made of lightweight aero-jet foam which is resistant to water absorption. This means that the foam will not soak up a lot of water and become heavy unlike other types of foam.
The outer layer of the vest is made up of flex-lite neoprene which is waterproof and flexible. The vest is designed in such a way that the foam is segmented into neoprene pockets across the jacket. This segmented design helps keep you safe from high-intensity impacts but does not hinder your mobility in any way.
But the best thing about the Jetpilot vest are the side impact panels which keep the sides of your body safe in case of a fall or collision. This is certainly an additional perk and it is not something that every life jacket offers so the Jetpilot vest is certainly one of the best options on the market right now.
Also, did we mention that this life jacket comes with a neck loop? The neck loop allows you to easily hang up the vest to dry. Drying your life jackets thoroughly after use helps to extend their lifespan so do keep this in mind when using a life jacket.
Features:
Aero-jet Foam
Flex-lite Neoprene
Segmented foam design
Impact side panels
Neck loop
---
4. O'Neill Slasher Comp Wakeboard Vest 2021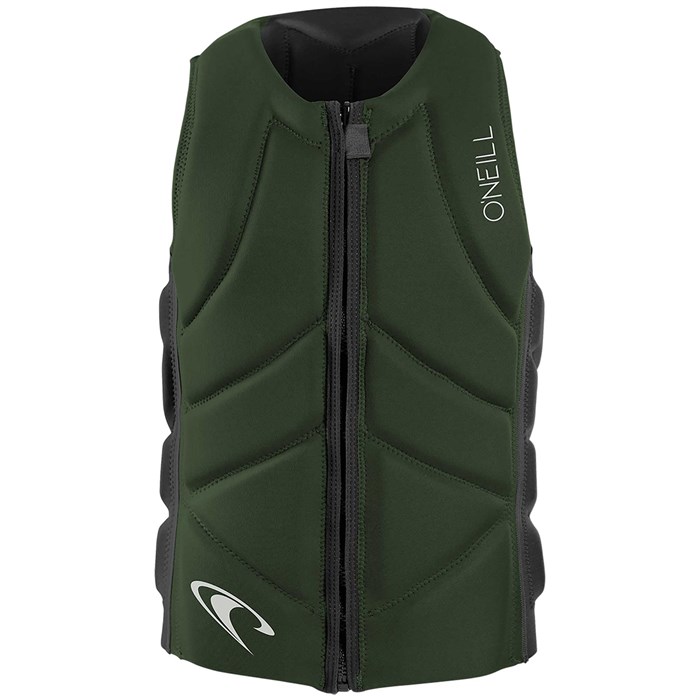 The O'Neill Wakeboard Vest is definitely the go to option when purchasing life jackets for wakeboarding trips. This vest is especially designed for wake boarders because it has a streamlined fit making it ideal for water sports. Even the armholes have a fitted and sleek design to ensure that the vest is as streamlined as it can be.
This life jacket is made of 100% ultra-flex neoprene that is water-proof and does not limit your mobility. The inside is filled with nytro lite foam. The vest is designed in a segmented foam pattern so that the foam soaks up less water and retains it buoyancy even after being submerged in water.
The front of the vest features a YKK Zipper that comes with a safety tab. The tab keeps the zipper closed at all times and prevents it from sliding open once you put on the vest to ensure maximum safety.
Features:
100% Ultra Flex DS
NytroLite Foam
Segmented foam design
Strategic Armhole Fit
10 YKK Zipper with safety tab
---
5. Obrien Traditional CGA Wakeboard Vest 2021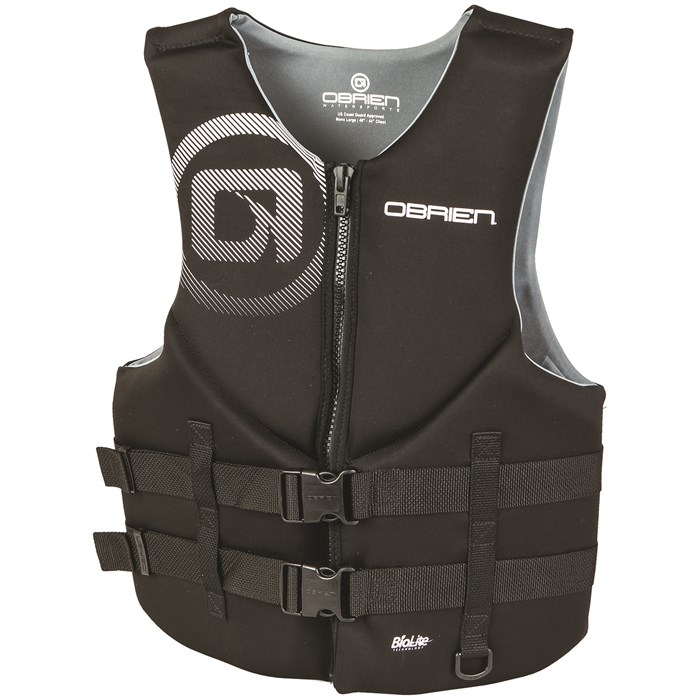 Last but definitely not the least we have the Obrien Wakeboard Vest on our list today. This life jacket is unique because it isn't made of the usual neoprene material. Instead, Obrien life jackets are designed using a Bio Lite fabric that is a much more eco-friendly alternative as compared to the neoprene used in other vests.
This life jacket has a front zipper and two adjustable belts that go around the vest. You can cinch in these belts into their plastic buckles for maximum safety. These additional safety belts are a great feature because they prevent the life jacket from slipping or coming off under any situation.
The overall design of the vest is meant to ensure maximum mobility. This is why the armholes are especially wide so that you can move unhindered at all times. The vest also has a PWC ring that allows you to securely attach the jacket with a lanyard.
Features:
Bio Lite fabric
Front Zipper
Two adjustable belts
PWC Ring
Wide Armholes
---
Things To Look For When Choosing The Best Wakeboard Vests
There are a few important things that you must keep in mind when looking for the most suitable wakeboarding vest. Firstly, the exterior of the life jacket must be made from a water-proof yet flexible material.
The material must also be strong enough to withstand rough conditions and not tear apart easily. Ideally, look for life jackets that are made from an outer layer of neoprene. However, if neoprene life jackets are not available you can also opt for a jacket made from a bio lite fabric.
Secondly, the inside of a wakeboarding life jacket is usually cushioned with a layer of foam. This foam lining must be resistant to water absorption otherwise the life jacket will become too waterlogged.
And a waterlogged jacket will only make you sink faster and not stay afloat if you happen to fall into the water. So, always purchase a life jacket that is made of lightweight foam that does not soak up water and retains its buoyancy.
A well-made life jacket will have impact-resistant panels on the sides and not just the front and back. This helps protect your body from all angles in the event of a fall or collision. So do try to get a life jacket that has this feature.
Other things to look for in a life jacket are adjustable belts for extra security, zip lock buttons and extra pockets with their own zippers. These additional features do make life easier and provide much more security as compared to basic life jackets.
Conclusion
That's a wrap on this list of the best wakeboard life jacket. We have discussed the merits of each life jacket in detail so that you know what each has to offer.
We have also provided you with all the information that you need to know before purchasing a life jacket so that you can make an informed decision. So, now you know exactly what to look for to purchase the perfect life jacket for your wakeboarding trip.
To is Surf and Kite Instructor, Surfboard Shaper. He share about His life in this blog. More about Him in About page.