Neoprene is light, comfortable, and durable. It doesn't like water and keeps you dry which makes it one of the best options to make life jackets. Many manufacturers are using neoprene for making waterproof sporting goods. Among them, we have selected the best neoprene life jackets for wakeboarding which can keep you protected while allowing you to have lots of fun.
Best neoprene life jackets for wakeboarding 2023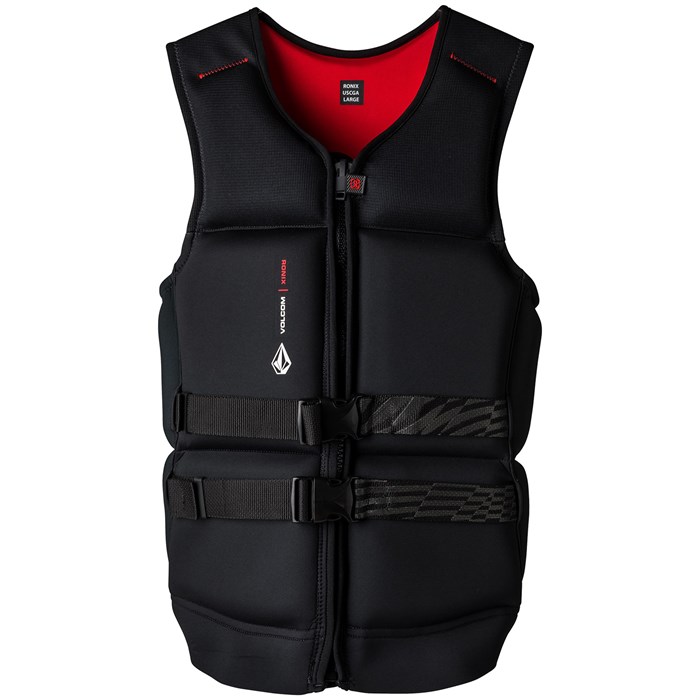 Light as a t-shirt with all the important wake vest features, Volcom Capella is the best wake vest option today.
This vest features 2 to 1 foam with tapered buoyancy. It is excellently designed among all of its kinds. It uses a tricky and efficient technique that helps to maximize buoyancy and mobility. The foam is started with 2 inches thickness from the chest and reduced to 1 inch from the stomach area.
It is so comfy that you might forget you are wearing something; it is hardly 30% heavier than the air foam. The two-way stretch neoprene material is used so you can move the way you like.
This vest is the USA and Canada coast guard approved vest which means you will float no matter what! The quality is checked and maintained under different parameters to meet all the safety standards.
Capella 3.0 is designed to curve with your body. It's a special vest of cylindrical construction. This vest is one of a kind as it copies your body movements and gives you comfort and protection on the go.
Manhattan tailor fit to match up the needs of the body during water activities. They deep-rooted the attiring procedure and were inspired by the tailoring art of NYC and transpired the perfect sizes ranging from XS to 4XL.
Thanks to the water-resistant liner, there's no water seeping into the jacket. That means there are no wet insides to make you feel awkward.
Ronix's commitment to their buyers is spectacular and this vest is one such example of their amazing products.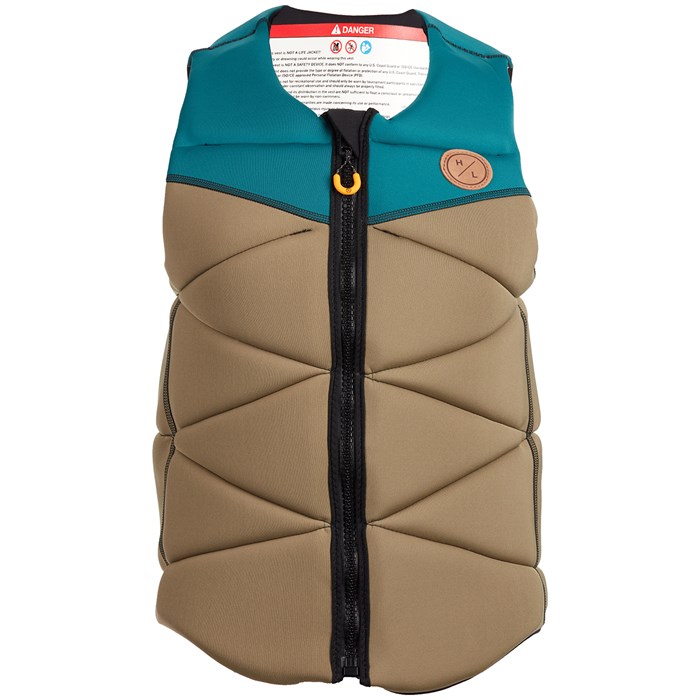 With amazing buoyancy and perfect mobility, Hyperlite made this wake vest to provide the best of both worlds.
Made using high-quality neoprene, this wake vest has ultra-light construction. When you wear it, you don't feel anything at all but its buoyancy gets you going in the water like any heavy vest. It keeps you lightweight while maximizing buoyancy. It is the vest that you can rely on.
Furthermore, it has diamond pattern flex zones that allow you to be mobile while wearing the vest. No matter how hard the trick is, it gives you a complete edge to do what you like. You remain maneuverable and highly protected at the same time.
Wearing the vest is also easy. You can effortlessly wear the vest and remove it with its front zipper. A simple front zip entry makes it look cool as well.
From the design to the protection, this vest surely gets A's in all.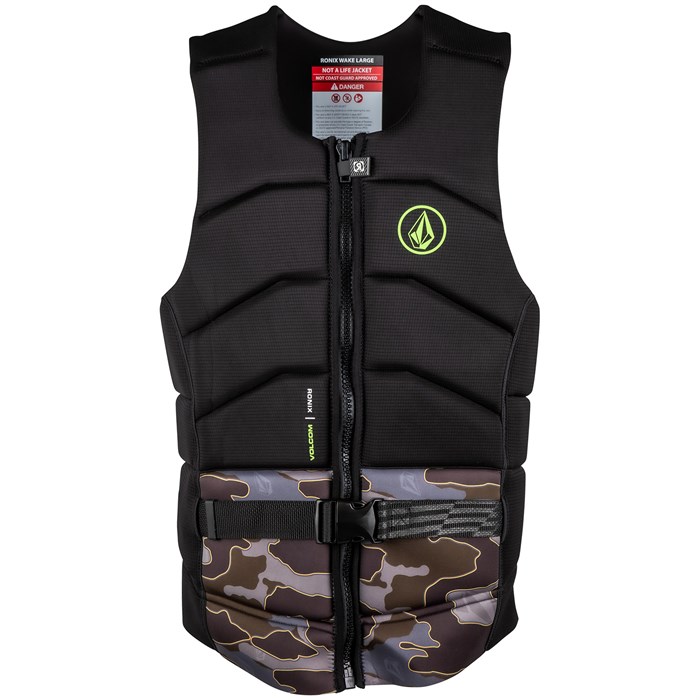 Amazingly buoyant, superbly crafted, and perfectly tailored, this camo print wake vest doesn't only look cool but also gives ample protection.
Ronix used the best material for producing this vest. It is made with 4-way stretch neoprene. It's a material that copies the movement of your body and moves with you. Moving in every direction is possible. Alongside, the air foam makes things better as it is very light in weight and offers extra buoyancy; better than any foam available today. To further increase the movement, the foam is siped as well.
Like other Ronix's marvels, this vest provides you with a Manhattan-tailored fit. This flawless tailoring gives you a smart fit. The vest is almost 2-inch longer than any standard fitting vest so it can fit longer torsos. Also, the oversized arm holes make anyone feel comfortable.
This impact wake vest has cylindrical construction; it means it goes round around your body. Its curve construction makes this waist more likable than any flat vest because, with protection, it keeps you completely mobile.
The protection it provides is surely up to the mark as this vest is an approved impact vest having CE European certification.
All in all, this vest is super comfortable and lets you be highly maneuverable with all the safety you need during water sports.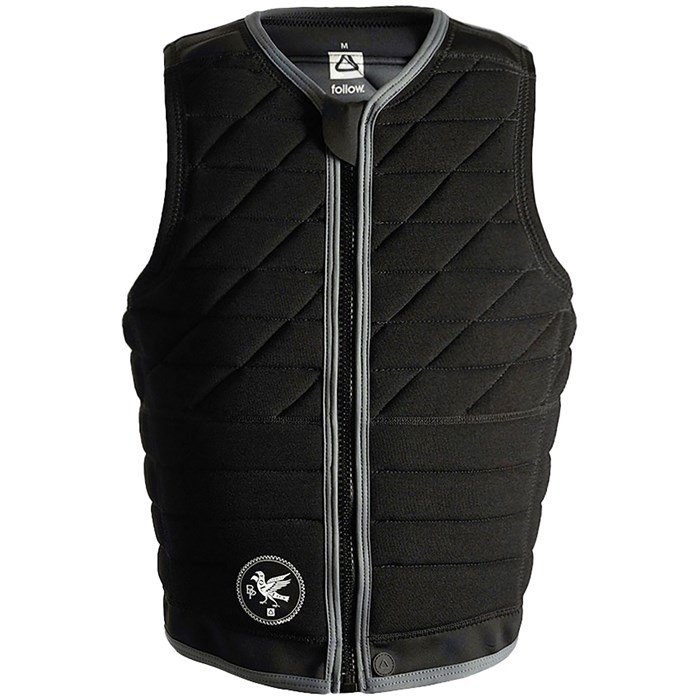 With the lightest possible weight and sturdy material, this wake vest is all that you need to boost your water sports experience.
B.P. Pro Plus has featherweight foam. It is made with the lightest material with reduced water absorption. Therefore, you can enjoy your moves without feeling bulkier. Neoprene is added externally and internally to give you the best fit with performance. Further, the use of Duraprene technology makes it hard enough for protection and side by side, soft enough to keep you comfortable.
As for the fit, it gives you an amazing-looking performance fit. With the pro-fit tapered outline, the vest will remain in the place where it should be. It will fit you perfectly and keep you protected.
With the TrueFit internal liner, you can wear this vest all day long without any discomfort. The internal fabric mimics your body's shape and gives you a fit that will not hinder your movement. It creates a natural bond with the body and keeps you protected and comfortable. The vest is stitched through segment panels completely so the foam remains in its place.
Having multiple extra large size options, this vest offers a perfect size for all.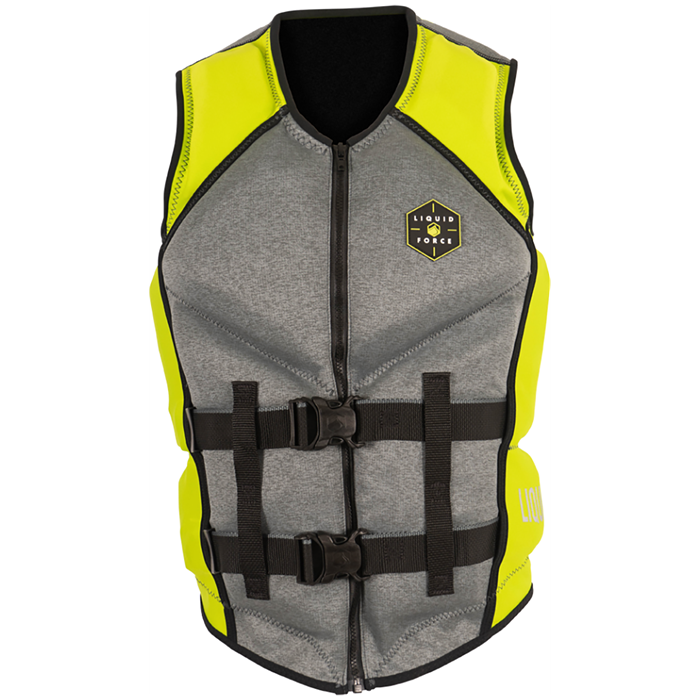 Having boosted impact protection with a super cool design, this vest keeps you floating like a life jacket.
This vest uses high-quality power flex neoprene in combination with speed skin neoprene. With this composition, you remain sure about its performing abilities.
To give you the best fit, it uses an advanced 17-panel flex design. You remain mobile throughout your riding session with great comfort. Thanks to the v-flex and wide shoulders and a bit tapered waist, you get the float that you deserve. Its external and internal materials easily keep your body protected from impacts.
As for safety, the design is innovative and beautiful and it also meets all the safety standards; therefore, it is coast guard approved. You can wear it during your wake sessions for long hours without feeling any discomfort. Furthermore, it is also Canadian transport-approved. Moreover, the front zipper and belts keep the vest secure in its place.
On the whole, this wake vest is simply the best at this price with an elegant color combination and high performance.
Is Wearing Neoprene Safe?
Petroleum-based polymers are used to make neoprene – a synthetic textile. The clothing industry is using neoprene for its versatility. It is popular and used as synthetic rubber. It is safe to use; and due to its water-resisting abilities, it is used in making waterproof clothes.
What Are the Benefits of Neoprene?
Neoprene is a very popular water-proof material. It has the following benefits:
Durable: This material is very durable and shows greater resistance against physical issues like abrasion, cutting, flexing, etc. Also, it doesn't deteriorate in sun and extreme weather.
Cheaper: Neoprene gives you powerful support and it is cheap to produce. It is made from petrochemicals and thus, it is completely synthetic. The products that use neoprene are also cheaper as compared to their counterparts.
Protection: The protection level of neoprene is not only at a physical level but it offers protection against chemicals as well like oils, acids, and alcohols.
Versatility: Depending on the demand for the product, neoprene can be molded into any shape and modified. Its products offer a diverse range of physical and chemical properties. Polymers of neoprene can remain stable even at higher temperatures.
Is Neoprene Better Than Nylon?
There are many reasons people are switching to neoprene now. Neoprene is durable, comfortable, and flexible as compared to nylon. Also, it doesn't hinder movements and is easy to maintain. It also looks great. However, it is the personal choice of the wearer.
Are There Different Types of Neoprene?
Yes, neoprene has many types. Best neoprene is better at durability, insulation, and stretchiness. Alongside, it also has lower weight and greater waterproofing properties.
The common types are:
Nylon-lined neoprene
Air Neoprene
Smooth skin neoprene
Yulex
Is Biolite Better Than Neoprene?
BioLite is a natural fiber. It is made using industrial hemp combined with thermoplastics to form granulates for molding. It is considered to be the greener alternative to the traditional market.
BioLite is a more environmentally friendly option than neoprene. For comfort levels, it is similar to neoprene. Other than that, it has a lower weight than neoprene and also it dries faster. It is also breathable in contrast to neoprene. Side by side, both are considered good to be used in life jackets and vests.
How Breathable is Neoprene?
Traditional neoprene is not breathable at all. It is known to provide insulation that takes away the breathability. This feature makes it ideal for waterproofing and thermal insulation.
Why Does Neoprene Make You Sweat?
As it is stated above neoprene is non-breathable material. It doesn't allow your body to escape its heat which, in turn, increases the body temperature. Increased body temperature means your body will send the signal to your brain to produce more sweat to cool down your body. That's why they will make you sweat more.
Related:
To is Surf and Kite Instructor, Surfboard Shaper. He share about His life in this blog. More about Him in About page.