When you want more maneuverability to meet your surfing needs, shortboards are the best option. They catch the wave better whether big or small. Here are the best shortboards for beginners 2023 to take your surfing to new heights.
Best Shortboards for Beginners 2023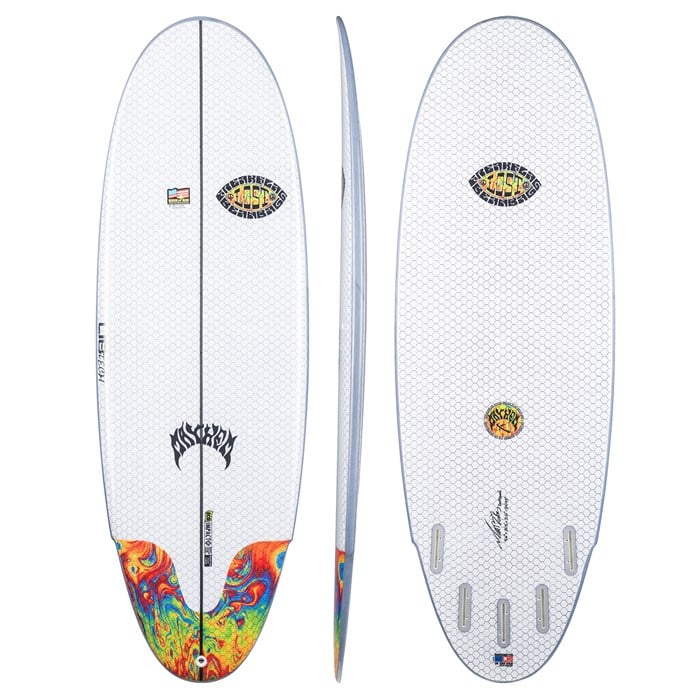 Having durability, liveliness, and a performance that you want – this board is filled with everything that you will like.
This board is carefully constructed using magnesium basalt carbon. With this construction, you enjoy the combination of many diverse but perfect characteristics. You get epoxy which improves the energy and stability of the board. Additionally, to add dampness and flex, there is polyester. Its flex matches with the carbon composite stringer to enhance the performance overall; it keeps the board together forever. Not only that, you get better impact resistance with the magnesium fiber inside.
When it comes to shape, this board is a short package with big surprises. It has a winged outline, so you get faster and tighter turns. There is a tip-to-tail vee bottom. You enjoy a faster transition from rail to rail. Thanks to its round tail, you can enjoy better speed and maneuverability even when the waves are weaker.
Furthermore, it has a FOC II fin box system. It is a very lighter yet stronger box that has two tabs compatibility with half-inch fin. It allows you to tune your board in the most efficient manner.
Design by Matt Biolos, this board is critically designed to meet all of your advanced surfing needs.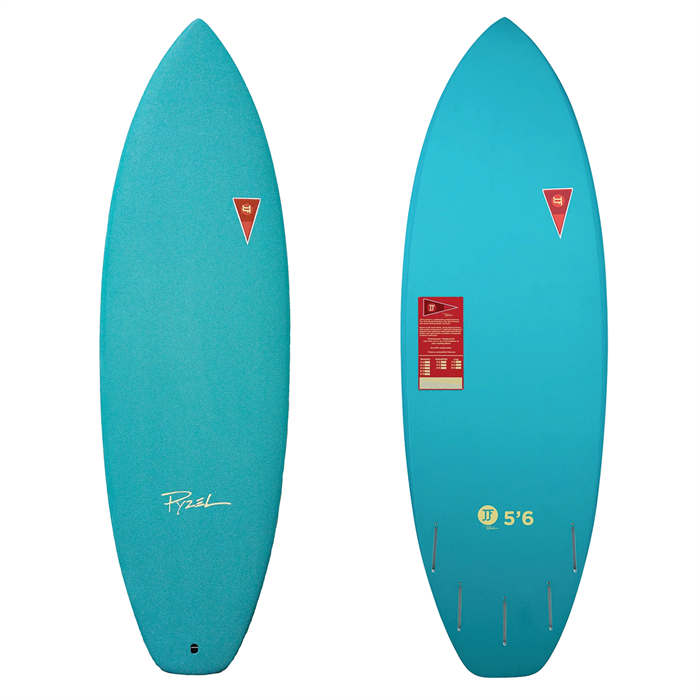 With amazing inbuilt quality and superb design, this shortboard makes sure that you don't miss a wave.
Having the most versatile shape makes this board super amazing. With its round tail, you can be at your best even when the conditions are not optimal that means you are never compromising on your performance. Thanks to a flat bottom, you get the high-speed potential even when the waves are weaker.
Its construction makes it unique and awesome. It is the perfect combination of wood, fiberglass, EVA, and EPS. The Funformance technology adds fun as well as performance to the board while using some of the best materials in the market. It makes a board very light weighted. The epoxy/ fiberglass construction adds durability. Furthermore, you get recycled EPS foam core having an internal wood stringer. The EVA top layer is smooth and able to withstand the harshness of the waves.
Even more, to keep you extra tuned and maneuverable, it has genuine futures fin boxes. You get a five-fin setup. To improve things further, the rails are hand-sanded and the rail type is moderate.
Design by Jon Pyzel and John John Florence, you get highly advanced surf technology that can augment your performance greatly.
Surfboard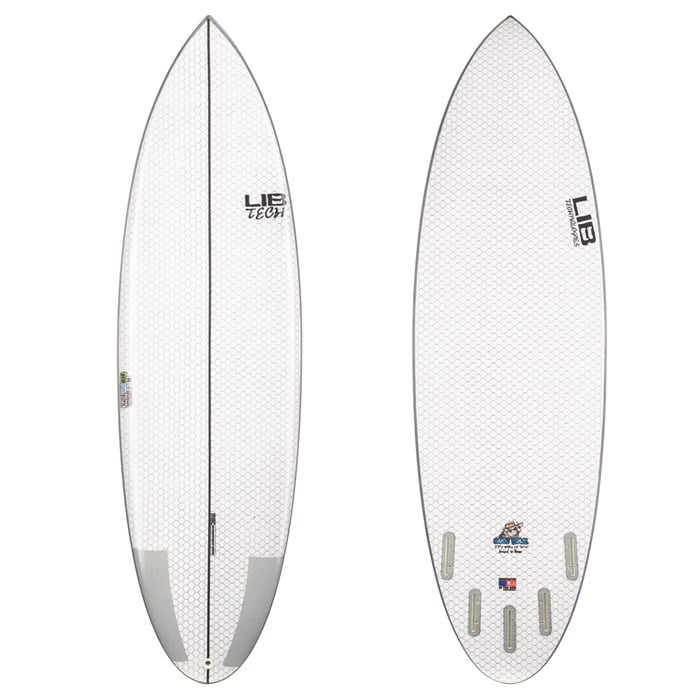 With this hybrid board, you enjoy the aggression and versatility side by side.
When you are looking for extra volume with high performance, this Lib Tech board makes sure you get what you desire. Thanks to its lower rocker, you can generate more speed with more surface area on top of the water. You also get high-performance nose with a speedy thumb tail.
With the magnesium basalt carbon construction, you get the best material combo. Thanks to the magnesium fiber, your board remains protected from different kinds of impact. Having epoxy gives great liveliness and durability to your board. Furthermore, the addition of polyester improves dampness and flex. The carbon composite stringer suits this flex and holds your board to keep it going.
To improve things further, it features the FOC II fin box system. It is a very light yet stronger fin box layout having two-tab compatibility with half-inch fin adjustability. So, you can stabilize your board's trajectory and get better control direction.
Shaped by Jeff ' Hendo' Henderson, this shortboard has the greater volume as compared with the regular bowl series. Overall, it has everything to take your performance sky-high.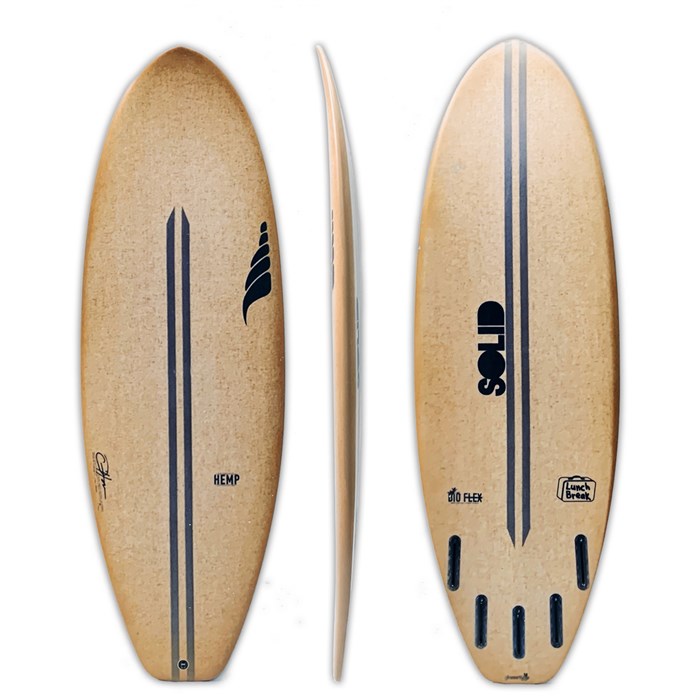 It's a unique little devil with features that can even take any unpredictable wave without a tremble.
This shortboard is made with a unique blend of special materials to add perfection to this board. You will get steam-blown EPS, organic cotton, organic hemp, basalt, recycled polyester, wood, and resin. Furthermore, it is reinforced with volcanic basalt fibers. With the epoxy resin core, you will get durability and strength. The eco-friendly hemp lamination adds versatility. All of this is achieved by using the special earth-friendly BIOflex construction. Also, while shaping the board, the recycled cores are made into new foam products and don't end up in the landfill.
You get three fourth of the volume at the board's front so that you can surf and paddle even when the conditions are unfavorable. Alongside, the fin box layout has quad futures. The quad fins have their place at the farther back to enhance the drive.
The shape is beach ball Groveler which makes it an easy paddler. It also features the most popular tail design – squash tail. With this style, you enjoy sharp and quick turns even in small surf. With the hard rails, you get more defined edges at the curves that give you better hold and a crispier response through turns.
Made on the West Coast and having 100% biodegradable packaging, this double concave v shortboard lets you perform your best even when the conditions are not optimal.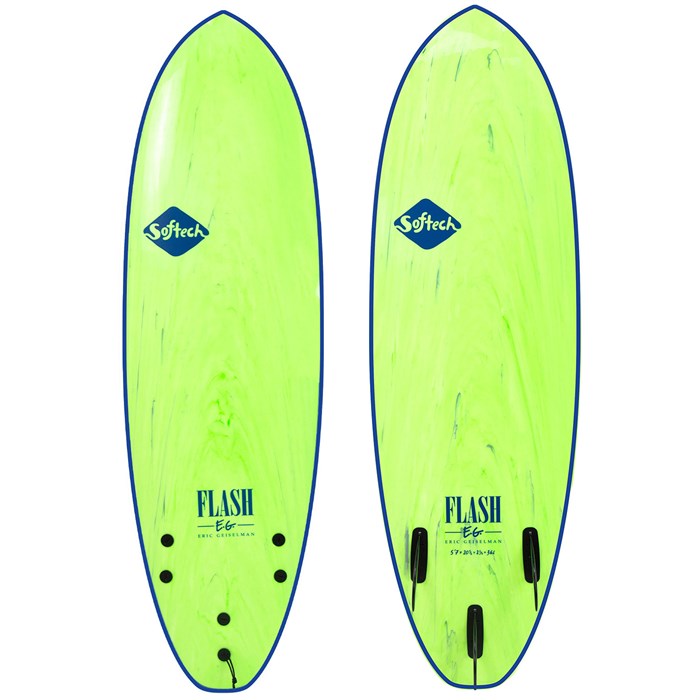 When you want to have the best at the possible lowest rate, this board is your simple solution.
Just keep going and have amazing liveliness with this beater hybrid shortboard. It features a 100% waterproof X-density EPS foam core. With the expanded polystyrene, you get lighter yet stronger construction. Furthermore, you get a faster flex pattern along with better stability to enjoy surfing. Also with the double stringer, you get better shape and stiffness.
Moreover, this board features a hard rail which gives it a distinct edge which makes your turn tighter and quicker. Your performance is further enhanced with the squash tail. With this high-performance still design, you can even catch smaller waves. The square shape gives the fast release while the grounded shape gives the better hold. Overall it is the most versatile tail you can have.
You can customize your performance by using its FCS II soft fin box layout. It allows you to adjust the board according to your needs and conditions to get the best out of it. Also, you get tri-fin setup.
From the weaker waves to the big surf, this flat bottom shortboard will never disappoint you at all.
How to Choose the Best Beginner Shortboards?
There are so many versatile features when it comes to the shortboards. Here are a few tips to make you select the best shortboard:
Length
Shortboards have the range of 5 to 7 feet long. Which length to go for depends on your mass, style, surfing conditions, board shape, and board material.
Nose design
In the short boards you get two kinds of the nose:
Pointed nose: It makes duck dive easier and also takes on steeper waves.
Rounded nose: It increases the surface area which makes it easy to catch smaller waves.
Tail design
The tail design greatly affects board handling.
Round: It gives an extra tail lift to give a looser feel; ideal for fast and hollow waves.
Square: It's a drag-producing responsive tail.
Squash: It's a highly used versatile design with rounded edges of a square tail.
Swallow: it adds extra surface area which enhances lift and speed.
Bat: It is very much similar to the swallow tail but has straighter rail outlines.
Pin: It's a very stable tail that holds the board well at higher speeds.
Rounded pin: It's a versatile style version of a pin design.
Bottom
The bottom touches the water and affects the overall performance. There are different kinds of bottom contours.
Flat: A fast bottom ideal for slower and smaller waves
Convex: It does not allow tracking and used in different board sections
Concave: Ideal when the waves are large and clean; improves overall maneuverability
Vee: Best for turning but makes the board slower in a straight line
Channel: Help in enhancing the speed and lift but make it difficult to turn at a slower speed.
Materials
Epoxy and fiberglass/ foam are the most common material for the shortboards. But you can see composite material as well. Epoxy-made boards float more and are very light weighted. They are best for small waves and add durability. In the carbon boards, you get lightweight with better resistance. Fiberglass shortboards are expensive and give a mix of rigidity and strength. Many times all these materials are used in combination to give you the best end results.
Rocker type
Usually, shortboards have a greater amount of rocker as it adds more maneuverability. A flatter rocker means the boat will be fast but it will be hard to turn. As the shortboards take powerful waves, they have more rocker features.
Rails
Fuller rail and softer edge allow you to take smaller waves. On the other hand, low-volume rail and harder rail sink more and give better control in bigger waves.
A Bonus tip:
Now you know the details of different characteristics of a shortboard. You don't even have to think much if you just check our list and select one among them. We have selected the best shortboards available in the market today so you don't have to do much research.
Popular Articles:
To is Surf and Kite Instructor, Surfboard Shaper. He share about His life in this blog. More about Him in About page.