We are here to help as we run down all the outstanding best slalom water skis in the market 2023.
like with any other water sport, your choice of equipment plays a major role in the entire experience slalom water skiing. That is why you need to ensure that you are using only the top slalom water skis.
This Water Skiing is one of the most intense and entertaining water activities that you can try. It's incredibly fun and exhilarating. As anyone who has tried it will tell you, the feeling of cutting through the water on your slalom ski is unlike any other.
Top rated Slalom Water Skis for 2023
Best Slalom Water Skis for 2023
We simply can't overstate the importance of choosing the right slalom ski regardless of your experience and ski level. More often than not, the quality of your skis can enhance or detract from your overall water skiing experience.
That said, presented here are some of our top picks. We made sure that the choices can comprehensively cater to the different styles and types of riders.
So, make sure to check out our list of recommended slalom water skis to see which one best fits your needs.
#1. O'Brien Sequence – Best for Beginners
This is a highly versatile slalom ski that gives its riders a wide array of choices on the water. This means that you can easily switch between different ski styles without much effort. That said, you this slalom ski can let you switch between smooth skiing to more aggressive carving whenever you feel like it.
Much of the O'Brien Sequence's success comes from one of its unique design choices. Namely, its use of a Transitional Concave Tunnel. As its name suggests, the ski's base design is heavily inspired by the shape of a tunnel – its shape moving closer to a full concave as it reaches the ski's rear Sport Flex. Needless to say, this gives you an incredibly versatile skiing experience.
In addition to this, its binding and rear-toe piece gives you an incredibly easygoing experience. This makes the ski perfect for amateurs and newbies looking to learn the ropes and familiarize themselves with slalom skiing.
Once you put these different design elements together, they undoubtedly make the O'Brien Sequence Slalom Ski the perfect choice for both veterans and beginners. It is incredibly useful if you are just starting but it also packs all the necessary features to let it stand up against other professional-level skis. This is made apparent in the way you can switch between easy tracking and aggressive edge holding.
#2. Connelly Aspect ​+ Swerve with RTS Bindings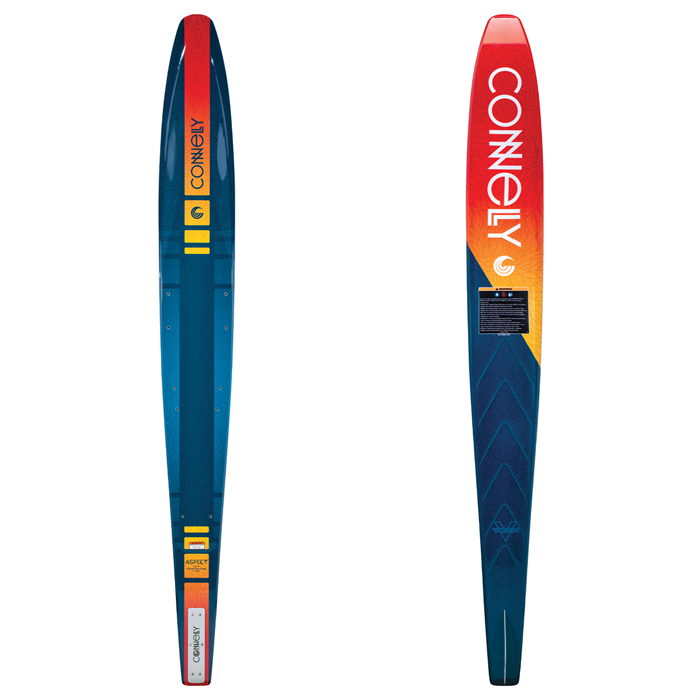 Expect high from Connelly Aspect and take your favorite sport to a whole new level.
When you are beginning and you want to float like a pro, then this is the best option for you. It is ideal for slower boat speeds.
Made with closed-cell polyurethane resin core, you can trust the durability of these skis. It has a standard tunnel shape. The concave takes it deeper into the water and gives extra edge hold. With the standard tunnel, you get a more flat surface between the tunnel edge. Also, the bevel adds extra stability and control along with improving edge hold.
Furthermore, you get a recreational glass flex sequence with an aluminum drop-through fin. It features V-tech which enhances maneuverability and lowers drag. It also has six "V" shaped steps to control the water flow and lowers the water sticking to the ski as you move forward. You further get a polished speed base and Connelly advanced profile technology.
Overall, when you want to have the best Slalom skiing experience, get this water ski with the perfect bindings.
#3. Radar Lyric ​+ Lyric & ARTP Bindings – Women's
With the lightweight board and the perfect bindings to go with it, this combination is more than perfect for the women's skier.
This ski is made for the delicacy of the women to meet the needs of their agility with style. It is made from 100% carbon fiber that gives you constant flex all the time. The core is all-terrain with the most awesome construction. You can cross wakes easily with its polyurethane core with paulownia wood stringers.
Thanks to its tip rocker, this ski has extra fluidity and allows easy transitions. There is more rocker in the tip which adds better speed along with stability. Their straight lines make these skis even quicker. As there is no outside radius, so there is lower drag and allows the ski to flow from one side to another.
Furthermore, it features a flat spot at the balance point which is located at the toes of the front foot. It provides you a stable place to stand every time. With this balance, you get confidence and make identical turns on both sides.
Having lyric and ARTP bindings, this ski combination gives you complete control with lots of fun in the waters.
#4. Obrien World Team ​+ Z9 STD Bindings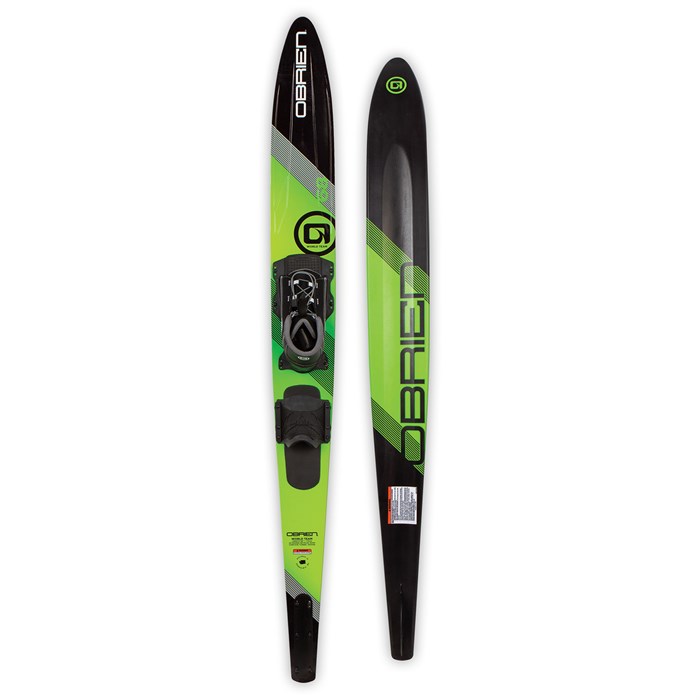 When you are looking to have the best ski and bindings combo, look no further, as it is the best deal you will get.
With the ultimate combination of stability and maneuverability, this duo is ideal for advancing your skills. It lets you take those tricky transition steps from two to one in minutes. Plus, with its quick turning abilities, it will help to perfect any technique.
You get a 45-degree bevel with a narrow tunnel and a heavy rocker for the shape. The flex is sporty and ideal for beginner and intermediate riders.
Thanks to the outstanding features, these skis can make your first experience perfect even when you have never skied.
#5. Radar Session Slalom Ski ​+ Lyric & ARTP Bindings – Women's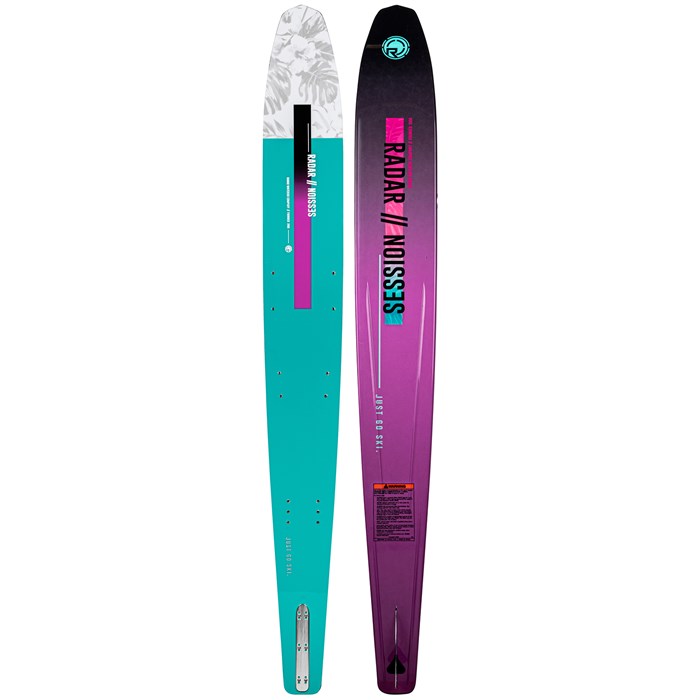 With this model, Radar has created a revolutionary ski that fulfills every open-water skier's wish.
Having added volume and superior stability, their flat spine design paired with updated Grip Rails helps make the skiing experience easier to handle regardless of the water's conditions. It is made using 100% carbon fiber, which means you will always get similar flex. Alongside, it is supported with an all-terrain core that further augments your skiing experience.
Its flat spot is just below the toe of the front foot, which makes your turn stable and keeps you balanced throughout.
With these amazing features and perfect bindings, this combo can take you even on rough waters like a pro.
#6. RAVE Sports Carve Slalom Water Ski – Adult
It's a highly responsive and great all-purpose option for those looking to take their water skiing game up to the next level – perfect for novice and seasoned pros.
With its fiberglass and carbon fiber construction, the slalom ski is engineered for superior maneuverability. This ultra-lightweight design gives users a remarkable combination of control, flexibility, and strength. An adjustable aluminum fin provides further customization based on individual size and performance level.
Its unique construction offers a wide, concave bottom for added stability on the water and makes it incredibly easy to make sharp changes in direction.
Having all the exciting features, this ski can become your forever water companion for thrilling rides.
#7. Connelly HP ​+ Swerve with RTS Bindings – Women's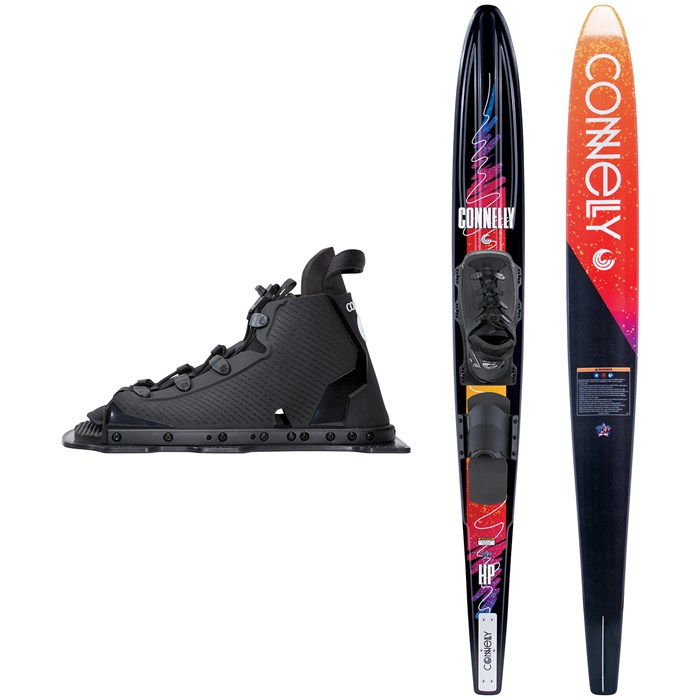 Ability level – literally all! Yes, no matter you stand at which level, with these water skis, you can take the water by storm.
Made using a closed-cell polyutherane resin core, you get the durability that lasts season after season. The shape is made using Connely advanced profile technology. It is specifically contoured to add flex as well as stiffness to the whole length of the ski. Also, all these things manage the weight to keep it light but optimal in performance.
A concave standard tunnel is also present that runs from center ski length which lets the ski go deeper in the water and better hedge hold. As there is more space between the bevel and the tunnel's edge, so you will get better stability with having better edge control.
To get better flex, it features a recreational glass flex sequence along with an acrylam base; it is strong but has a lower weight than others. You get the support that you have always wished for. Further, you get an aluminum drop-through pin with foil.
Not only that, to add more benefits to your skiing, you also get RTS bindings that keep you secure in your place and augment the confidence even more. If you dig up a little more details, you will find it to be one of the best combos available in the town today.
#8. Obrien Relay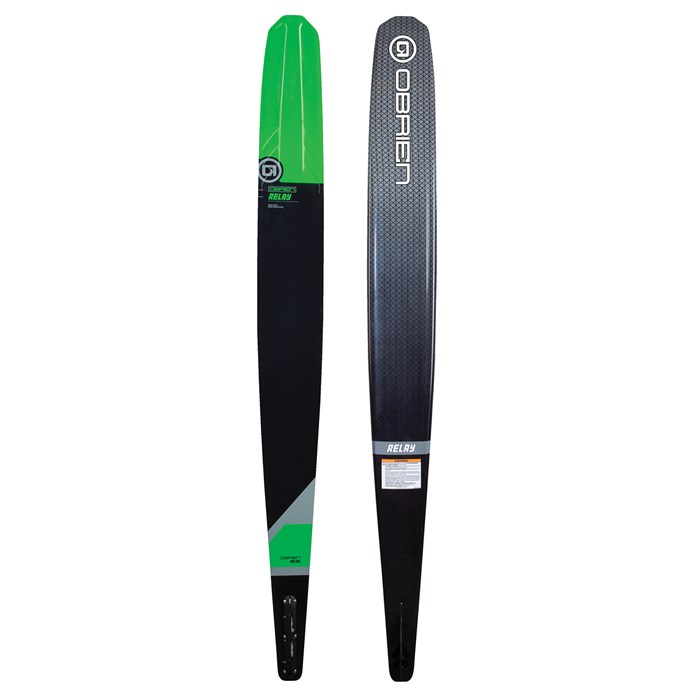 If you are looking for stability with the perfect design, then this water ski is one of the best options you can have.
Made for the experts and advanced level skiers, these skies keep their position even when taking fast turns and twists. You gain a better volume shift at the nose side. You get more rockers for amazing turns and narrow tunnels to gain more speed. You get pro flex with this water ski with an insight fin with a pro wing.
When you want stability, you won't get disappointed. You get the best of it. Also, you can enjoy division/titan bindings with this water ski. Take the water like a pro with this amazing a
With more rocker, solid flex, and a smaller concave tunnel, you get everything to improve your performance in no time.
#9. Obrien Sequence ​+ Z9 STD & STD RTS Bindings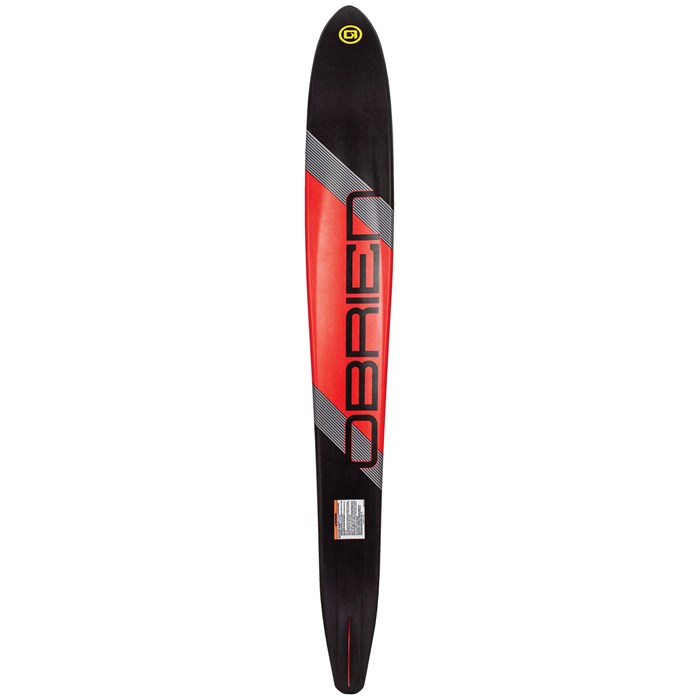 When you are just starting, this water ski with these bindings can be your first and the best guide in the waters.
The shape of this water ski makes your favorite sports even better. It features a transitional concave tunnel at the edge. Thanks to this, you get stability when you ride, which is highly necessary when you are just beginning. The turns are also great and very stable.
You don't have to start shallow with this ski. When you are at an intermediate level, you can just enter the deep water right away. Whether you are going at a slow speed, it doesn't cause you any problem at all. You can carve like an expert even when not going at higher speeds.
Furthermore, with sharp and large bevels, you get awesome control and stability. You get the performance flex to improve things overall. To get a better hold of the things, you will have carve fins as well.
All in all, when you want to enjoy your water skiing with total control, Obrien is perfect for you. The company has added everything with sensibility. You get one of the best skis with bindings at lower rate that further improves the advantage of this bargain.
#10. HO Sports 2020 Syndicate Omega
Undoubtedly, this Slalom water is designed for performance. It not only offers its user great levels of stability, but it is also notably efficient on the water. Its riders are granted the ultimate freedom – to perform radically short line passes however they want, making skiing that much simpler.
The company's approach to design is made apparent on this ski. Needless to say, we find it incredibly impressive. This is because it is clear that the materials and features of this ski were designed to address the skier's needs.
One of the things that stood out to us was its notably narrow width profile that is coupled with a relaxed tail taper. For those who have tried skiing before, you will probably have noticed how this ski rides parallel to the water's surface. This was made possible by increasing the surface area in the back of the ski relative to its front. By doing so, it drastically enhances the ski's efficiency and improved its turn speed.
In addition to this, the Omega also has several features that focus on improving skier convenience. For instance, it has a low volume of concave. This serves two purposes: increasing skier control and reducing the level of effort you need to exert on the water. When you combine this with the ski's use of a 4-stage rocker line, that you are given a seamless experience that is simply incomparable.
#11. Connelly 2021 GT-R
This ski is incredibly in terms of how it effortlessly combines the best elements of two skiing styles – highlighting the strengths of both the old school and new school. Needless to say, this was no easy feat to pull off. At the end of the day, it all comes down to design ingenuity.
In terms of materials, the GT-R is incredibly low density. It features a CNC cut PVC core made from a combination of carbon and fiberglass. Its hybrid base also features a polished tip and a tail that comes equipped with micro-textured details. As you would probably expect, this plays a major role in the ski's performance on the water.
For instance, one of the things that stood out to us was the tremendous level of grip it gives during turns despite the high levels of speed. This is because its design helps ease the tail off the water, letting it go higher and effectively easing the load from the rope.
At the same time, the GT-R is also designed to help make chasing buoys that much easier. This is made possible by its use of a finely-tuned swerve stick. It is incredibly responsive and it lends you an incredible amount of control.
#12. HO Omni Slalom Ski
This is the perfect ski for the people who want to do everything. This is because the OMNI stands out for its incredible versatility by effectively balancing high-performance and efficiency essential for open water skiing.
Like with everything else on this list, the design plays a major factor in the Omni's success. One of the things that stood out was the use of the flex-frame. The high level of torsional flex lends it the maneuverability that you'd expect from a traditional ski design albeit with increased speed and improved. This means that you can now make tighter turns without having to worry about balance so much.
Another notable design element of the Omni is its Clean Edge bevel-less tail. This serves two purposes: to increase acceleration and reduce skier input. At the same time, this bevel-less tail also helps enhance your stability on the water. This effectively lets you hit the water at great speeds without sacrificing efficiency or worrying about handling as you make tight line turns.
Finally, its SpeedSkin base takes a page out of nature's notebook and uses a fish-scale design. Far from being purely aesthetic, this textured ski base purposefully reduces the drag and effectively increases your ski speed. Needless to say, when combined with all the other design elements, it isn't too hard to see why the Omni is one of the most versatile skis out there today.
#13. Radar Graphite Vapor
Next, we have the Radar Graphite Vapor Slalom Waterski. So, let us begin by stating that the purposeful design was one of the things that stood out to us with this particular ski. It was made to make things easier for the skier – that much is made apparent whenever you try it.
For instance, if you want to optimize your speed on the water, then this is the perfect ski to do it with. This is made possible by its use of rounder bevels. This ultimately gives the skier the ability to roll edge-to-edge quickly without any extra effort. This means that you can go from one buoy to the next much faster than you could with a different ski.
In addition to this, it also sports a new concave design that gives you the additional support you need on the turn. This means that you can make tight and powerful without having to break a sweat as the ski's design takes care of everything for you.
Finally, there is the ski's new rocker profile. We simply loved it because of its close contact point. While the proximity to your feet may seem like an innocuous choice, it is ultimately crucial to ensuring that you stay balanced throughout the entire pass. At the same time, this design choice also effectively limits any possible loss of speed as you make a crucial turn. Needless to say, that will come in handy whenever you find yourself in a tournament.
How to Choose a Slalom Water Ski – Buying guide
Slalom Skiing, as you probably already know, means using a single ski that is long and narrow. You use your dominant foot to control where you go by putting it in the front section of your ski. With the right board, you should have no trouble controlling the direction of your ski.
Whether you like cruising smoothly on the water or crushing buoys along the way, you are going to need a great slalom water ski at your disposal. After all, navigating the slalom skiing course is no joke as you will need to cross 26 buoys and make six turns in the quickest time possible. Of course, the same still applies even if you are just enjoying the water.
That said, you must understand that choosing the right slalom water ski is vital. Luckily, we have listed down some of the important factors that you need to consider:
Skill Level – As a rule, you will need to pick a ski that is designed specifically for your ski level. There is no shame in being a beginner and the last thing you want is to get in over your head, literally. After all, we all have to start somewhere. That said, beginners need to stay away from an aggressive ski. Instead, choose something that will give an easier and smoother skiing experience. Picking a ski that is not designed for your skill level can easily lead to accidents and injury.
Sizing Charts – Like with every other sports equipment, the right slalom water ski must be perfect for you. This means that you will need to factor in your weight and the boat speed. After all, both of these factors will play a major role in terms of the ski's performance.
However, here is a general guideline for slalom water ski sizes based on skier weight:
Skier Weight (lbs)            Ski Length (ft/inches)
Up to 120             63″ – 64″
120-150                65″ – 66″
140-180                66″ – 67″
170-200                 67″ – 68″
190-220                68″ – 69″
Over 220              69″ – 70″ or longer
It's important to note that this chart serves as a rough guideline, and individual preferences and skiing style can influence the choice of ski length. It's always recommended to consult with a knowledgeable retailer or experienced skier who can help you select the appropriate ski length based on your specific needs and abilities.
Binding Size – This is another important aspect that you need to pay attention to. You'll want the bindings to fit you well. This means having them snug but not overly constrictive. Tight bindings can lead to serious problems if you are not careful. After all, they remain the leading cause for broken ankles, legs, and knees as the ski fails to release your feet properly
Boot Styles – Ski boots can take several forms. They can be as simple as simple toe plates to more advanced wrap bindings. While preference plays a major role in selecting the type of boot to wear, you'll also need to consider the safety aspect of your boot. So, make sure that it perfectly covers not just the entire foot but it must cover the ankle as well.
Fin System – Your fin system will ultimately affect how you ski. So, make sure to choose an adjustable fin system to ensure that you can seamlessly switch from one style to the next without much trouble.
Frequently Asked Questions
Is slalom water skiing hard? – Not especially, like with any other sport, it is all a matter of getting used to it. However, having prior skiing experience drastically improves the learning curve and makes adjustments that much easier.
How fast does a slalom skier go? – Generally, slalom skiers can go as fast as 36 mph on the course. This is the ideal speed for this type of sport and it is strictly followed in tournaments.
Is wakeboarding harder than water skiing? – Yes, though having prior training and experience in water skiing makes wakeboarding incredibly easier than it otherwise would be.
There you have it, our comprehensive guide to finding the best slalom water skis in the market today. Be sure to remember our tips as you explore all the different options available to you. That said, make sure to try our recommendations. We're sure you'll find something to your liking.
Popular Articles:
To is Surf and Kite Instructor, Surfboard Shaper. He share about His life in this blog. More about Him in About page.