As you need a home to live in, your surfboard needs it as well. The hard thing is to transit the bag from your house to the beach and vice versa especially with all the sand and wax.
And not only that, during the trip, it is important to keep the board safe. For that purpose, there are special surfboard bags. Here is the list of the best surfboard bags for travel.
Related:
Best Surfboard Bags For Travel 2023
1. Roam Coffin Surfboard Bag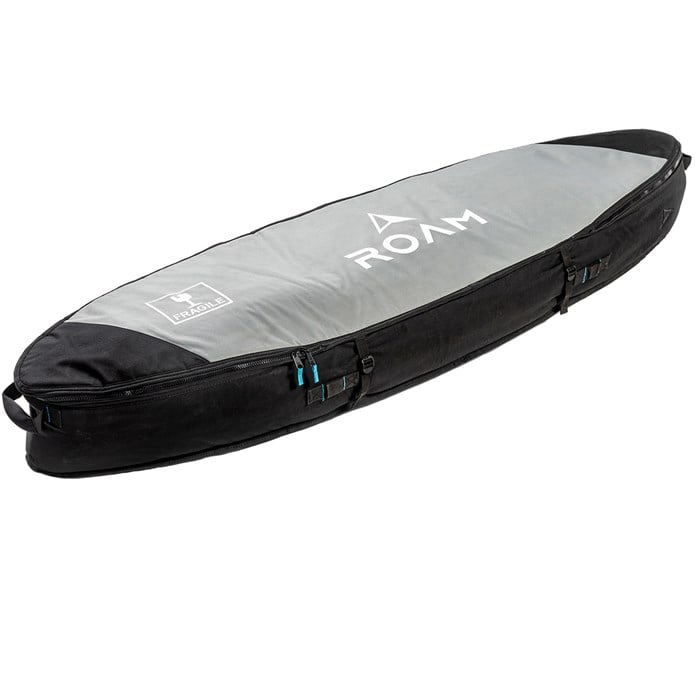 Made from high-quality material to last very long, this Surfboard bag is very spacious.
From construction to design, this bag offers complete perfection. The material used is 600D Nylon so you can rest assure that nothing is going to harm your bag and your belongings will remain secure inside.
This bag comes in different sizes and fits different boards. Like when the board size varies between 6'3″ to 8'0″, then the bag can accommodate 3-4 boards. Also when the board has 8'6″ to 9'6″ sizes, then 2 boards can easily sit inside. The extra reinforced nose and tail give it more space.
There are a total of seven internal pockets to keep your other belongings. Alongside, it has internal inlays. With 10 mm high-density padding, things don't get damaged. There is a removable buckle-free strap too.
Furthermore, for your convenience, it comes with two padded carry handles, two grab handles, and four utility loops. You will also see four compression straps. To give it your identity, there's an ID batch as well.
This bag not only keeps your things protected but well ventilated as well. Thanks to the heavy-duty molded zippers, it is always easy to open or close the bag. Overall when you want security with style, go for a Roam Coffin surfboard bag.
---
2. FCS Travel 1 Funboard Surfboard Bag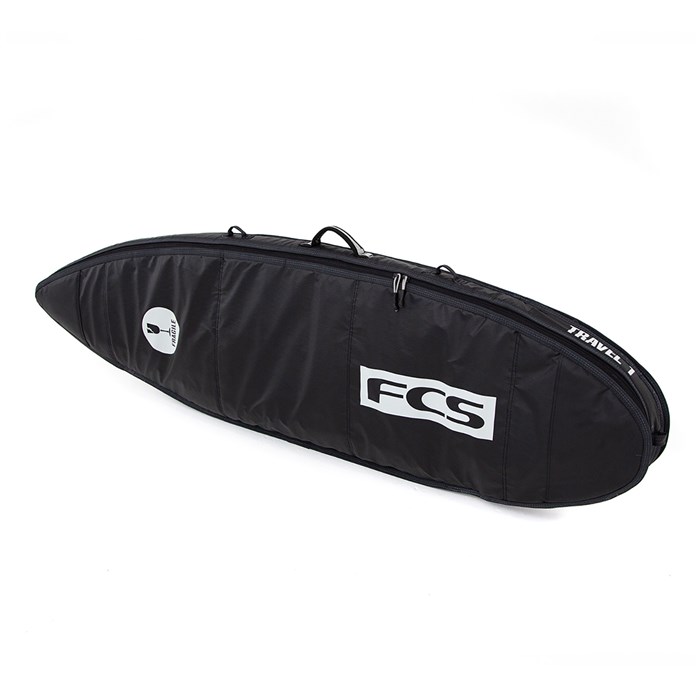 Designed to easily carry one board with you, this bag is a combination of convenience with style.
It is made using heavy-duty nylon skin on the outside, so all the harshness of the weather cannot harm it at all. With the 10 mm dual-density padding on the body, this bag gets an extra sturdy layer that keeps the inside things protected against any kind of impact.
Additionally, there is also 5mm high-density padding present on the nose to enhance protection at this end.
This bag also features an expendable fin wing; which means you can carry your board with fins or without fins. This convenience lets you take your board to the destination without making any alterations.
Travelling is made easy with an ergonomic shoulder pad that is double layered and well-ventilated. Thus, the handling becomes super comfortable.
To increase the overall durability of the bag, it has long-life marine zippers. These PK Delrin zippers have high strength and reliability. Also, they don't seize at all. Alongside, it has an internal layer of protection with the zipper path so the rail doesn't damage over time.
Altogether, when you want to keep your surfboard secure while traveling at the best possible budget, it is the best bag you can have.
---
3. Pro-Lite Session Longboard Day Bag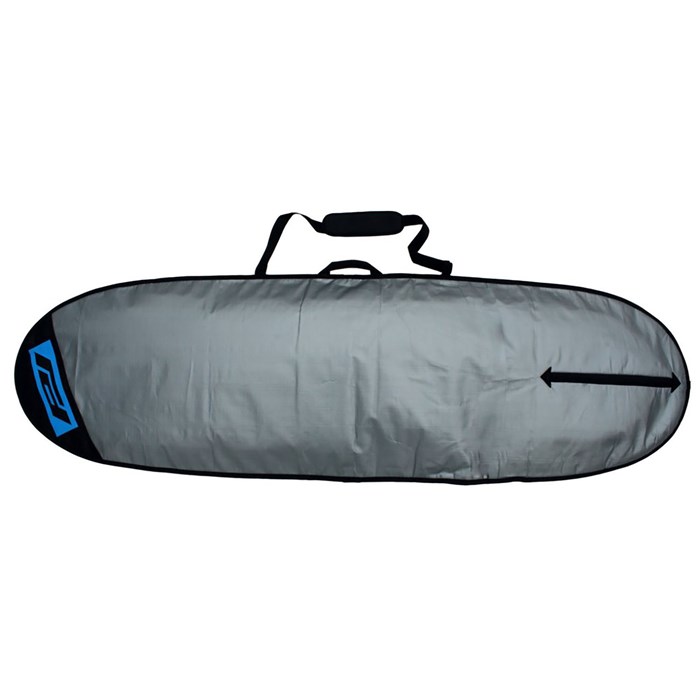 Designed specifically for carrying a longboard, this bag has everything you need. When it comes to the material being used in the making of this bag, you will see a different top and a bottom. The top is an upgraded 420D super light ripstop Nylon.
While the bottom is semi-reflective / heat resistant 266 PE. Also, the bag is padded to keep your board safe.
Thanks to the top zip flip-top opening, you can easily slide in your board or out of the bag. There are also rail guards around the zipper to keep the board secure. To make handling easy and comfortable, it comes with a padded handle.
Alongside, it features a fixed-size hangtag. To keep the board cool, this bag has a closeable vent. In the inner storage pocket, you can keep other things you like. It also has a reinforced nose for your further convenience.
There is an external wax/ key pocket as well. The bag comes in various sizes and there are fin slots as well in the bags that are 8'6″ and more in length. With the capacity of keeping one board at a very good price tag, it is an amazing bargain to avail.
---
Things To Look When Choosing The Best Travel Surfboard Bags
When you are considering buying a bag for your surfboard, there are so many things to consider to improve your experience. Here is the complete guide of the things you need to consider to buy the right bag for your surfboard.
Type Of The Bags
There are many different types of surfboard bags. You need to pick the one that suits your need.
Surfboard board socks: They are an inexpensive option having lightweight and huge variety but they offer very limited protection. They are hard to get on and off.
Surfboard day bags: They offer padded protection and fit one board. They have different shapes and sizes and also zip to the nose. However, they have no interior or external pockets and no shoulder straps too. The protection is average.
Surfboard travel bags: They provide good protection and can accommodate more than one board. They can be used as storage bags but they are heavy and bulky and a bit expensive. They are padded as well.
Surfboard travel coffins: They are spacious enough to carry 3-4 bags. They are the pro option and make traveling very easy with full protection. But they are the most expensive option and have their own weight because of their extra protection.
Material
There are many different kinds of material that surfboard bags are made from. Nylon and polyethylene bags are the most common. You can select the one that meets your other feature requirements as well. The material must protect against UV radiation, water, and other kinds of the harshness of weather.
Size And Shape
What should be the size and shape of your bag? Well, the shape must correspond to the shape of your board, especially the nose shape.
For the size, it should be a bit longer than your board so your board can fit easily. Also, a bit extra size gives you space to put in your clothes as well and it will add extra padding.
Padding 5mm Or 10mm
When you have to travel for long and have more than one board then 10mm padding is the best option. The bags having 10mm padding usually have many pockets to keep your other belongings as well. The 5mm padding bags are for short travels but keep the board well secure inside.
Pocket Options
Surfboard bags have different pocket options. Some are to keep your accessories while some are to add extra convenience for you to travel. Going for the bag with various pocket options keeps your things in their place and makes them readily available.
To is Surf and Kite Instructor, Surfboard Shaper. He share about His life in this blog. More about Him in About page.