Which are the best wake surfing boards of 2022? to find the answer to this question, we conducted surveys and research on the market from the beginner to advanced surfers. Now we have answer via this article.
Most experts rated the following 6 boards as the best wakesurf boards for 2022. Just take your time and read below. in addition if you confused in choosing the boards don't worry we also cover the buying guide in this.
Wakesurfing has gained popularity lately because of the continuous moving with the board without waiting at the beach for the right waves to appear.
Wake surfing boards are a bit different from other surfing board mainly because of their buoyancy and speed. Only these wakesurf boards are the best which don't hinder the rider to ride in their own way.
So let's get straight down to brass tacks!
Related:
Best Wakesurf Boards of 2022
We have collected the best wakesurf boards for you. From beginners to the advanced riders, these boards offer optimal performance. Wakesurfing is a bit more adventurous water sports and what's the need of it when the rider doesn't want to try some new tricks? All these boards offer the rider to enjoy their time in the water greatly.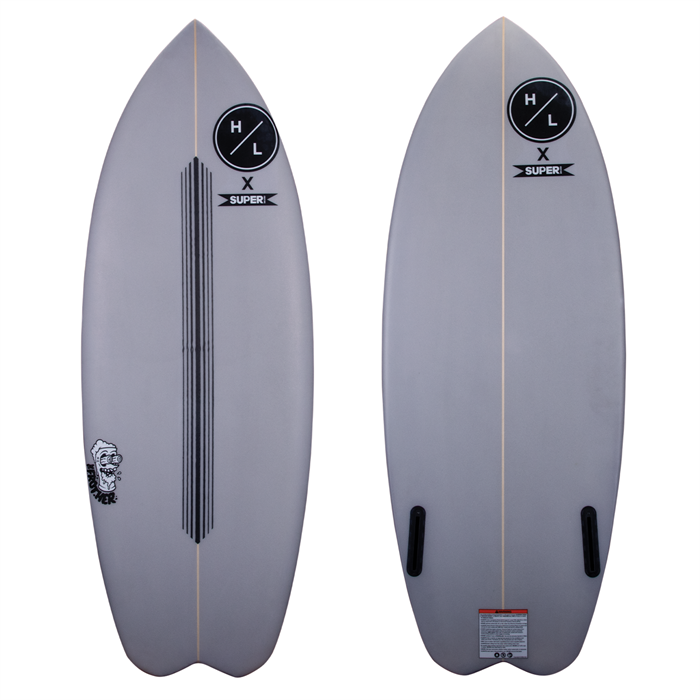 The Frother board from the Hyperlite range has a lot going for it and it is an ideal board for wake surf boarders who are old hands at this game. The board has a carbon fiber core that makes it ultra-durable and gives it just the right amount of flexibility so that the board sails along the surface of the water.
It also has a low entry rocker and a hybrid rocket tail design which makes this board a great choice for boarders who prefer a surf style board. The board has a flat deck which gives it extra stability so that you can surf with ease.
The Frother comes with a twin fin set-up. Pop on both fins and the board will zoom ahead on the water at top speed.
Features:
Carbon fiber core
Wide Hybrid Rocket Tail
Low Entry Rocker
Flat Deck
True Twin Fin
Next, we have the Connelly Fishbone board that is constructed using a compression technique that creates a board that is stiff and durable with a rail design that gives skim-style riders more stability and control over the board.
The core is lightweight which makes it more responsive to the rider's movements so that you can steer the board easily. The board also has a diamond tail shape that also helps riders steer the board.
The Fishbone comes with three skater fins which are removable. You can use all three for a stable ride or detach the center fin for a speedier ride.
Features:
Compression Construction
PVC Skelecore
Diamond Tail
Skater Tail Fins
Rear EVA Pad
Moving on we have another gem from Hyperlite called the Phantom. The board has an EPS core which is super lightweight and it is layered with glass to make it more resilient and to maintain its stiffness and pop even for years after purchase.
The board is constructed through a dura-shell lap construction method. This method makes the board lightweight and the laminating material added during construction makes the board sturdy and stable.
The tail has a pin shape design which is designed for speed and to execute some flawless spins. The hybrid rail design is ideal for both speed but also for more relaxed cruising. Finally, the board has a tri fin set-up that provides a stable ride.
Features:
EPS Core with layered glass
Dura-Shell Lap Construction
Pin Tail Shape
Hybrid Rail Design
Tri Fin Set-up
Next up, we have the Obrien Revival board which is suitable for both intermediate and advanced riders. The board has a foam core for buoyancy and is coated in an epoxy layer. The resin protects the core from damage.
The board is also covered with vector net to stabilize the board and protect it from buckling under pressure. It has a surf style shape with a swallow shaped tail. The shape of the tail helps the board go faster so that it is zipping along over the water.
The board also has a rounded rail design which helps riders cruise along the water in an effortless manner. Three detachable fins are provided and can be used in different combinations depending on how fast the rider wants to go.
Features:
Foam Core with hand laid epoxy
Vector Net
Surf Style Shape with swallow tail
Rounded Rail design
Three detachable fins
We also have the Liquid Force Sting board on this list which is an amazing choice expert riders. The board has an EPS foam core that is lightweight and has a skin stringer for skim-style surfing.
The board has a layer of fiberglass lamination that makes it durable and protects it from wear and tear. It also has a squash tail and a single concave hull. The hull has four channels that helps the board glide along the water effortlessly.
Finally, the board comes with three robust thruster fins that includes a center fin and two side fins. A traction pad on the front provides unmatched grip for a smooth ride.
Features:
EPS Foam Core with Skim Stringer
Fiberglass Hand Lamination
Squash Tail
Single Concave Hull
Thruster fins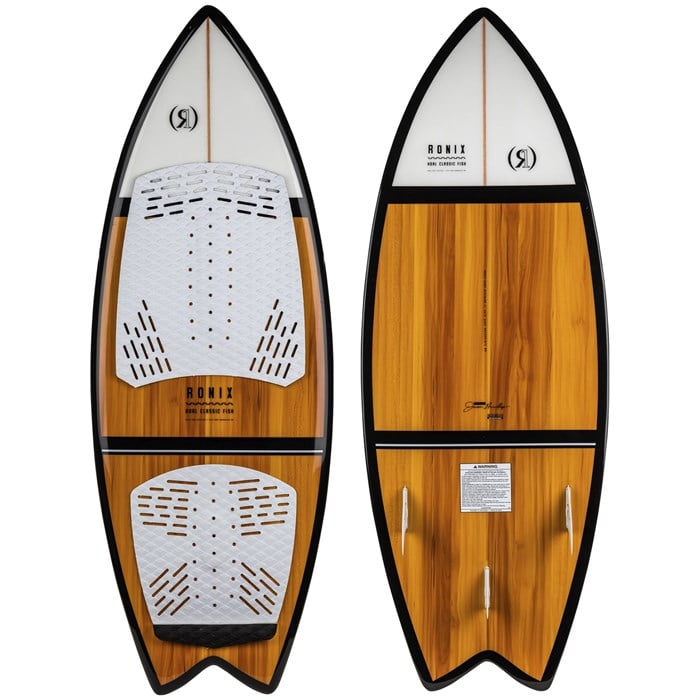 Finally, we have the Ronix Koal Classic Fish that has a foam core for buoyancy and a layer of resin that protects the core form damage. The resin can withstand high temperatures and remains intact on a hot summer's day so that the board retains its original pop.
The board also has a full rail design that allows riders to cruise in a stable manner. Three fiberglass fins are also provided which help riders surf along the water without losing their balance. Two EVA traction pads are attached on the front and rear of the board that provide grip and arch support.
Features:
Foam Core
Liquid Lava Surf Resin
Full rail design
Fiberglass fins
Eva Pads with arch support
Best Wake Surfing Boards of 2021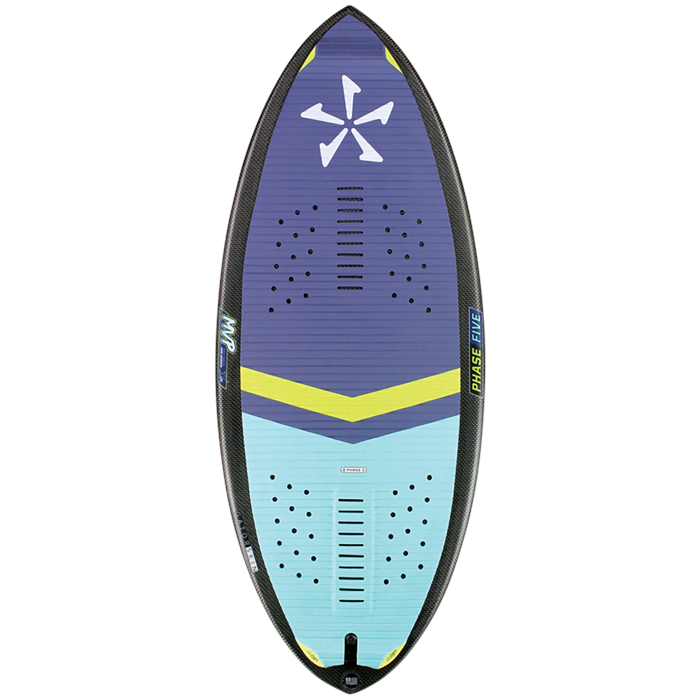 This is something to meet and exceed all your expert needs.
Equipped with all the advanced features, this wakeboard has construction and material that can take you to new horizons. It has a continuous core with a constant thickness from one end to another. It uses V.R.T technology with the GatorSkin Glass for optimal performance.
The stability of this board is medium with a high response rate so when you set the rope free you get the best balance when you ride a wave. Their specialty is revert riding thanks to the kick tail at the back and the front.
The core material is fiberglass, which is very light but one of the toughest to keep you going on your marine adventure. It has rail grab channels design. You also get a 1″ tail fin to give you better acceleration with faster speed.
The base keeps you going without any hindrance and gives amazing support. Their trademarked Propel bottom sheet lets you enjoy your advanced moves.
Overall, this skim-style board can highly augment your wake surfing experience and make you love this sport even more.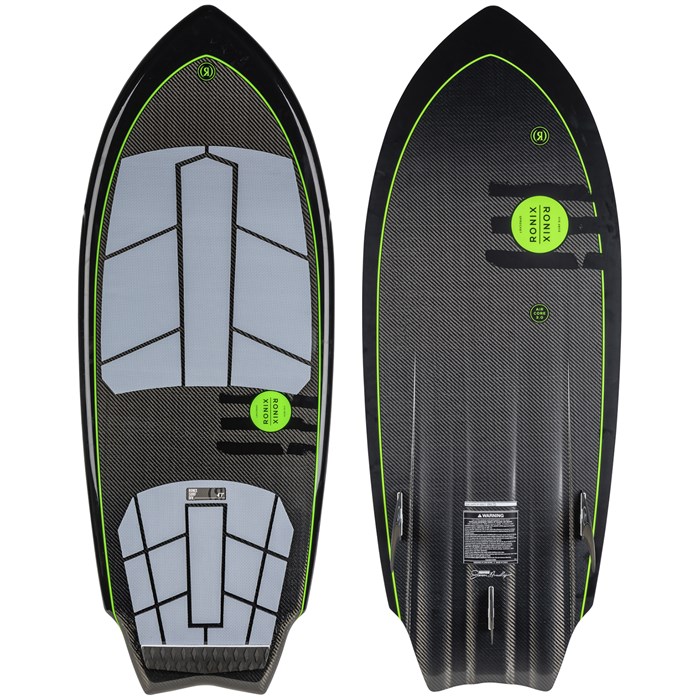 Well equipped with Ronix's most responsive construction, this wakesurf board is the dream board of many experts.
This board has compression-molded air core 3 construction i.e. it is created out of a mold and then covered in carbon. It gives extra stiffness to its layer like no other. When there's the sun, there's heat. But the liquid lava high temp surf resin helps the board to fight away the weather's harshness.
To give it precision, robots make these boards. It is the utmost priority of the company that they retain a similar and perfect design in every board they create.
The use of fins is up to you. The natural grip is awesome that you can skip the fin. It has one 3.5″ fiberglass symmetric and two 4″ symmetric fins. The fin setup is a matter of a few seconds only. The skimmer shape doesn't let the water hinder your performance. When you hold the board, it feels stiff, but when it comes to the weight, you find it really low.
All in all, no matter what you want, high-speed, super-fast response, extra push on the wake, or any other performance augmenting properties, this board has them all.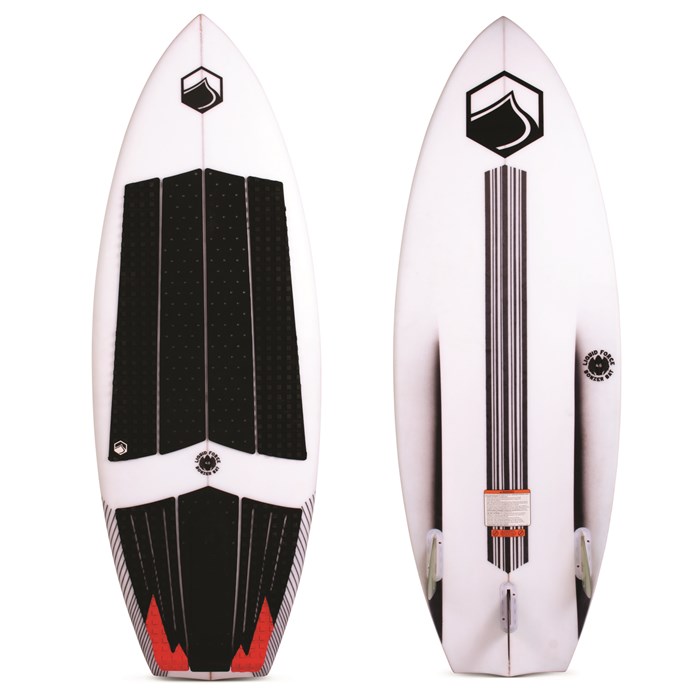 Thin width, tri-fin setup, and enhanced control, this wakesurf board is worthy of your investment.
The liquid force has added the double concave hull that keeps the water out to the corners of the tail. Thanks to its thin width, you can enjoy every move that you want to try ever.
With its tri-fin setup, you get enhanced maneuverability with extra control and speed. You get angled stubbie fins with a center fin. The response time is also shortened so your performance becomes flawless. Made with EPS foam with surf stringer, you can blindly trust the construction.
Additionally, it features a bat tail shape with the double concave venture bonzer hull. The base is strong and can easily withstand what the harshness of water throws at it.
Available in different sizes, shapes, and volumes, this board is made to suit the needs of the experts. Even when you are at an intermediate level, you can still take the advantage of this amazing board. If you want to wakesurf with style, then you can have no better option than Bonzer Bat.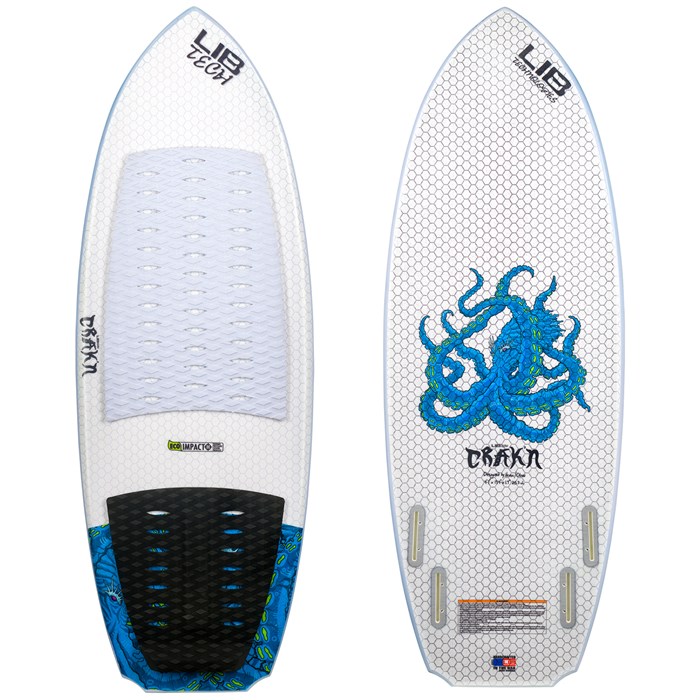 Lib Tech knows the secret to speed with control and better maneuverability, and this board is well-equipped with all.
The shorter size provides extra speed and that's the working of the Crak'n. It has a full and wide nose that adds agility with advanced ripping, thanks to its straight rail line. The rocker profile is also great with a high nose, tail rocker, and the particle accelerated dish concave in the fin zone.
Its construction is innovative as it uses an ecoImpacto Thermo pressure fusion process in its making that connects 31 pieces in the most efficient way possible. With this process, you get high durability, a nature-friendly board, and the performance that you desire.
Furthermore, you get BRR bottle rocket technology recycle PET rails. There are four RRIP'S fins for awesome control and to make it easier to catch the waves. The base is strong enough to keep you going without any trouble at all. If you are at an advanced level or switching from beginner's to intermediate's level, then it is designed for you.
The amazing combination of rocker tail, high nose, and scalloped tail lets you enjoy the water at its full. So grab one and feel the ocean hassle-free.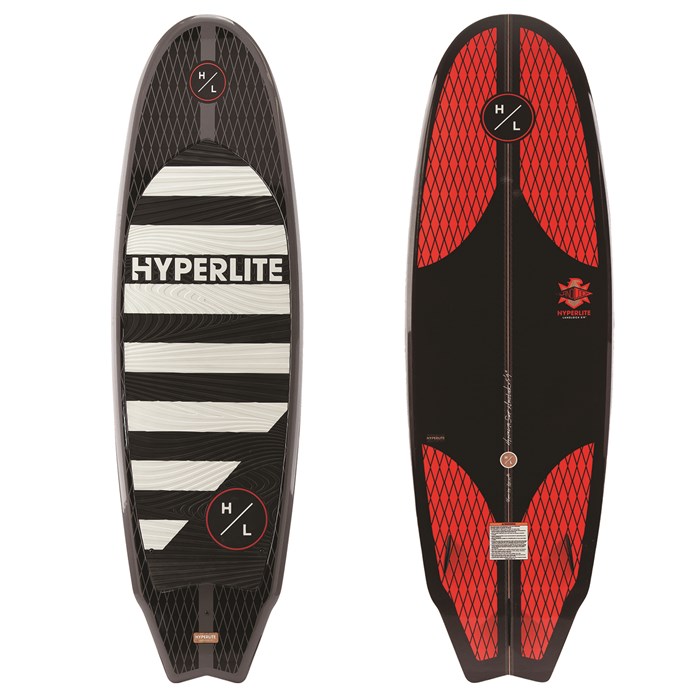 It's a budget-friendly solution to all your wakesurfing problems.
Whether you are initiating this sport for the first time or you want to enjoy the new tricks that you have learned, this board gives you the chance to enjoy it all. Its huge volume keeps you on your feet and makes it easy for you to ride.
It is made using layered fiberglass that gives you the same pop that you got when you ride it for the first time. The layered glass doesn't lose its place with time. Further, with the monocoque construction, the top and the bottom glass are made into one which gives extra durability and also resists delamination.
When it comes to the shape, you get a single concave fore body which gives you better performance. The rocker profile is also amazing with a 1″ tail and a 3.2″ tip. Additionally, you get two 1.5″ fish fins and one 2.4″ fish fin for better speed and control. They provide much stability. To enhance maneuverability, it features machined EVA traction.
Overall, when you want to enjoy wakesurfing and have lots of fun, then this board is the perfect combination of functionality and pleasure. All of these without burdening your pocket.
Ideally made for the beginners and intermediates but this board could be customized for the advanced riders as well by using its additional fin set up which make it a best wakesurf board in the town.
This board is made from EPS core with full natural wood stringer and has the size of 4' 8" length, 1.5" tapered thickness, and 20" width. It is a hand finished board having epoxy and layered fiberglass. To maximize the grip, it has EVA diamond shape traction pad.
The shape of this wakesurf board optimizes its performance. It has a dual concave base and rocker line that make it super fast and highly responsive to the commands of the rider. The construction makes it vibrant enough to perform different spins, tricks, and even jumps.
Its square nose and diamond tail make it highly rigid and a responsive turner respectively. Other than these, this board features removable 4 fin surf setup.
There are two surf fins and two trailing fins. This board is best for beginners and even ideal for big guys because this board grows with the rider. It is kind of board that built confidence in new riders, while the experienced surfers enjoy its explosiveness and high speed.
Strength, power, and style, this surfboard is the mixture of complete satisfaction package.
When you just want to surf anywhere anytime, then this board can accompany you on your trips. It is the perfect board for those who want to enjoy the extremity of the waves.
This wakesurf board is innovatively designed. The board strength is specifically enhanced in those areas that require it and the other regions remained soft. This lowers the weight of the board but in turn, provides great performances.
Even to enhance its durability and the strength even further, it has an inlaid carbon weave that also improves it working. The board is stiff and powerful and cannot wear and tear easily within the normal conditions. Slingshot is the big name in the surfing industry and this time they made this surfboard remarkably perfect to give the best surfing experience.
It is a very tough but highly funky looking wakesurfer that offers speed and agility to the ride when they ride the wake. Ronix makes to my list because of the durability it offers along with the optimal performance in different situations.
The board is kept light weighted by using the machine EVA top deck; plus, it offers more buoyancy because it features a 'Surf Construction'. You don't need only giant waves to enjoy the water with this board. It has a rail design that even makes it functional when the waves are really small which makes it the best for small wave.
The exterior is made soft and keeps the quality of its name 'marsh mellow'; due to its quality construction, it remains free from any kinds of dents even when it is roughly used. It is a highly advanced board that has the sturdiness of the wakeboard but it has the feel and weight of the surfboard.
Owning both – skim and surf style – characteristics, this board is the ideal choice of the intermediate and advanced riders. The Shim is a fast rocking wakesurf that offers the ideal speed whether in water or in the air.
Having all the maneuverable properties, this wakesurf is good for tricks especially. Made from fiberglass and having different layers make it workable year after year.
Like the traditional woven glass fibers, the board doesn't break with time. Along with this, it uses DuraShell Technology that makes it a perfectly buoyant board giving the feel of an EPS board.
When you want to make a switch or polish your tricks even further, the Shim helps you to move forward with its great performing features and pintail design.
With winged swallow tail and compression molded design, the LF Rocket makes every surfing day dynamic.
It is an ultra-stable board that is highly stable when comes in contact with water and offers an optimal experience to the ride. From single to double concave hull, this board allows natural gliding on the waves.
Those who like to have the fish feel, this board has twin and single interchangeable fin setup. For better and full coverage, it features a larger EVA deck pad.
#11. O'Brien NaluWakesurfer
With the single fin and extra large flat spot, the Nalu offers totally out of the world experience to the riders. Nalu made to my list because of its Skim style – having sharper rail with a smaller fin.
It has a concave top deck for better performance, fuller control and maximum comfort. This feather core wakesurfer is constructed in a way that catching even small waves is not a trouble and for the large waves, there is no problem at all.
Best for beginners as well as the intermediate rider, the Nalu is super-fun for cruising behind the boat or doing your favorite trick.
#12. Slingshot Butter Bar Wakesurfer
This pintail board has a classic skimboard shape that makes it suitable for the beginners as well as the experienced riders who love to toss and turn with the waves.
This Slingshot Butter Bar is for all the surfers who like to surf like a skater and have some technical moves to enjoy when wakesurfing. This board features accelerated rocker line which turns this board into the fastest in its respective series. Whether the wave is giant or small, this wakesurf board doesn't restrict the rider at all.
Available at two different sizes of 52 inches and 56 inches, this board is able to bear the weights of up to 250lbs for the former, and 275lbs for the later one. To further enhance the grip of the board, it has a V-Spine double concave hull along with the concave rails.
It not only maximizes the grip but also helps the ride in the backward flips along with doing different tricks.
Things to look when choosing Wakesurf Boards
Wakesurf boards have to catch the small weak wakes of the wake boat as compared with the ocean waves; so, there are lots of things to consider when you want to buy the wakesurf boards.
1. Skim or Surf – Wakesurf Board Style is the Best?
It is not dependant on which one you like, but more likely on which level you are. If you are new then surf style boards are better because they are thicker, longer, and feature a larger multi-fin setup.
When you gain the confidence to wakesurf then switching to a skim style board helps you to polish your skills further. Skim style boards are shorter and thinner and they have only a single small fin.
2. How Many Fins to Select in a Wakesurf Board?
It is totally up to your choice. Just learn how this mechanism works and it will make your selection easier.
When the board has smaller fins or lower numbers of fins, the tail will loosen and break free quite easily. On the other hand, the bigger or greater numbers of fins make the tail tight and increase acceleration when the board is pumped and provide better speed.
3. How to check the rail profile?
Like the fins of the board, the rail also plays its crucial part in the performance of the board.
The sharp rail helps to augment the down the line speed. When present around the entire board, it holds on to the wake and provides full control.
On the contrary, the dull rail doesn't have that much speed but allows an easy transition from rail to rail very smoothly.
4. Which material is the best?
The shape of the board lies side by side with the material when a person is selecting a board. A material needs to be light but it should be strong as well.
Boards are mostly constructed from foam and then glassed over. So, there's not a much choice.
5. Which size offers the optimal performance?
Which size to select is not the matter of your own size, rather than it's the matter of a boat wake. When the wake is bigger, than you need the smaller board to ride it, and when it is small, you need a bigger board to catch it.
6. Does your own weight highly matter?
There are different boards in the market having different capacity of weight bearing. To perform better than others, you need to know your own weight first.
Try to go for the board that has your weight as a median. It will improve the performance of too many folds.
7. Boat Wake Matters as well?
No matter how many boards you have changed for the better performance, but it remains the same if your boat wake is not enough for you to ride the wave.
Not only invest on your wakesurf boards but also keep check on the wakes that your boat produces and do the changes where necessary.
Conclusion
Now you know which wake surf boards are the best for wake boarding in the summer. We hope this information will help you make an informed decision whenever you decide to buy a board for the next trip.
Popular Articles:
To is Surf and Kite Instructor, Web Designer. He share about His life in this blog. More about Him in About page.