Presented here are the best wakeboard bindings for 2023. We picked them because they are the cream of the crop in terms of performance, security, and comfort. These bindings can be used by anyone regardless of one's skill level.
We looked over the different wakeboard bindings in the market today and reviewed them to see which are worth your time. We presented them in the list below so be sure to check them out.
Top Rated Wakeboard Bindings for 2023
Best Wakeboard Bindings for 2023
#1. Slingshot Space Mob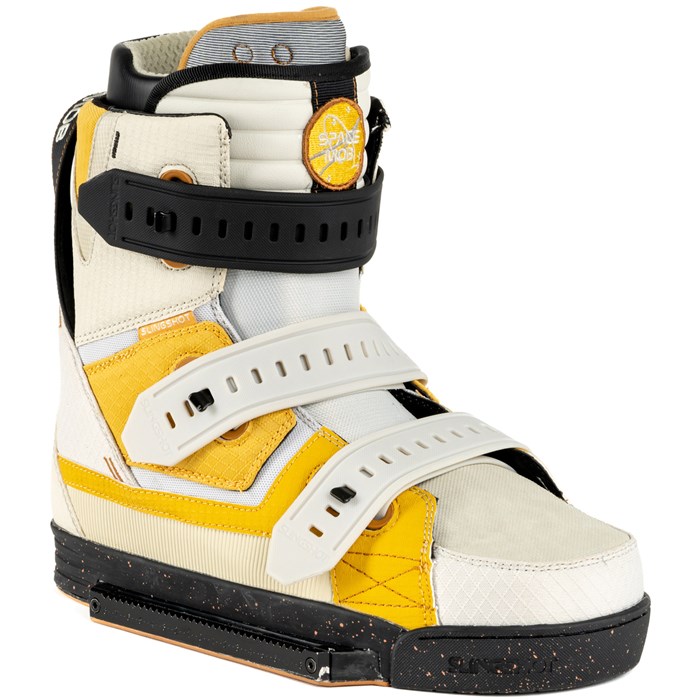 With a completely customizable option, these bindings let the rider fully enjoy their ride.
There's a removable secondary tongue with which you can customize the boots' flex as per your needs. Riders who need extra support can have the tongue intact and those who need softer flex can remove it.
For the perfect fit, there's a gummy strap closure system. It not only secures you in your place but also puts the right amount of pressure all over the boot.
Furthermore, there are removable liners made from high-quality sturdier material using advanced sewing methods. They protect the wakeboarders no matter what.
These bindings also feature the Slingshot special K9 Mounting System. It amplifies the board and boot connection while lowering the footprint of the boots on the board.
Thanks to this, you get better angles to perform at your best. Moreover, the bottomless base system enhances the feel and connection with the board and gives a better transfer of energy. 
Providing support and boosting performance, these bindings are one of the best in the market today for sure.
#2. Slingshot RAD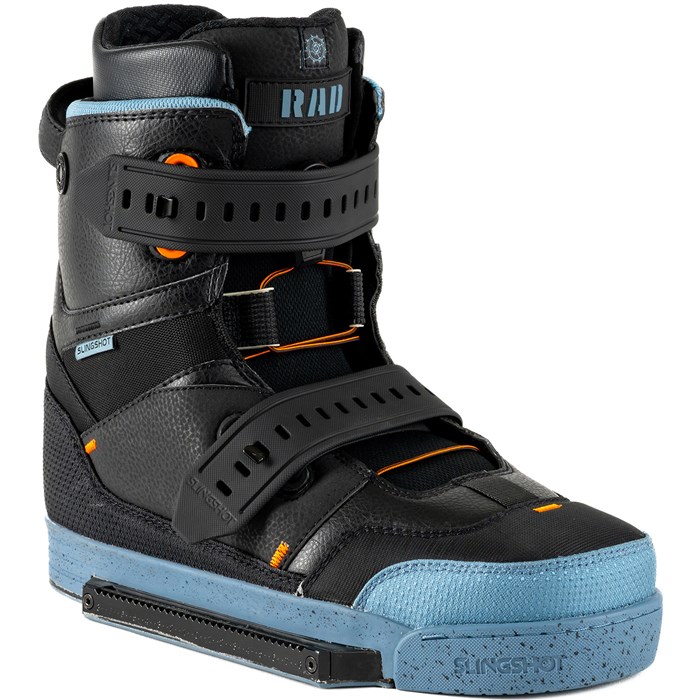 Having the name of the Slingshot, you gain all the best qualities of the wakeboard bindings with these wake boots.
Having the honor of being one of the best-selling in the market today, these bindings have the heel hold down system. It gives these boots the lower lacing zone that keeps the heels low and adds extra support from all sides. Not only that, but you get a better grip with extra comfort.
Furthermore, you can enjoy Slingshot's dual-zone closure system. It is the combo of the lower lace zone with a heel hold down system along with a new lower zone gummy strap. Also, the second gummy strap perfectly fits your ankle. No matter what your size and shape are, you feel that these wake boots are specifically designed for your feet.
The gummy straps use very powerful and strong thermoplastic polyurethane to keep them fixed in a position. This revolutionary closure system doesn't allow the bindings to loosen as time passes.
With the forged aluminum track, the boots are light but strong. That means you have the lighter overall board. The direct-connect soles lower the boot's footprint and give more flex. Also, the super-light k9 mounting system provides a solid connection which improves the quality of these bindings even more.
#3. Hyperlite Remix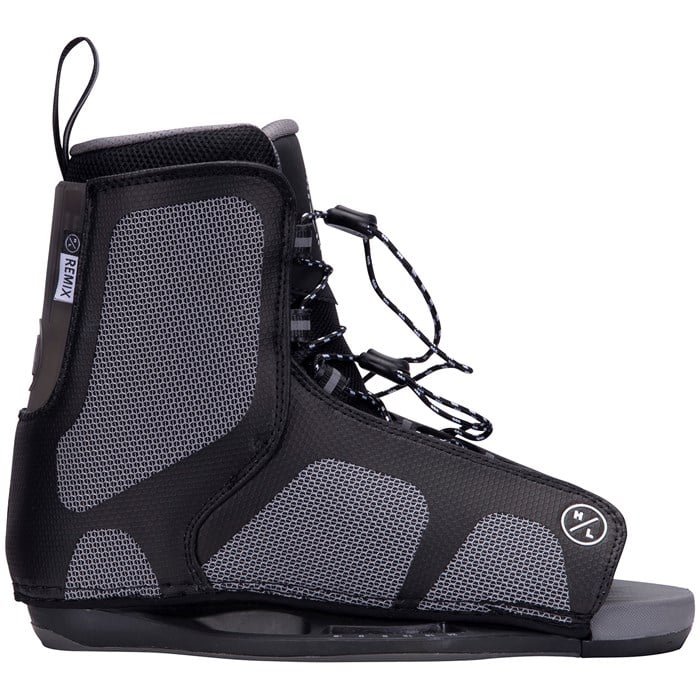 With the remix style and the classic open-toed design, these bindings take the experience of your favorite sports to a whole new level.
These wake boots offer amazing support. You get a hyperplush rear flex zone that lowers abrasion at the back of your leg so you can land smoothly. It gives you the fit that keeps you going comfortably. These bindings are adjustable and give you the fit that you feel they are made specifically for you.
The liner and lacing are also great with the dual-density EVA and dual quick cinch lace zones so you can easily get in and out from them.
The baseplate is one of the best in the market with its low pro plate system. It has over 16% lesser volume which lowers the weight overall. Thanks to the drop-through footbed, the rider remains closer to the deck to gain extra control with a super response. Also, the anti-twist chassis improves its functionality even more.
When you want to have a tough foundation with flexibility and comfort, these bindings are the best option for you.
#4. Ronix RXT Red Bull
Flexible, comfortable, and efficient, these wakeboard bindings are flawless when it comes to functionality.
Made with the alliance between Red Bull, Massi Piffa, and Ronix, these bindings are full of advanced features. It has a medium flex with a flex rating of 6 with 10 being the stiffest rating. For the perfect fit, it has a pro s.o.l.e; it boosts higher, offers fast reaction, and allows softer landings.
With its auto-lock technology, the lock gives the perfect fit. The locks come with a soft-touch pull handle along with the rotational locking wheel. This construction makes the locking and unlocking very convenient and reliable.
Moreover, there's an automotive-grade elastomer for the 3D heel and toe. With its strength, all the hardships and extreme conditions become bearable and you get optimal movement and flex. Lastly, with other amazing features, it comes with BrainFrame technology. It gives the customized fit and keeps the feet secure from the bottom up. It offers instant energy transfer that lowers fatigue and energy loss. Also, it improves the life of the boots.
On the whole, these bindings are the future and ready to give you the freedom of movement and control year after year.
#5. Ronix One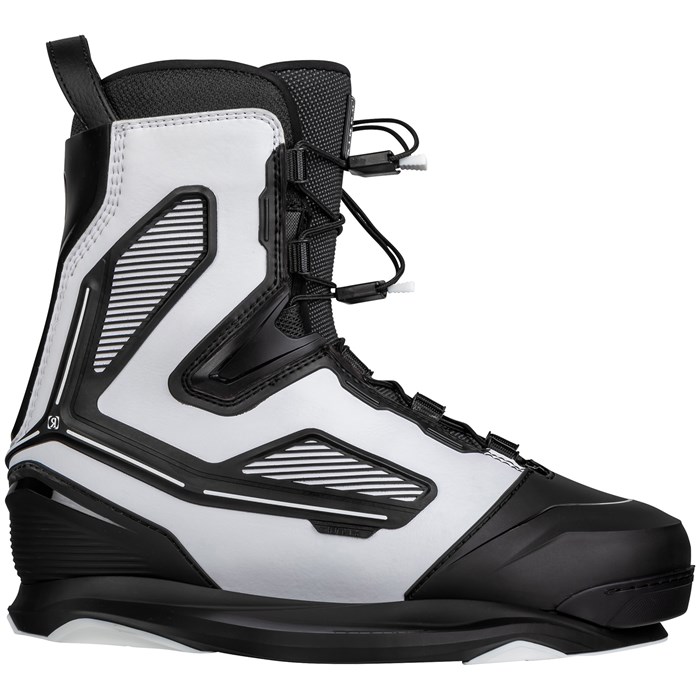 When you are looking for comfort with style, these bindings are the perfect choice to go for.
These wake boots have pro-S.O.L.E. They have the fastest reaction with the softest landing that you can enjoy. Also, it gives you the highest boost. With 3D molded toe and medium-density provide you the perfect fit without compromising your riding style.
The level of fit you get is what you find nowhere thanks to its heat moldable intuition plus liner. Alongside, you have Flexform 3D ankle and heel support. The advanced elastomer does that by adding extra strength to bear any tension and tear with the flexibility so that the rider can remain comfortable. So your bindings remain in their place, it has the auto-lock technology which adds a completely rotational locking wheel that gives durability as well as feasibility.
The baseplate uses Ronix's latest brain frame technology that provides the responsiveness that you desire with the ideal fit. This hardware platform provides security to your feet and transfers your energy without any delay so you can enjoy the wonderful fatigue-free ride. Also, with this advancement, you get no lamination and stitching issues that your older wake boots had.
Your bindings look new for long with the special SuperFabric that armors them for a long time. This plated fabric is their most abrasion-resistant material. It is present on the tongue so the laces can retain their shape without any wear or tear.
Overall, when you want to switch from your beginner bindings to something more professional and reliable to give you support, these wakeboard bindings can become your partner in your favorite sports.
#6. Airhead Binding Venom Wakeboard
The Airhead Venom is best characterized by its subtle sleekness. Featuring an understated and simple design, these bindings look incredibly sleek without being too loud. In addition to its looks, the Venom also stands out because of the optimal level of comfort it provides. Featuring a fully adjustable design, it should have no trouble accommodating a wide range of sizes.
One of the things we liked about the Venom is its use of an open toe design. This design choice lets your feet breathe. In addition to this, its use of specific plates for the left and right feet ensures easy entry and a great fit. Another notable feature is its use of a flexible plastisol overlay and an easy-adjust lace system. Put all of these different elements together and you come away with an incredibly comfortable piece of wakeboarding equipment.
#7. Hyperlite Remix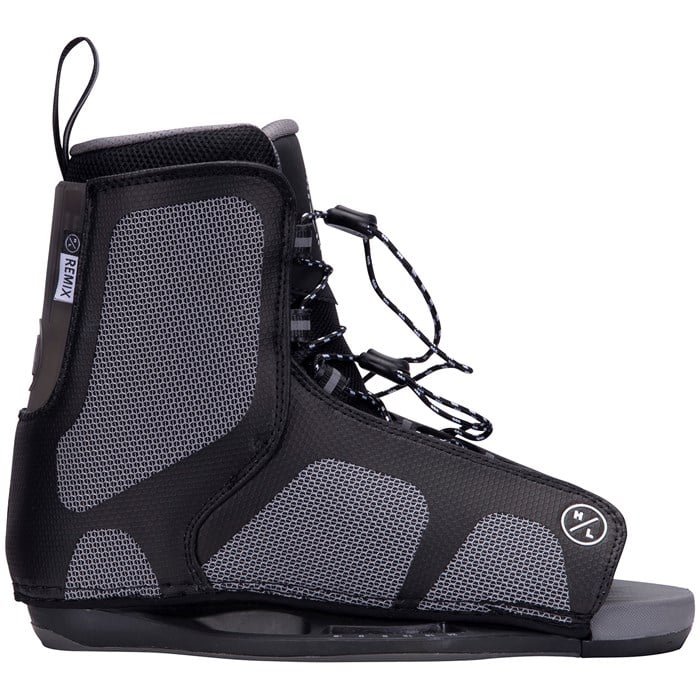 The Hyperlite Remix Bindings is perfect if you are looking for a solid and well-designed piece of wakeboarding equipment. Don't let its traditional design fool you though as the Remix wakeboard boot lives up to its name – delivering innovative solutions in a familiar-looking package. For instance, despite being incredibly lightweight, the Remix maintains the level of sturdiness we expect from Hyperlite wakeboard bindings.
The Hyperlite Remix delivers exceptional functionality and comfort. It is completely adjustable thanks to its Dual lace zones. It is also worth mentioning that its 3D molded tongue makes everything snugger while maintaining optimal board control.
Needless to say, the Remix is an excellent choice for beginners looking to learn the fundamentals of wakeboarding. It would also work well with intermediate riders who want to take things to the next level. These bindings are designed to help you learn the ropes and sharpen your skills, so be sure to give them a try.
#8. Liquid Force Index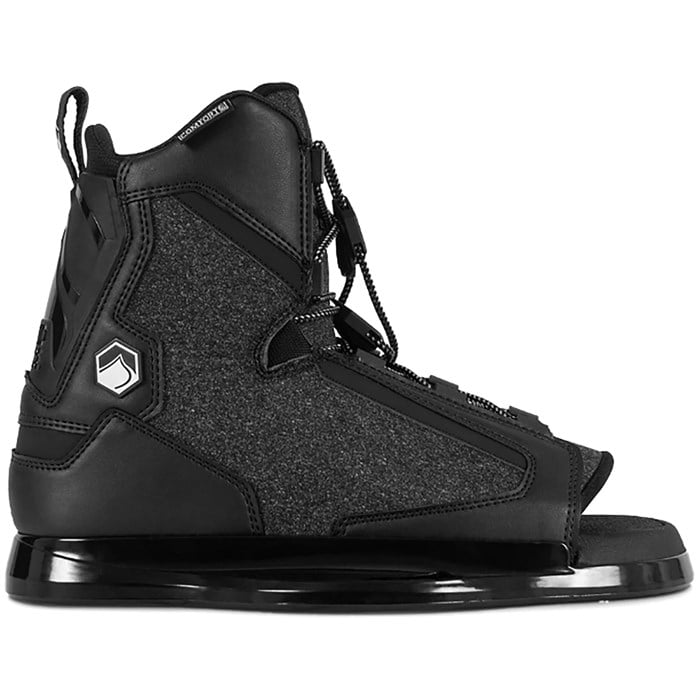 The Liquid Force Index provides its user with a fun and relaxed experience. It is the perfect wakeboard binding if you just want to lay back and enjoy your time on the water. It sports several interesting features which ultimately make doing what they love that much easier. For instance, its use of the Impact EVA and EVA Footbed effectively reduces the shock of impact coming off landings. Needless to say, this reduces the risk of fatigue and will give you more time to ride.
This wakeboard binding is perfect for beginners and intermediate riders looking to hone their skills. With a wide fit, an open to system, and an incredibly high flex rating, calling the Index binding comfortable would be a gross understatement. In addition to this, its use of a Dual Lace System means you have more room to customize the way it fits and secures your feet.
At the end of the day, the Index gives you flexible and comfortable wakeboard bindings.
#9. Ronix Wakeboard Bindings Supreme Boot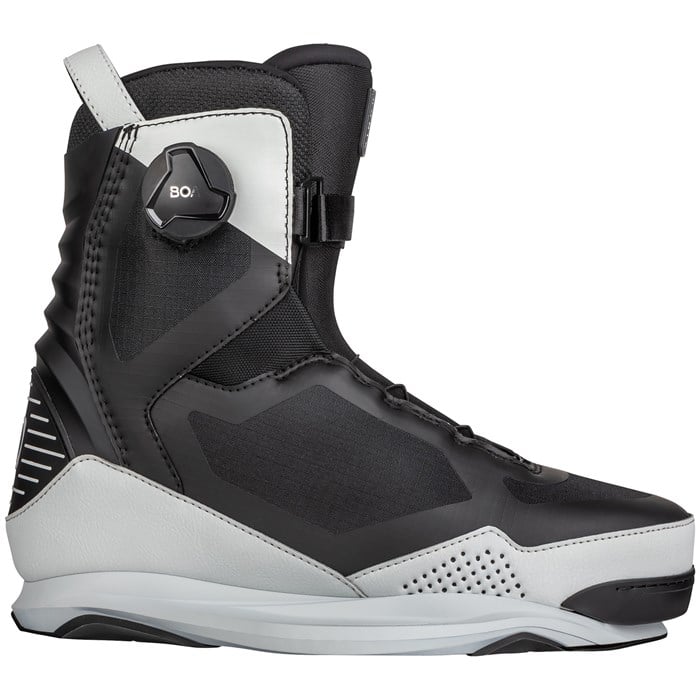 The Supreme Boot from Ronix features the latest innovations in the industry. This gives you the best in terms of design, fit, and form. This is made apparent in the binding's unparalleled level of adjustability. Needless to say, we were thoroughly impressed by its use of a revolutionary strap system that lets you customize the boot's zonal fit in real-time. This means that you can tighten or loosen the bindings whenever you want.
The Supreme Boot is perfect if you are looking for comfortable wakeboard bindings that provide the right amount of leverage and elasticity. Needless to say, Ronix's use of its BrainFrame Technology and Super Straps makes this one of the superior products in the market today.
#10. O'Brien Access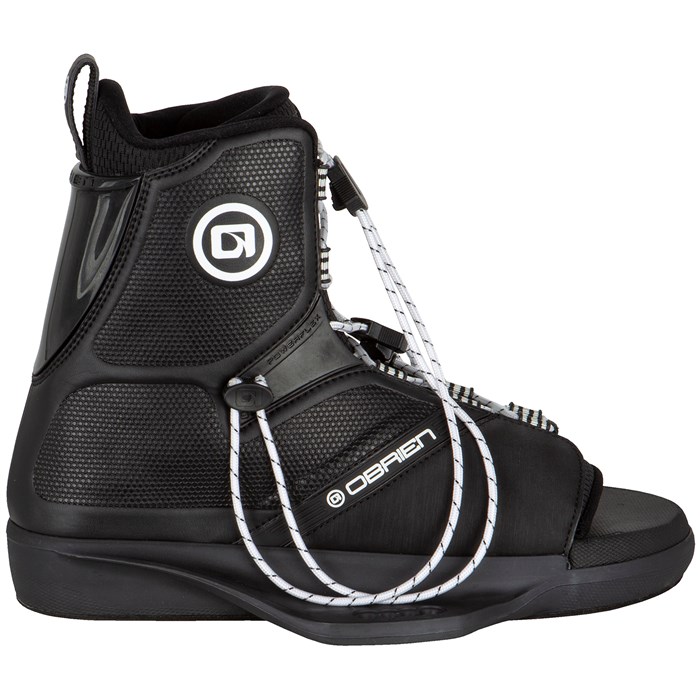 If you are looking to upgrade your wakeboarding equipment then we simply have to mention the O'Brien Access. Without a doubt, they are the perfect choice if you are looking to elevate your game in the water. They are incredibly versatile while also maintaining the level of comfort we are looking for.
Its use of the NEO Chassis is also worth mentioning here. It is specifically designed to help you improve the alignment of your knees, ankles, and hips. Remember that proper form is crucial in improving not only your performance but also your comfort levels, both of which are crucial in the water. The NEO Chassis also provides you with the extra cushion you need as take on bigger jumps off the wake.
The O'Brien Access Wakeboard Bindings is the type of gear that can help improve your performance. Unsurprisingly, they deserve to be called as one of the best wakeboarding bindings in the market today.
#11. Liquid Force Hook 6X
Having a custom fit, ideal hold, and amazing design, these bindings are strong and powerful to meet your riding style.
These bindings have medium to firm flex that keeps you going the way you like. Alongside, the medium to wide fit offers a comfortable fit for long-run riding. The internal strap allows custom length adjustment to augment your performance.
Its special walkout liner is known for the convenience it provides with coziness. The high reflex liner is present in conjunction with an impact EVA sole. Furthermore, rubber pods add extra softness to these bindings.
For complete flawless support, these bindings feature new more secure Velcro closure. Also, there are drainage holes that don't allow water to stay. An additional elastic strap around the toes makes the bindings more secure.
Thanks to its dual lace zone system, the lace tension is not the same in upper and lower zones. With it, the bindings feel more comfortable and secure with the custom fit. Not only that, but there are many other perfect compositions including dual-density foam construction, 6X chassis system, honeycomb flex floor cushioning system, and chassis dampening system.
On the whole, these bindings keep you secure in your place perfectly so you can have complete confidence in your moves.
#12. Liquid Force Tao 6X
You can ride like a pro with the amazing features of these 6x wakeboard bindings.
These bindings feature dual locking lace zones – so no matter what your size is, it gives you the perfect fit along with the comfort you desire. To make them comfier, it has a honeycomb flex floor cushioning system, so whatever your landing height is, you don't get the impact. Also, it returns you the energy to give you a lively feel on the water with a lighter feel.
It has a 3 flex – 1 soft and 10 stiff. The cuff stretch zone makes the connection of the lower throat area and the upper cuff on the chosen bindings so you can move freely. Whether you want forward movement or backward, or the side-to-side movement, you will not be restricted at all. At the top, you get comfort foam and flex-articulating side panels. At the base, you enjoy an impact EVA dampening base pad that is a special foam that lowers impact and protects your heels while landing.
No matter which wakeboard you use, you can enjoy your ride on your favorite wakeboard with these bindings. To have a perfect fitting, they come in diverse sizes as well.
#13. Connelly Optima
With the convenient open-toe design with outstanding lacing and baseplate, these bindings are more than perfect to meet your high standards.
Whether you are an advanced player or just a person who wants to initiate this amazing sport, these bindings are for you. They give ample solid support to your feet and keep you in your position. Further, the support is enhanced by adding the tough gorilla support.
With the single lace design, the liner and lacing are also amazing. You get a thick EVA footbed with lycra lined molded heel and toe. Also with the 6-plate baseplate, you get the best possible landings.
When you want comfort with lightweight, also you want to have the huge foot sizes range, you can pick these bindings without burdening your wallet.
Best Wakeboarding Bindings – Final Thoughts
Finding the right wakeboard bindings is a lot like choosing a new pair of shoes. You need to find the one that you are most comfortable with. This means looking for one that fits like a glove – cozy and snug. After all, these bindings are responsible for securing you to your wakeboard. The last thing you'd want is for it to be too tight or too loose.
Keep in mind that there is a myriad of factors to consider when choosing the best wakeboard bindings. This would include the binding's closure system, flex, and fit, not to mention the specific means used to secure you to your wakeboard.
That said, it can be overwhelming going through all of these. That is why we have made it our mission to make things simpler for you.
These are just a couple of the best wakeboarding bindings we found in the market today. Be sure to explore your options and pick the best one for you.
Popular Articles:
To is Surf and Kite Instructor, Surfboard Shaper. He share about His life in this blog. More about Him in About page.