We are positive that wakesurfing was invented just for thrill-seekers. Imagine balancing yourself on a board in the wake of a boat; trying to skim along the water and even executing a few flips.
If that sounds like fun, then wakesurfing is the sport for you. But you are going to need the right equipment so take a look at the best wakesurf boards for tricks for intermediate surfers in 2023.
Related:
Best Wakesurf Boards For Tricks 2023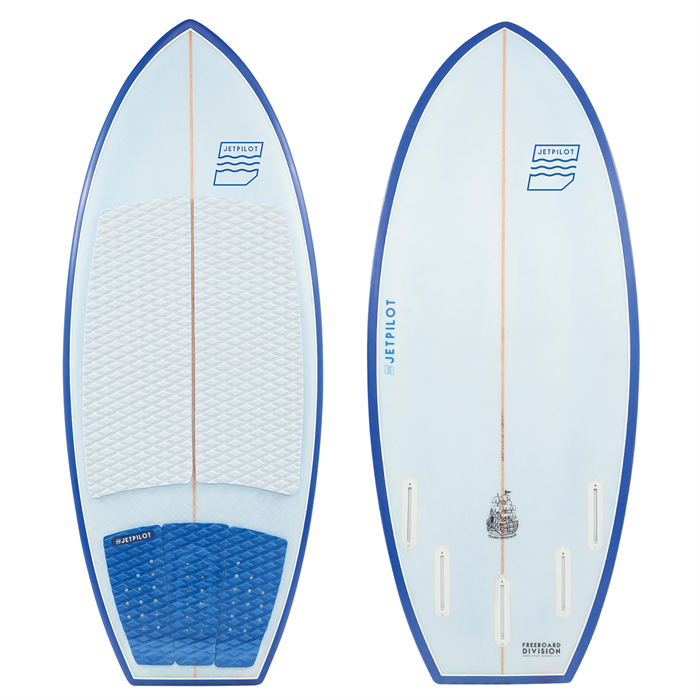 First up, we have the amazing Jetpilot Flying Dutchman Wakesurf Board. It is one of the best boards on the market right now with an awesome combination of superb craftsmanship and killer style.
The board has a square tail with a smooth rocker curve. The design is ideal for surfing especially for more experienced surfers that are not afraid of free-styling over the water.
The base has a single concave construction at the front that lifts up as you surf. The middle has a double concave construction to help you maintain control with a slight Vee in the tail for additional support.
The Jetpilot also comes with five custom honeycomb fiberglass fins that is almost unheard of in the wakesurf board industry. No other brand provides surfers with the option to set up their board five different ways.
A three piece embossed traction pad is also added to the board for additional support and grip.
Features:
Square Tail
Smooth Rocker Curve
Concave base with slight Vee
Custom Honeycomb Fiberglass Fins
3 Piece Embossed Traction Pad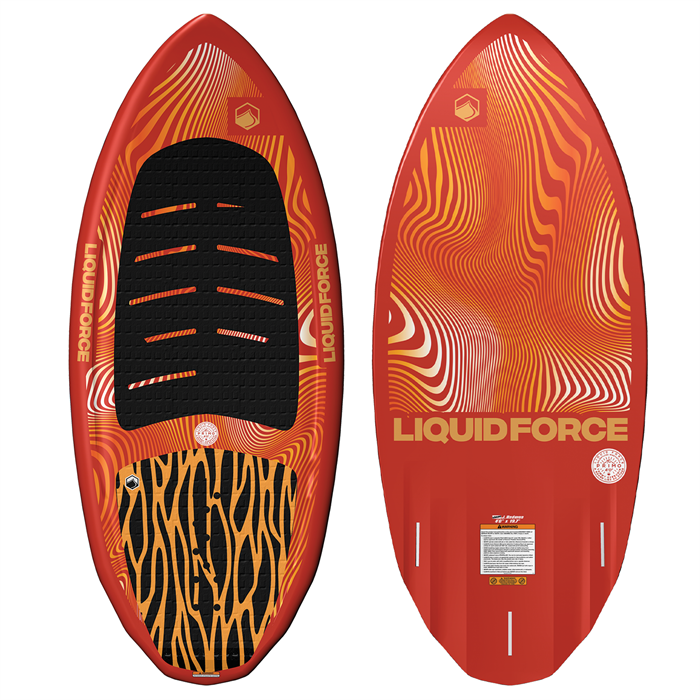 The Liquid Force Primo Wakesurf Board is another reliable option for intermediate and advanced level surfers.
It is a hybrid style board that is made using a dura-surf construction technique. The core material is a stringerless EPS foam that is compression molded so that it remains sturdy and has the same pop as a new board even after years of use.
This board also a squash tail and a base with a single concave hull complete with quad channels. It also has the standard three fin setup with one single SK fin and two side fins. All three fins are removable so that you can customize the board according to your own style.
We recommend using all three for a good combination of speed and stability but you can go with just the two side fins if you are feeling playful.
Features:
Dura-Surf Construction
Stringerless EPS Foam
Squash Tail
Single Concave Hull with Quad Channels
3 removable fins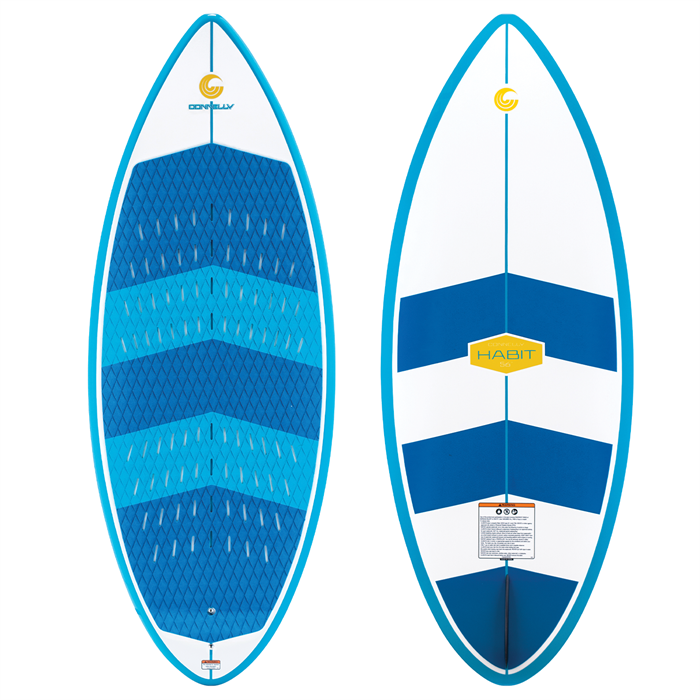 Moving on, let's look at the Connelly Habit Wakesurf Board which is another great option for the experienced surfer.
It is a skim style board that is made using compressed EPS foam at its center. Skim style boards are similar to regular surf boards that are used for sea surfing along the beach. They rely more on the board edge to keep surfers afloat instead of the fins.
Nevertheless, the Connelly board comes with a center fin that you can pop on if you want a more traditional wakesurf board. The center fin is around one inch long and is designed for a surfer that wants to zip over the waves and maybe do a couple of spins as well.
The board is also equipped with a full EVA pad that provides the necessary traction and grip.
Features:
Compression Construction
EPS Foam Core
Skim Style board
1″ Skim Center Fin
Full EVA Pad
Next up, we have the Hyperlite Shim Wakesurf Board which is a reliable and safe option for dedicated wakesurfers. The board has a sturdy dura-shell construction which is designed to last so that you can use this board throughout the surfing season.
It is also made from an EPS foam at its core which is an expanded polyester foam that is super-lightweight yet durable.
But the thing that sets the Hyperlite board apart from other boards is the layered glass that is woven into the foam core. The layered fiberglass ensures that the board remains as good as new year after year.
Additionally, the Hyperlite board has a unique pin tail design with a single concave base. The single concave design helps give the board the necessary lift to skim over the waves.
Features:
Dura-Shell Construction
EPS Core
Layered Glass
Pin Tail Design
Single Concave Base Contour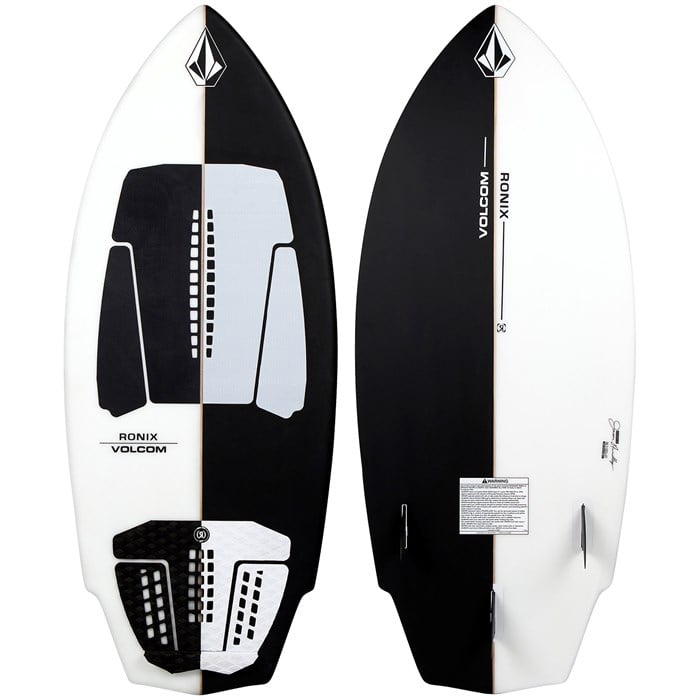 Finally, we have the Ronix Volcom M50 Wakesurf Board that is ideal for advanced surfers. It features impeccable design and provides excellent surfing any time of the year.
The Ronix board is made using specialized robots that use a magnaplasm construction technique to produce a board that is free from all kinds of defects.
The board also features a hard rail that makes the board fly over the waves so if you are looking to speed surf you cannot go wrong with the Ronix board.
The fins on this thing are also pretty solid. It has a Fin-S system with a Spring Lock Technology so that the fins stay securely in place as long as you are out on the water.
A symmetric fiberglass fin acts as the center fin and it is about three inches long. Surfers also have the option of adding on a couple of asymmetric floating fins that are each 3.5 inches long.
Features:
Handmade by Robots using Magnaplasm Construction
Hard Rail
Fin-S System
1 Fiberglass Symmetric 3" Fin
2 Asymmetric 3.5" Floating Fins
Conclusion
Now, you know which wakesurf boards are ideal for experienced wakesurfers who aren't shy of going for the most daring spins and flips. We hope the information outlined above will help you purchase your very own wakesurf board that is well-suited to your ever need.
To is Surf and Kite Instructor, Surfboard Shaper. He share about His life in this blog. More about Him in About page.