Here is the list of best water skis for beginners 2023 which can help you to make the right decision from the very beginning.
Water skiing is an amazing sport. It is very challenging yet fun. Having the right equipment is essential for enjoying skiing.
There is a huge range of best beginner water skis in the market which makes it hard for the newbies to make their selection. We have helped you by the list below:
Best Water Skis for Beginners 2023
Reviews Best Beginner Water Skis 2023
1. Connelly Eclypse Water Ski ​+ Swerve with RTS Bindings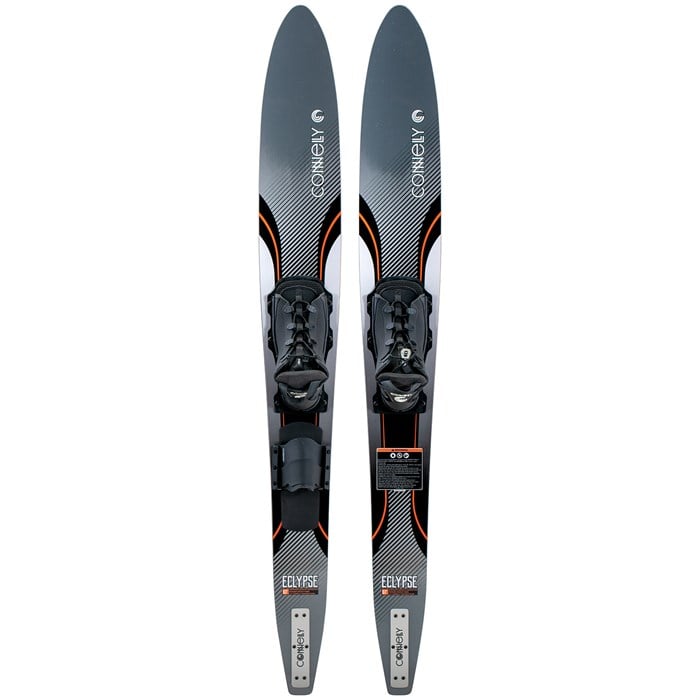 This extraordinary combination ensures a lively start and fun riding the whole season.
Thanks to its wide nose and tail coupled with a narrow waist, this duo makes your every move flawless. The unique elastomer outer wrap provides superior comfort and flexibility for an optimal experience on the open waters.
Its reinforced composite construction makes it last longer. Further, with a high gloss UV coat, the sun cannot harm it. Its shape provides more edge hold and stability as the standard tunnel runs in the center of the ski.
Overall, these bindings and skis can take you deeper into the water with complete control and maneuverability.
2. AIRHEAD S-1300 Combo Skis, 67″, pair
Stay ahead with Airhead S-1300 while utilizing its amazing qualities.
Whether you are a beginner or an experienced rider, these skis' wide tails and tunnel-shaped bottoms are designed to provide excellent performance, control, and stability. With their composite construction and fiberglass-reinforced nylon fins, these skis provide an optimal blend of durability and maneuverability.
Get ready to have fun with these ideal-sized combo skis that offer dual-density slide-type adjustable bindings, accommodating US sizes 5 through 12. You can easily get the correct fit.
When you don't want to compromise on style, design, and qualities, these skis are just the perfect option to go for.
3. AIRHEAD WIDE BODY Combo Skis, 53″, pair
Adventure seekers rejoice – these skis can take your fun to a whole new level.
These skis bring the thrill, featuring a lightweight composite/foam core construction and fiberglass-reinforced nylon fins for superior tracking on your wildest rides.
Deep water starting, standing up, and turning whilst dropping a ski to slalom – all skills can be mastered with ease thanks to these combo skis. It can be the best teacher in the water. Furthermore, these skis provide effortless pop off of the water and wide tips for those impressive jumps.
Overall, whether you are just learning or enjoying your rides already, these combo skis can give you the best experience.
4. Radar X-Caliber Water Skis ​+ Cruise Bindings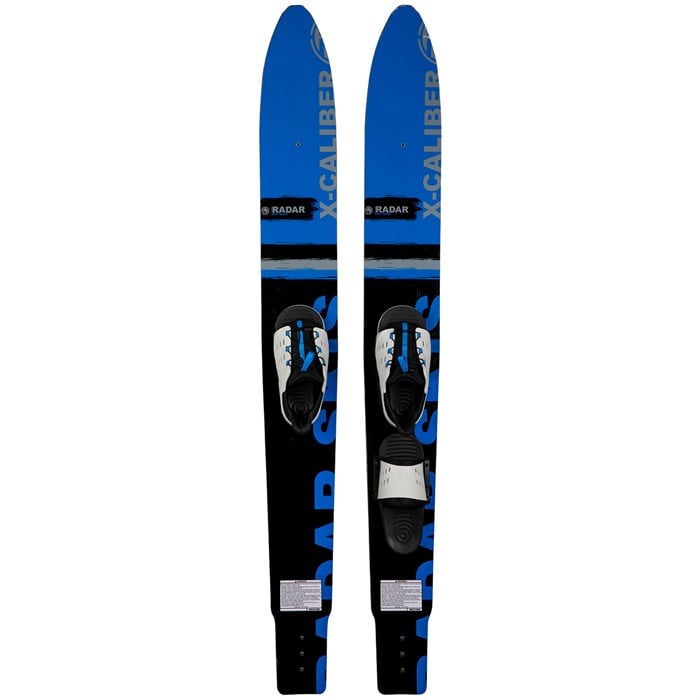 If you're looking for the best water ski that will ensure that you are able to go out on the water, then this is it. It offers you the basic features that any starting skier would need to ensure that they have a fun time out on the water. The best thing about these is that they have a wide profile side cut. So, you will not have to worry about not having enough space for your feet placement. But that is not all. It also ensures that you are able to retain your balance with the mellow side cut.
The water ski comes with a molded EVA cruise boot, so you will surely find it easier to keep your feet in place throughout the time that you're on the water. The overall experience you get from this water ski is surely going to pump you into the activity more.
Features:
Wide profile side cut
Molded EVA cruise boot
Ideal for beginners
Wide platform
Two sizes available
5. HO Blast Combo Skis w/Horseshoe Bindings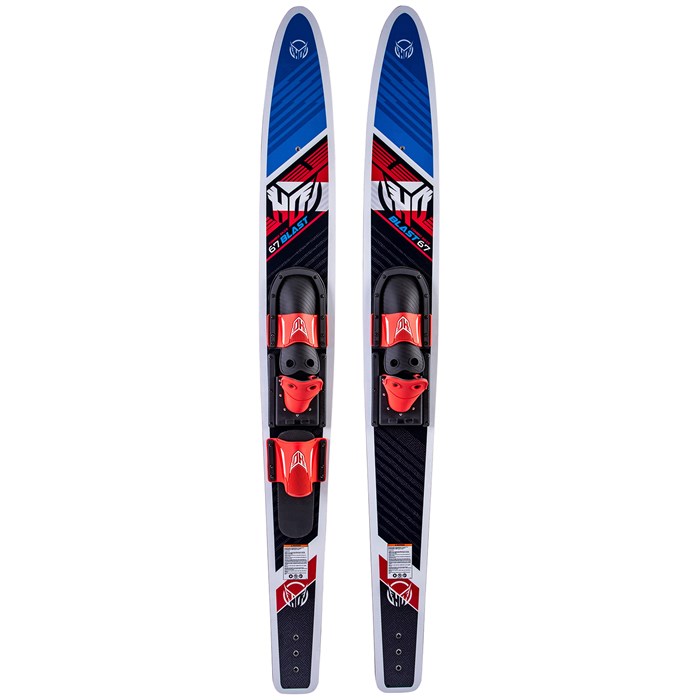 From the shape to the design, everything in these water skis can take your skiing to a whole new level.
HO creates skis for people of all ages and levels. This is one of the best water skis for beginners. It has a wide combo shape that makes it easy to take the perfect start in the deep water.
The tracking is wonderful and highly stable, thanks to its V-bottom design. As it is made specially to make learning easy, it is compatible with the HO trainer bar. Furthermore, it also has a wide width that promotes learning and improves performance. These features make it perfect for the whole family skiing.
Its stability promotes its maneuverability. Additionally, with these skis, you can drop a ski and learn to slalom skiing because of the addition of the rear toe strap. Also, it features horseshoe bindings.
On the whole, these HO blast combo skis are perfect for the skiers who are new and want to be a pro in the future. Learning skiing is as easy as pie with these skis.
6. Connelly Quantum Water Skis ​+ Slide Adjustable Bindings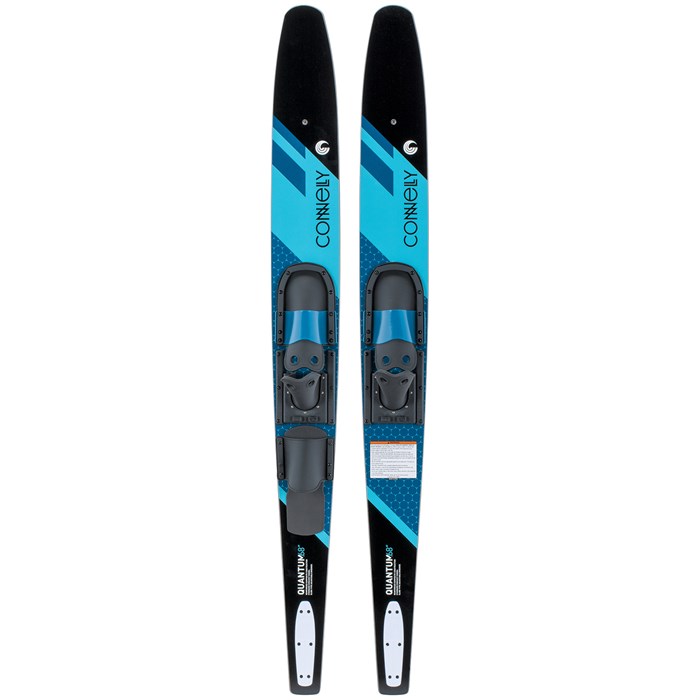 Add more energy to your time spent water skiing with this water ski. You will find that it comes in a reinforced composite construction that is ideal for users who are new to the concept of water skiing. Along with this, you will find the phenomenal water ski to offer you slide adjustable bindings. This gives you the choice of integrating a stabilizer bar for your use.
You should also know that it offers you glass-filled nylon fins to make your experience even better. The composite core and the overall construction of the water ski allows you to ensure that you receive high performance from it. The water ski allows you to enjoy your time with the waves as it helps you ease into a more intermediate level of water skiing after some practice.
Features:
Reinforced composite construction
Slide-type adjustable
Stabilizer bar insert
Glass filled nylon fins
Composite core
7. Obrien Vortex Combo Water Skis ​+ X-7 & RT Bindings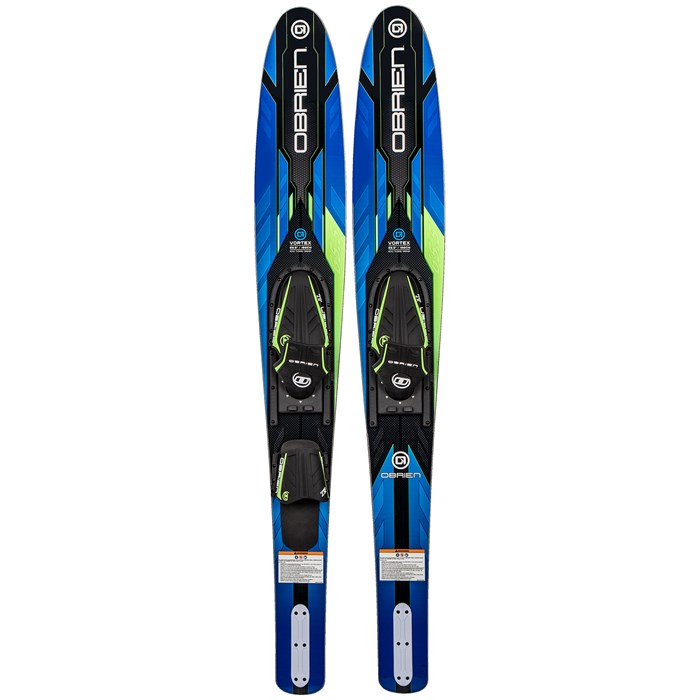 When it comes to going for an option that will offer you the ideal set of features for your water activities, then this is it. You should know that these water skis are perhaps one of the best things that you can make use of for yourself as a beginner. They offer you a dual tunnel and nylon fins that add to the overall performance of the water skis.
There is more that this model has to offer you, including adjustable bindings. The water ski features a wide body that adds to its stability as well. So, you will find this to be the perfect option when you are starting out. It will add to your overall balance and make sure that you have a great experience on the water.
Features:
Dual tunnel
Nylon fins
Adjustable bindings
Stable rides
Wide body
8. HO Burner Water Skis ​+ Adjustable Horseshoe Bindings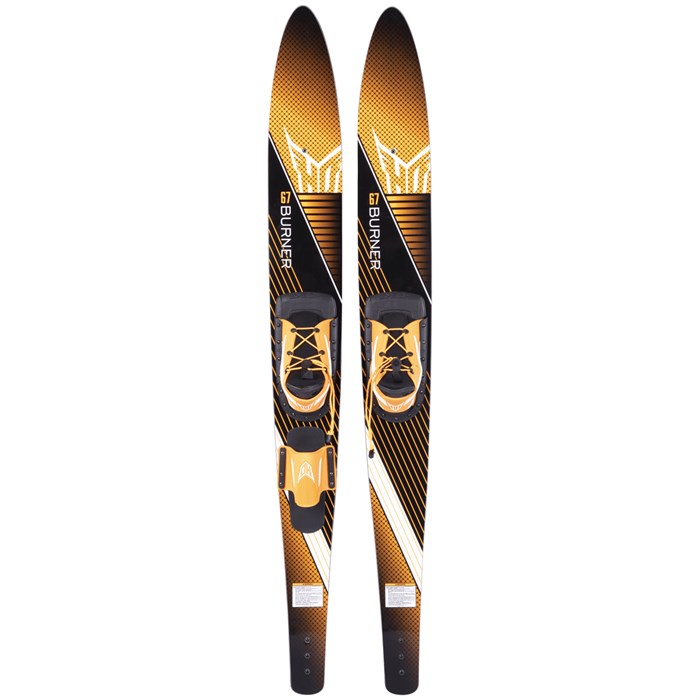 One thing that every beginning skier needs from their water ski is stability. This model is here to ensure that you are able to maximize your stability when you are on the water. That has more to do with the fact that this has an oversized shape. So, you will find yourself to be able to keep yourself on water for longer durations as opposed to any other water ski.
The V-bottom design further allows you to have a more stable ride when you're on water with this skis on. But that is not all. You will also find that these water skis plus bindings allow you to make cuts in the easiest manner possible. There is nothing to worry about when you are making use of these exceptional water skis.
Features:
V-bottom design
Oversized shape
Adjustable bindings
Easy cuts
Added stability
9. Connelly Cadet Water Skis ​+ Child Slide Adj. Bindings – Little Kids'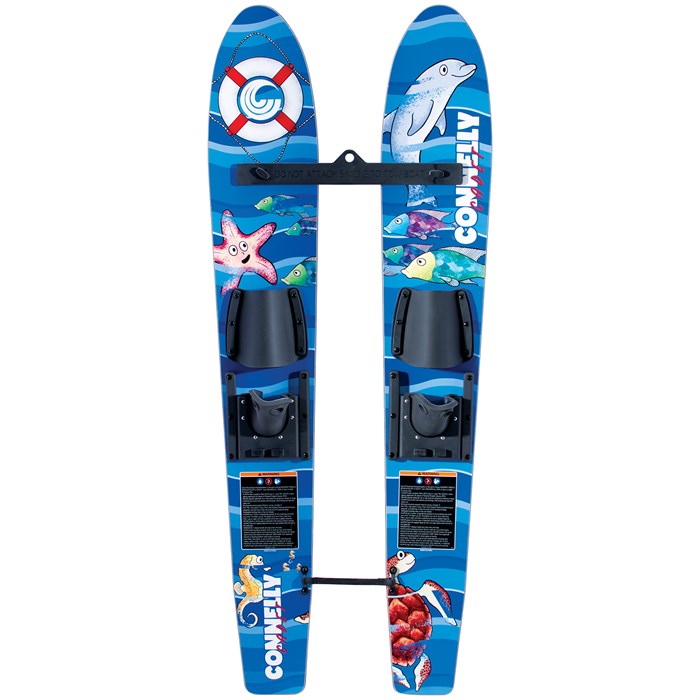 If you're looking for something that you know is going to be great for younger water skiers, then this is it. When children are starting out, you would want to make sure that they get access to skiing equipment that is ideal for them. You should know that this water ski is made to ensure that children are able to work with them easily. With the child slide adjustable bindings, you will find that these are great options for children.
The composite construction and the Conelly tracking system that keeps the tip of the water ski straight allows your child to have an easy experience with this water ski. There is no need to worry about the stability as this wide water ski ensures that your child gets the maximum stability when they are on it.
Features:
Reinforced composite construction
Conelly tracking system
Slide adjustable bindings
Glass filled nylon fins
Composite core
10. O'Brien Celebrity Combo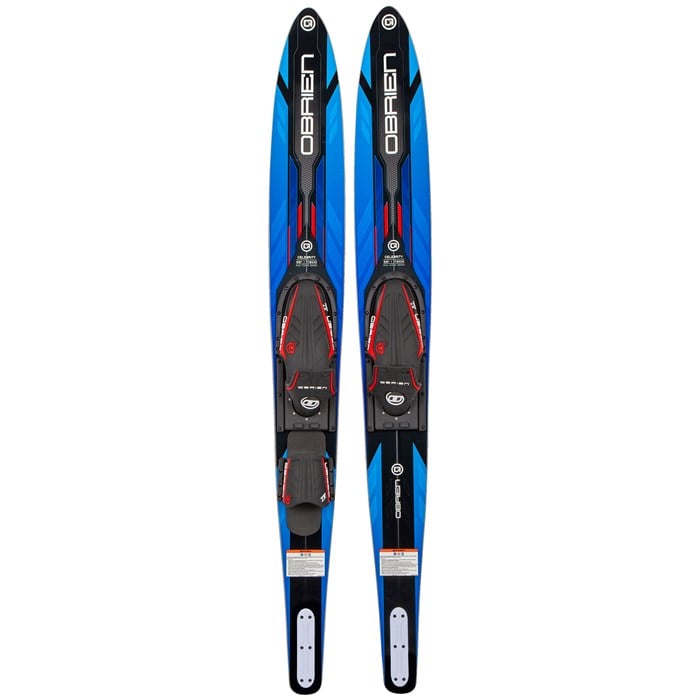 Belonging to the best selling O'Brien ski series, these waterskis let you enjoy the skiing like a pro.
Made from high-quality composite, it is very durable and ideal for the average weight men. The adjustable binding design makes it more versatile according to the skier's needs. The effortless adjustment allows it to easily hold on to the bindings with the fit that just feels right.
With a bit shorter and vaguely narrower design, it offers the maneuverability that you are seeking for a long time. Performing with these skis is also very easy that makes them really renowned among teenagers and women as well.
Turnings are amazing as it is equipped with the performance side cut. Because of the special dual tunnel, the ski glides smoothly on the water. To further enhance the smoothness, it has the prominent V entry at the tips. Even when the water is rough, the skiing becomes effortless.
To make the skiing safer, these skies have nylon fins that offer amazing traction in the water. The fins are round, not edgy, and holds the water better. It is also a plus point to protect the boat; these fins don't damage upholstery and boats.
All in all, it is a superb waterski to enjoy an easy and longer ride thanks to the flatter rocker lin that doesn't make you tire. It has every wonderful feature that doubles your fun in the water with your friends and family.
11. Connelly Eclypse Premier
This premier class ski can give you the skiing experience like no other – it is one of the best water skis in many ways.
Equipped with outstanding features, this water ski is made using a high-quality composite material which makes it last for really long. Its durability is further enhanced because of the high gloss UV coating which makes it ideal to be used in diverse weather conditions.
Name as the Eclypse, it is the premier combo pair has everything to enhance your skiing. This product provides evidence of their supreme experience in skiing.
These water skis are really for everyone thanks to their special front adjustable bindings. Their versatility makes them ideal for people of different shapes and sizes. With all these features, even the aggressive turns become easy.
Moreover, these skis feature wide tail along with the extended nose that gives them the ability to initiate in the deepwater easily. Also, they have a narrow waist to give life to your skiing. When in the water, you can have all the fun with these water skis without any trouble.
Overall, the strong construction and sleek design make these skis super cool when you are out in the water.
12. Hydroslide Adult Victory Water Skis Combo Pair
These skis are for anyone who wants to enjoy skiing at its full.
Made for the adult water skiers especially, these combo skis are easy and fun to ride. Their considerate design makes them perfect to take the start in the middle of the deep water. Getting up on these skis is also really quick.
The slide adjustable bindings make it effortless to hold on to. It is easy to fit and makes skiing perfect. Additionally, for stability, it comes with the tunnel concave bottom pattern. This feature also keeps the directions perfect.
Furthermore, it also has a slalom toe when it comes to single ski performance. When it comes to maneuverability, these water skis are outstanding. In general, these skis are the all-rounder in every skiing aspect. It is the complete package for fun and performance.
13. HO Omni Waterski – Blem – Women's
Looking for an all-rounder ski for women? Well, you should know that this model is all about ensuring that you have a great time as it offers you high performance. You will not need to worry about any aspect when it comes to this water ski. It is made using a traditional fiberglass polyurethane composite construction. Thus, you will find this to be highly durable for you to make use of.
You should also now that this comes with an exquisite shape that allows you to make the best use out of this as a woman. The clean edge 3.0 tail paired with the continuous rocker line and the deep concave shape gives you the ultimate mix when it comes to performance. It further offers you a 30% softer flex so that you are able to enjoy your time on this water ski.
Features:
Traditional fiberglass construction
Clean edge 3.0 tail
Deep concave shape
Flex frame
Continuous rocker line
How to size water skis?
Which size of the water skis to choose can be a bit trickier! One rule to consider here is to go for the size that is perfect for the largest skier on the boat. To select the right size there are certain things to note. Beginners should go for the longer skis as they are easy to ride. They are usually slower and bulkier than the shorter skis. Intermediate and advanced skiers should go for shorter skis as they are hard to control because they are faster and lighter and match the abilities of the skier.
For the Length:
For the weights between 30 to 80 lbs:
When the weight of the children falls in this category, then trainer skis are the best and they usually range from 5 to 7 inches in width and 40 to 53 inches in length. Many times, these water skis come with extra accessories that make it easy for the learner to quickly learn.
For the weights under 120 lbs:
For this weight range, the skis should have a length of 54 to 59 inches. These skis are a bit faster but provide enough stability that can improve their skiing too many times.
For the weights between 80 to 150 lbs:
Women and young adults usually fall under this category. The length of these skis should be 63 to 64 inches. As long as 67 inches length could also be used by the skiers.
For the weights more than 120 lbs:
For the weight of more than 120 lbs, adults should go for the skies of length 67 inches and 68 inches. This length can easily bear these weights and allow the desired performance with great fun.
For the Width:
Maneuverability depends on the width. Also, it makes it easy to get on to the ski in the deep water. Greater width means it is easy to ride it but added width means the ski will become slow. The reduced width means that the ski is quicker and faster but it is hard to initiate in the deep water.
The width for the beginners is 8 inches to 9 inches. As they have a greater width, it becomes easy to start in the deep waters. Then comes the medium width skies – they are 7-inch to 8-inch. They are very famous among all. They are not very heavy and quicker than the previous one. For the veterans and intermediate skiers, there are skis having a width of 6 inches to 7 inches. They are really fast but getting up on them is not an easy task.
What to know before buying Water Skis:
We have already discussed the selection of the size of water skis, however, there are other factors that you should also learn about:
Bottom shape: It is one important factor that impacts the functionality of water skis. There are different types of bottom shapes:
Concave: Concave bottoms make the water skis faster and provide them with perfect turns. They are for the advanced skiers.
Dual Tunnel: These bottoms are quite new as compared to the concave bottoms. They offer optimal stability and perfect for the start in the deep water. Especially for the beginners, they provide a better medium to practice turn.
Bindings: Another aspect to look for is the bindings that make them suitable for diverse skiers. The bindings should be adjustable and easy to set up among different skiers. The bindings should remain intact and provide comfort with support.
Type: Your skiing level and performance demands will decide which water ski to go for. For beginners, combination skis are perfect as they are wider and longer and have increases buoyancy than others which makes learning easy.
Slalom skis are for the pro skiers who like to go on the higher speed and ready to enjoy dangerous twists and turns. They are longer but narrower. Jump skis are for professionals who want to enjoy the water as well as air maneuvers.
Trick skis, as the name suggests, are there to improve tricks. They are shorter water skis that may or may not have small fins. They are also for the advanced skiers who want to augment their performance.
Popular Articles:
To is Surf and Kite Instructor, Surfboard Shaper. He share about His life in this blog. More about Him in About page.