A happy wing foiling day not only demands a perfect board but an efficient wing as well. Many manufacturers offer wing foil boards and wings altogether. The benefit is the chemistry and design of both components to meet the needs of the rider. We have collected the list of the best wing foil board packages 2023 to take your wing foiling level to a whole new level.
Best Wing Foil Board Packages 2023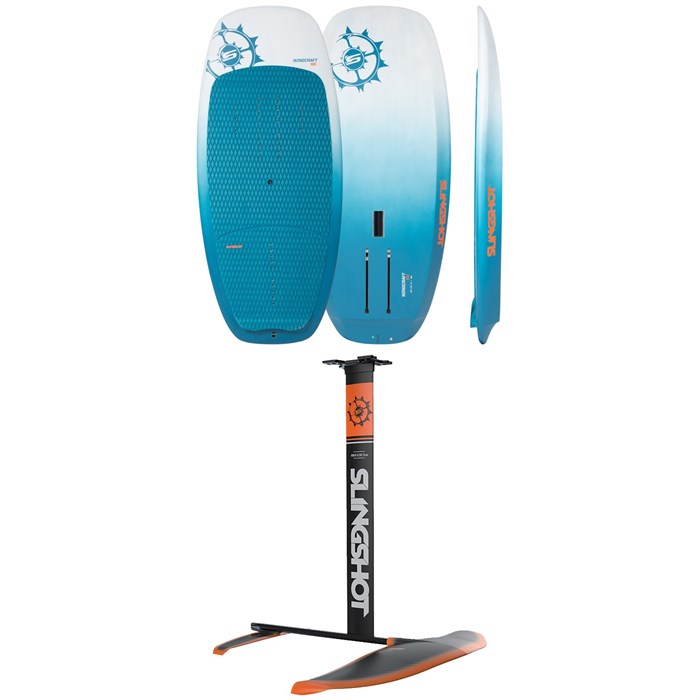 With its compact shape and highly maneuverable design, this wake foil board and wing combination is becoming everyone's favorite.
This Slingshot's wing foil board has a compact shape that enhances pumping and offers direct foil control. Further, its width allows early foil release.
It has a flat rocker that augments responsive and its combination with a wide surface area adds extra stability.
As for the rails and edges, you will see chined rails and kicktail. Thanks to this, you can efficiently pump your board onto foil. Additionally, there are beveled rails for quick release from the water. This rail combination helps in attaining balance and bouncing back from touchdowns.
There's an insert bottom handle that makes you more mobile by allowing you to carry board and foil in one hand. Your other hand will now have space for the wing only. Moreover, you can easily set up your foil with the special quick-release adjustable track foil mount.
This wing foil board lets you have different foot strap inserting positions including no strap, one strap, 2 straps, 3straps, and even half straps. With its EVA deck pad, gripping the board becomes easier.
When it comes to the wing, you will see a friendly design having carbon composite construction that gives it strength. The wings are smooth not sharp to make your ride more fun.
Overall, this combination can take your enjoyment to a whole new level.
Having the lightest possible board with sturdy stable wings, this duo can meet all your pro needs efficiently.
The board is made using premium XR lightweight construction. It is filled with bamboo supported with carbon stringers. This construction makes it very light weighted and extremely durable with ultimate performance.
Further, it has an adjustable foil track mount that lets you fine-tune your board and makes you more maneuverable as per your preference. Also, you can choose between half or full straps with the inline foot strap inserts.
Additionally, it features super-soft corduroy EVA. With its corduroy texture, you are not getting the looks only. It also gives an amazing grip so you can remain confident in your tricks.
As for the wing, it is an infinity 76 cm front wing. It has a carbon composite construction with a 28″ aircraft-grade aluminum mast. With the shift fuselage, it becomes easy to set the mast for different performances. Furthermore, you get the possible craziest pump. The wing is awesome to cruise around the flats and link waves.
On the whole, this package is the ultimate solution for all your wing foiling needs.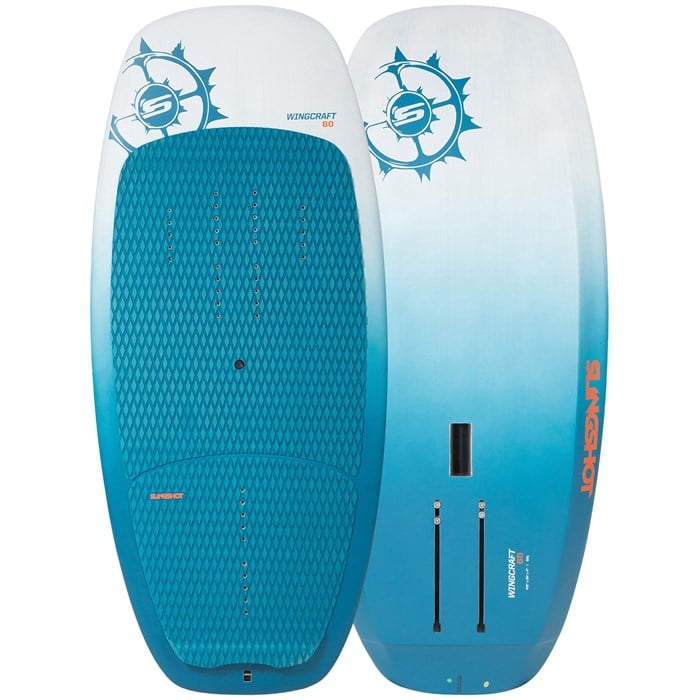 No worries if you are just starting this sport, you will be a pro in no time with this board.
Start your wing foiling journey right with this Slingshot's marvel. It has a compact shape which makes it perfect for direct foil controlling and pumping. The surface area is huge with a width that lets you enjoy early foil release while keeping you steady all the time.
The rocker is flat, which means this board is highly responsive. Further, it adds extra stability so you can easily learn the new tosses and tricks.
To add more convenience, it comes with the inset bottom handle which frees one hand for the wing and the other one can hold on to the board and foil together.
With the chined rails and kicktail, it makes it easy to pump the board onto the foil. Additionally, touchdowns are no issue, and recovering becomes easier.
There's also a quick-release adjustable track foil mount that lets you slide your foil on the board the way you like along with fine-tuning. It lets you have your personal preferences when riding.
Additionally, it features an EVA deck pad that aids in gripping the board from anywhere. Various foot strap insert positions allow riding with 1 to 3 straps, no straps, or half-straps.
All in all, this is a very good board for beginners to learn new tactics and tricks.
4. Slingshot WF-2 FPump V1 Foil Package 2022 – Best for Beginners
It's a complete package for beginners that will make them fall in love with this sport.
WF-2 gives you the classical feel with its short body and a wide surface area. This shape makes it ideal for every kind of rider. Beginner can learn new maneuvers while intermediates can explore new tricks with comfort.
For the rocker, this board has a nose rocker that helps you absorb the impact and redirects you to the foil. In your quick rises and crashes, this rocker aids in all. The foil is an adjustable track mount that lets you slide your board as you like.
The board becomes adjustable with the FCS 11 fin boxes. The inclusion or removal of the fins to your bard adds multi-functionality to it. Furthermore, the corduroy EVA is super-soft and this texture adds extra grip to the board which enhances stability even more. Alongside, it has simple inline inserts that let you go for half or full straps whenever you want.
As for the wing, it is made using carbon composite that makes it extra strong and more powerful. The wing is made using an aircraft-grade aluminum alloy mast that gives strength and toughness like nothing else.
Wing Foil Board Size Guide
For the wing foil board, you need to consider the volume that suits you best. Here is how you can select the right volume:
Beginners: Body Weight + 40 Liters (Roughly it makes the board volume greater than 100L)
Intermediates: Body Weight equal to Board Volume (Using the same volume board will give you more confidence and power to you)
Experts: Body Weight – 15 Liters (Lowering the board's volume than the body weight will make the board more responsive and maneuverable and add more speed so you can achieve your foiling dreams)
How to Choose a Wing Foil Board
When it comes to selecting a wing foil board, the things of utmost importance are performance and accessibility. It should give complete control with maximum speed and fun.
The selection of wing foil board depends on which level you are riding. We can divide the wing foiler into four groups.
Group 1: Complete beginners
Individuals who don't have any experience in watersports fall in this category. They must get a stable board that allows more float according to their body weight. Further, a board without a hydrofoil is best for beginners. It is suggested to start with a boat with your equipment for an hour or so to understand water and wind.
For the board, it must have 40 or more liters of extra buoyancy. The more easily you can control the board, the more quickly you will learn this sport. Go for the low aspect foil when you know how water and wind work. This foil is wider from one tip to another and narrower from slide to the side. It will give a lift even when you are at a lower speed. Their stability is also enough to support your newly learn moves. As for the wing, it typically depends on the rider's weight.
Group 2: New foiler
Those who know kiteboarding, surfboarding, etc, but are new to wing foiling must also foil with a boat first. Whether you understand wind and water but foiling is a new experience so you must first know how it works. Once you understand this sport, you can go for the small and narrow board with the board having 30 or more liters of extra buoyancy. You can find it by adding your body weight to 30.
Wing size depends mainly on the size of the rider. The larger size will add more power in stable conditions while the shorter size will give more maneuverability.
Group 3: Intermediate foiler
People who have started wing foiling for a while and earned some experience can go for the smaller boards with a little bit of extra volume. Now, here you need to look into different types of wings that help you perform diverse tricks under different conditions.
Group 4: Pro foiler
Expert foilers who love this sport and enjoy it often can go for the board that is neutral or negatively buoyant. These boards are easy to maneuver and lighter but harder to get onto the foil. For the wings, you need to select the ones meeting your needs along with the water conditions.
Related Articles:
To is Surf and Kite Instructor, Surfboard Shaper. He share about His life in this blog. More about Him in About page.